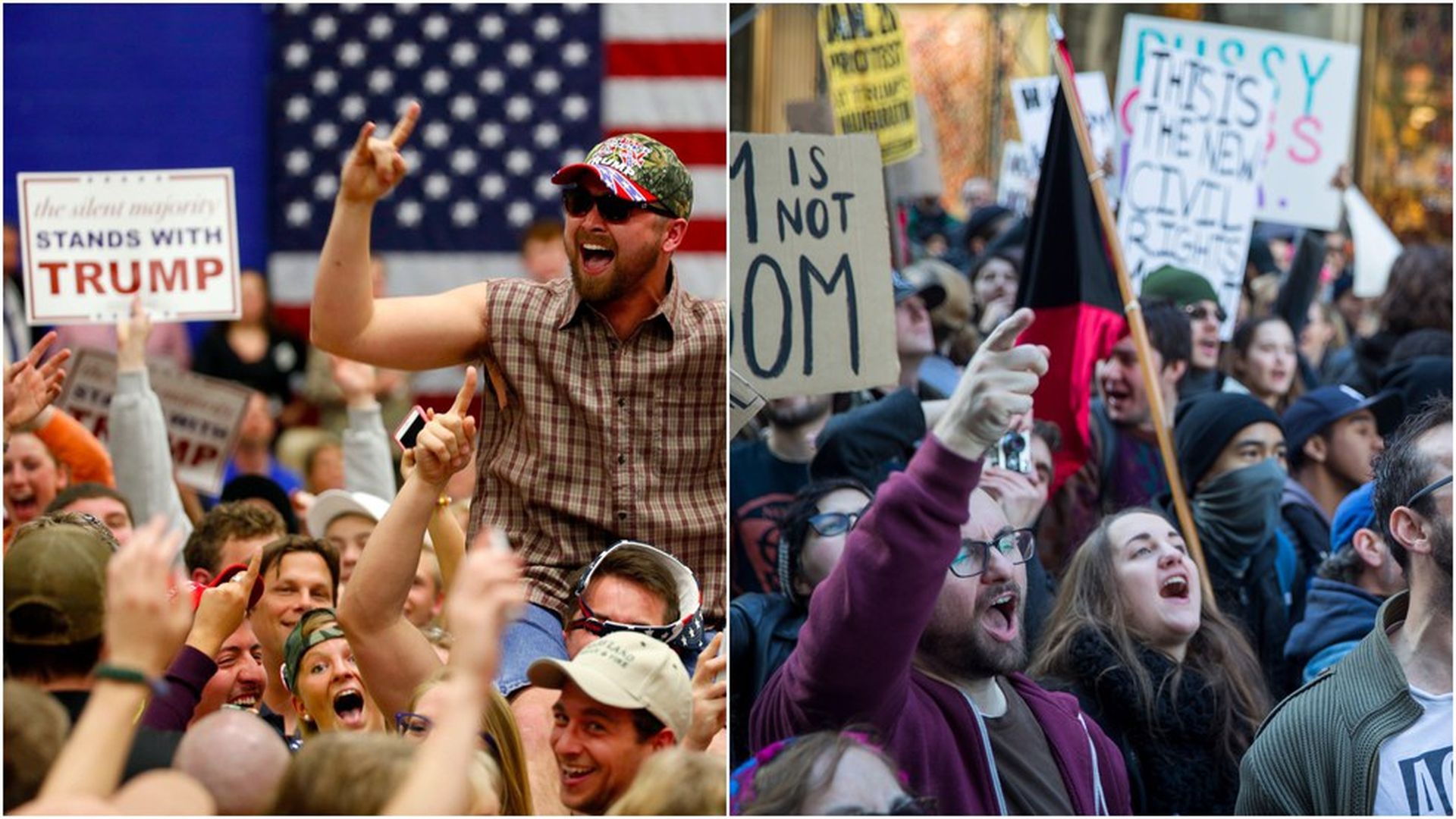 Let's pause to soak in how profoundly President Trump has split America, one year after winning office. Much is said/written about the America that dislikes/disapproves of Trump. Not enough is said/written about how Trump molded his party and nearly 40% of the country in his image.
A Washington Post-ABC News Poll out this morning provides the bleakest of report cards:65% of Americans say Trump has accomplished "not much" or "little or nothing." This is up from 56% last spring. 43% give him the lowest possible rating, saying he has accomplished "little or nothing."Trump receives even lower ratings on race: Fewer than 3 in 10 say he has done a good job dealing with race relations, which is 12 points below the 40% who said in January they thought he would handle race issues effectively.Half of all Americans say they believe Trump is biased against black people and slightly more (55%) say he is biased against women.One-third say he is honest and trustworthy.So one year after getting elected: half of Americans think he's a racist and nearly two-thirds think he has accomplished little to nothing. This helps explain how, based on this poll, he wins — in a landslide — the race for least popular president one year in since polling began with Truman.WashPost: "He is the only president dating back to Harry S. Truman whose approval rating at this point in his presidency is net negative — by 22 points. The next worst recorded in that time was Bill Clinton, who had a net positive of 11 points by this time in his presidency."
And yet ... Trump has transformed the core beliefs of the GOP, making it his Republican Party in a way that the establishment didn't expect, even post-inauguration:
Republicans out of politics, or leaving politics, are the only ones publicly criticizing him: the Bushes, lots of Bush 43 staff, Corker, Flake, etc. But Republicans staying in politics are succumbing, even if reluctantly.
Ed Gillespie is showing how quickly the metamorphosis unfolds. The former Bush 43 counselor, a textbook establishment Republican, is sounding like Steve Bannon ahead of Tuesday'selection for Virginia governor, warning of "dangerous" immigrants and mocking those who kneel at NFL games.
One flier: "You'd never take a knee ... So take a stand on election day"
If Gillespie wins, and probably even if he doesn't, he showed how the Trump America First impulse — laced with plays on racial fears — is not a bug but a feature of the new Trump GOP.
With little effort, Trump has turned Republicans and the Wall Street Journal editorial page into Trumpers on special counsel Bob Mueller in ways unimaginable in the Clinton days.
He has magically silenced a law-and-order party as he hectors Justice and the FBI.
Sound smart: The trend lines aren't promising, folks. Trump won't change and elected Rs — and those who want to be elected Rs — are morphing into him. On the other side, Democrats see full resistance as the only plausible response. Hard to believe, but we think polarization only intensifies.
Go deeper