Trump's trip sent clear signals about his foreign policy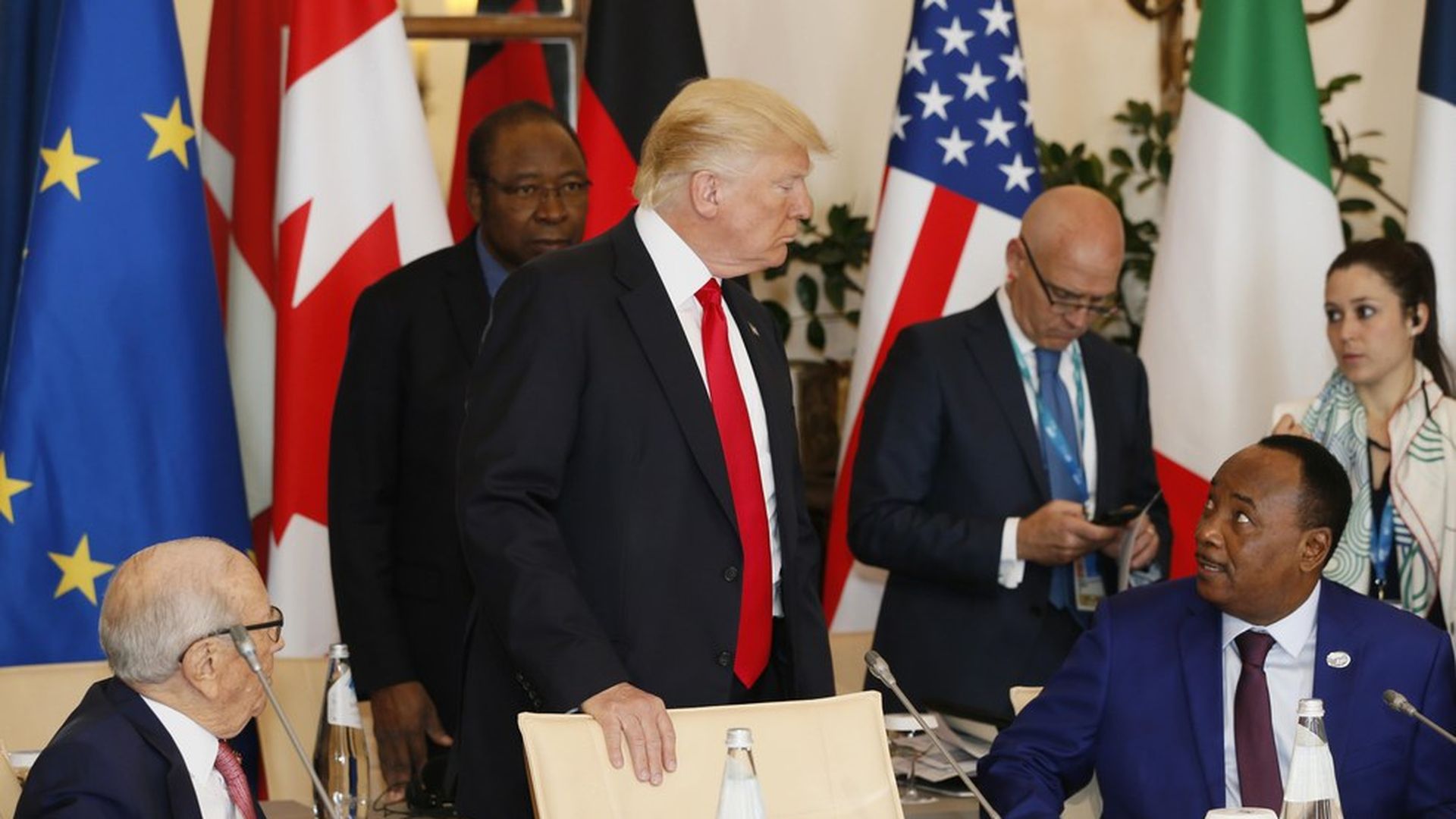 President Trump has just returned from his first overseas trip as POTUS, and it was a busy one. From the red carpet greeting in Saudi Arabia to the awkwardness with NATO allies like France's Emmanuel Macron, it revealed quite a bit about the state of his foreign policy.
Peace in the Middle East: Instead of criticizing the Saudi regime or encouraging a more democratic way of governing, Trump was decidedly diplomatic: "We are not here to lecture — we are not here to tell other people how to live, what to do, who to be, or how to worship. Instead, we are here to offer partnership — based on shared interests and values — to pursue a better future for us all," he said in his Riyadh speech.
Why it matters: Trump previously took a hard stance against Saudi Arabia, claiming secret documents would reveal they were behind the 9/11 attacks and criticizing Hillary Clinton for taking money from "people that kill women and treat women horribly." Saudi investment in U.S. arms and cooperation on terrorism seem to have led to a change of heart, and he was more comfortable with King Salman and other Arab leaders like Egypt's el-Sisi than with the likes of Angela Merkel later in the trip.
Pay up or shut up: During meetings with some of America's NATO partners, Trump had one thing on his mind: money. "NATO members must finally contribute their fair share and meet their financial obligations, for 23 of the 28 member nations are still not paying what they should be paying and what they're supposed to be paying for their defense," Trump said. He also made the allies nervous by failing to affirm the Article V commitment to mutual defense.
Why it matters: Whether awkwardly shaking hands with Macron or pushing Montenegro's leader out of the way so he could be front and center in a photograph, Trump didn't play nicely with his fellow NATO partners. It's a vital alliance, and one with which Trump has decidedly cooler relations than many of his predecessors.
Climate change: German Chancellor Angela Merkel left the G7 Summit disappointed in the leaders' conversation about climate change. Trump was clearly the odd man out, as it was "six against one," Merkel said — highlighting that Trump was the only G7 leader who didn't explicitly support the Paris climate treaty.
Sounds familiar: Trump has a bunch of important people asking him for something and he holds the decision-making power, a position the president knows and likes well.
What's next: Trump tweeted Saturday morning that he's going to make a final decision on the Paris deal this coming week. If he follows through on what he's told close confidants — that he's withdrawing from the deal — that indicates pressure from other nations, which started before his G-7 trip and reached a climax while he was there, was not convincing enough considering the lens the administration was viewing the decision: What's best for America, according to White House economic adviser Gary Cohn.
Sound smarter: This decision isn't about the environment. The decision rests upon ensuring the deal doesn't hurt U.S. companies. Former President Obama's pledge was to cut U.S. greenhouse gas emissions between 26% and 28% by 2025 based on 2005 levels. No matter what you think about whether that pledge would actually hurt U.S. companies (a lot of independent experts don't think it would), ratcheting it down would provide a concrete change Trump could point to show how he got what he wanted for America.
Go deeper