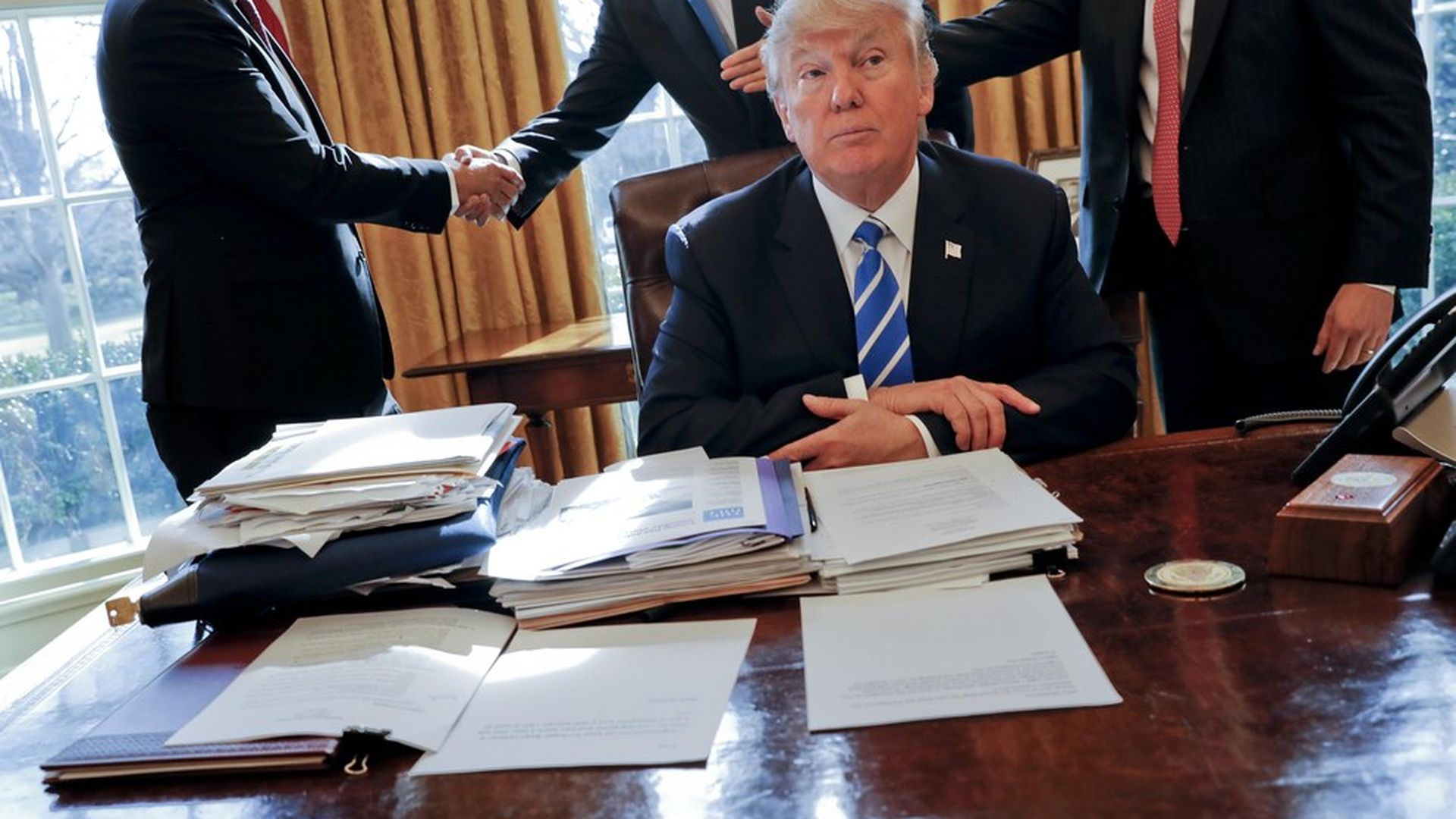 Three of Trump's former employees who worked under him in the Trump Organization told the Wall Street Journal they had all witnessed Trump recording phone calls at various points. The employees worked with Trump in different capacities over three collective decades.
Don't forget: In New York, it's not illegal to record a conversation with someone as long as one person (i.e. Trump) is aware that it's being recorded. However, the former employees' accounts reveal Trump's varying (and sometimes interesting) recording methods — from sneaky to upfront.
Sneaky: Last year during the campaign, a WSJ reporter interviewed Trump in his office in Trump Tower. The reporter informed him that he planned on recording the conversation. Trump slid a newspaper across the desk that had a smartphone underneath it and told the reporter he'd be recording it, too, though it was unclear if he had already started recording. The former employees also said Trump typically didn't tell the other person that he or she was being recorded.
Upfront:
"He recorded virtually everything in the office," one former high-level Trump Organization employee told WSJ. "I know many of my conversations when I called him were recorded before and after I was working there."
All three employees said Trump has "one or more recording devices" that he used to record phone calls.
WashPost's Drew Harrell tweeted about his May 2016 interview with Trump in which Trump told him 33 minutes into their interview that he was recording the whole time. "By the way, you don't mind that I'm taping this conversation?" he asked.
For business:
Various New York real-estate attorneys told WSJ that recording phone conversations is a professional strategy that many real-estate businessmen employ.
Stephen Meister, a New York real estate attorney who has represented Mr. Trump in the past, told WSJ that businessmen would sometimes record business meetings and phone calls, and those transcripts could be used as evidence in a lawsuit.
Trump did this when William Weidner, then-president of Pratt Hotel Corp., which owned the Sands casino in Atlantic City, filed a lawsuit against Trump's casino company in 1989, alleging that it interfered with them buying a construction site next door. Trump's team used a recording of his conversation with Weidner in court; Weidner told WSJ he didn't know he was being recorded when they spoke.
Bottom line: Trump is a New York businessman through and through, so it's not surprising that he reportedly recorded conversations when running the Trump Organization. It's unclear if he's been recording conversations as POTUS, but obviously, we've seen how past presidents have gotten into trouble because of their recordings (ahem, Nixon). Regardless, it seems like Trump isn't worried about that when he tweets things like, "James Comey better hope that there are no 'tapes' of our conversations before he starts leaking to the press!"
Go deeper