Trump's Sunday morning tweets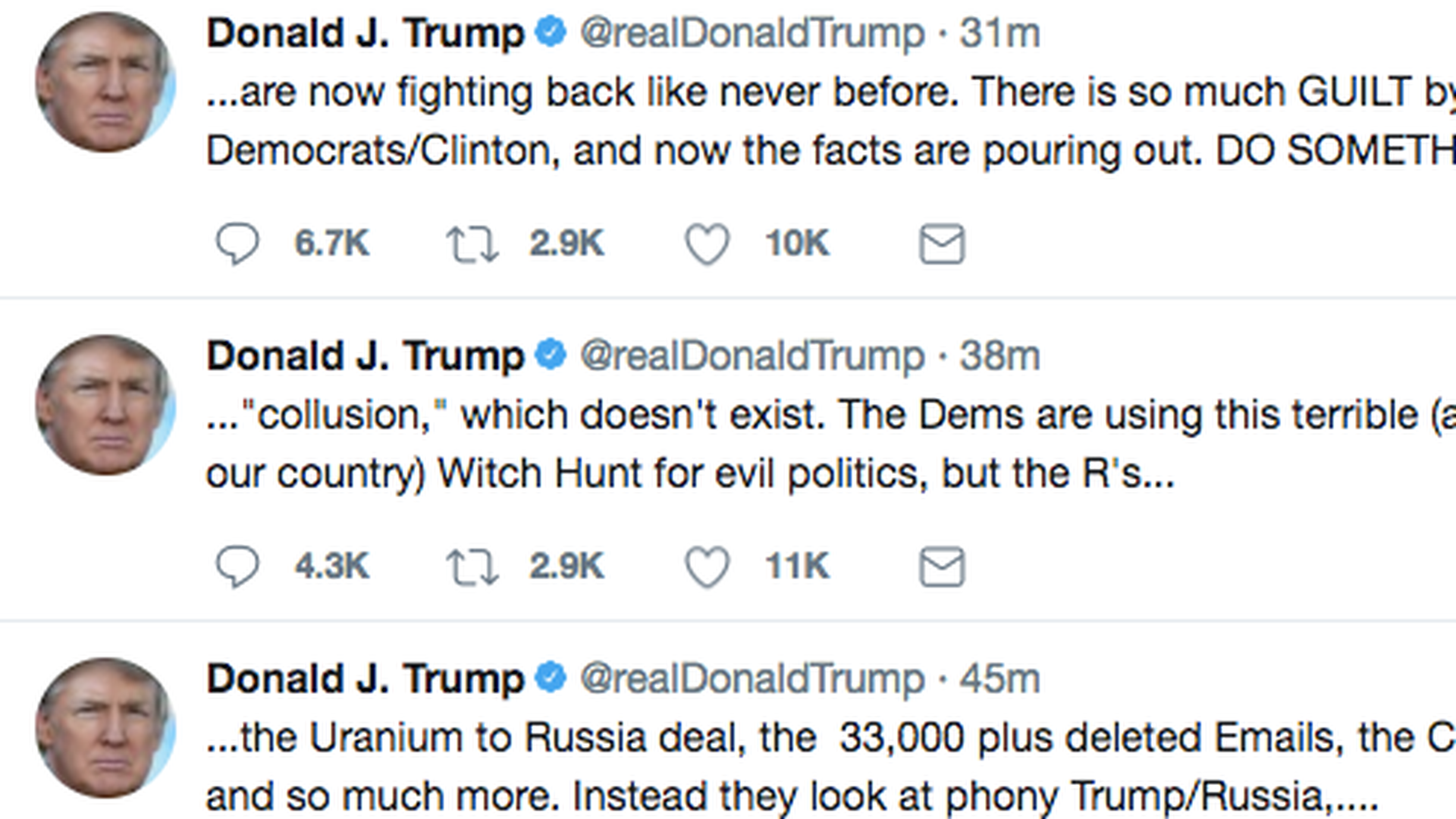 President Trump sent a stream of four tweets Sunday morning denying any collusion between his campaign and Russia and attempting to shift the focus onto Hillary Clinton. A half hour later he followed up another: "All of this "Russia" talk right when the Republicans are making their big push for historic Tax Cuts & Reform. Is this coincidental? NOT!"
The tweets
Never seen such Republican ANGER & UNITY as I have concerning the lack of investigation on Clinton made Fake Dossier (now $12,000,000?) / the Uranium to Russia deal, the 33,000 plus deleted Emails, the Comey fix and so much more. Instead they look at phony Trump/Russia, / "collusion," which doesn't exist. The Dems are using this terrible (and bad for our country) Witch Hunt for evil politics, but the R's /.are now fighting back like never before. There is so much GUILT by Democrats/Clinton, and now the facts are pouring out. DO SOMETHING!
Those tweets followed an earlier message about health care:
As usual, the ObamaCare premiums will be up (the Dems own it), but we will Repeal & Replace and have great Healthcare soon after Tax Cuts!
Be Smart: Looming over the five tweets is the fact that the first indictment (or indictments) of Robert Mueller's investigation is expected Monday.
Check the facts: Background on the U.S.-Russia Uranium deal ; The reporters behind the Trump/Russia dossier ; Clinton campaign, DNC backed research for Trump-Russia dossier ; Where Mueller's Russia probe stands
Go deeper