Trump's split screen: Rust Belt vs. "bubble people"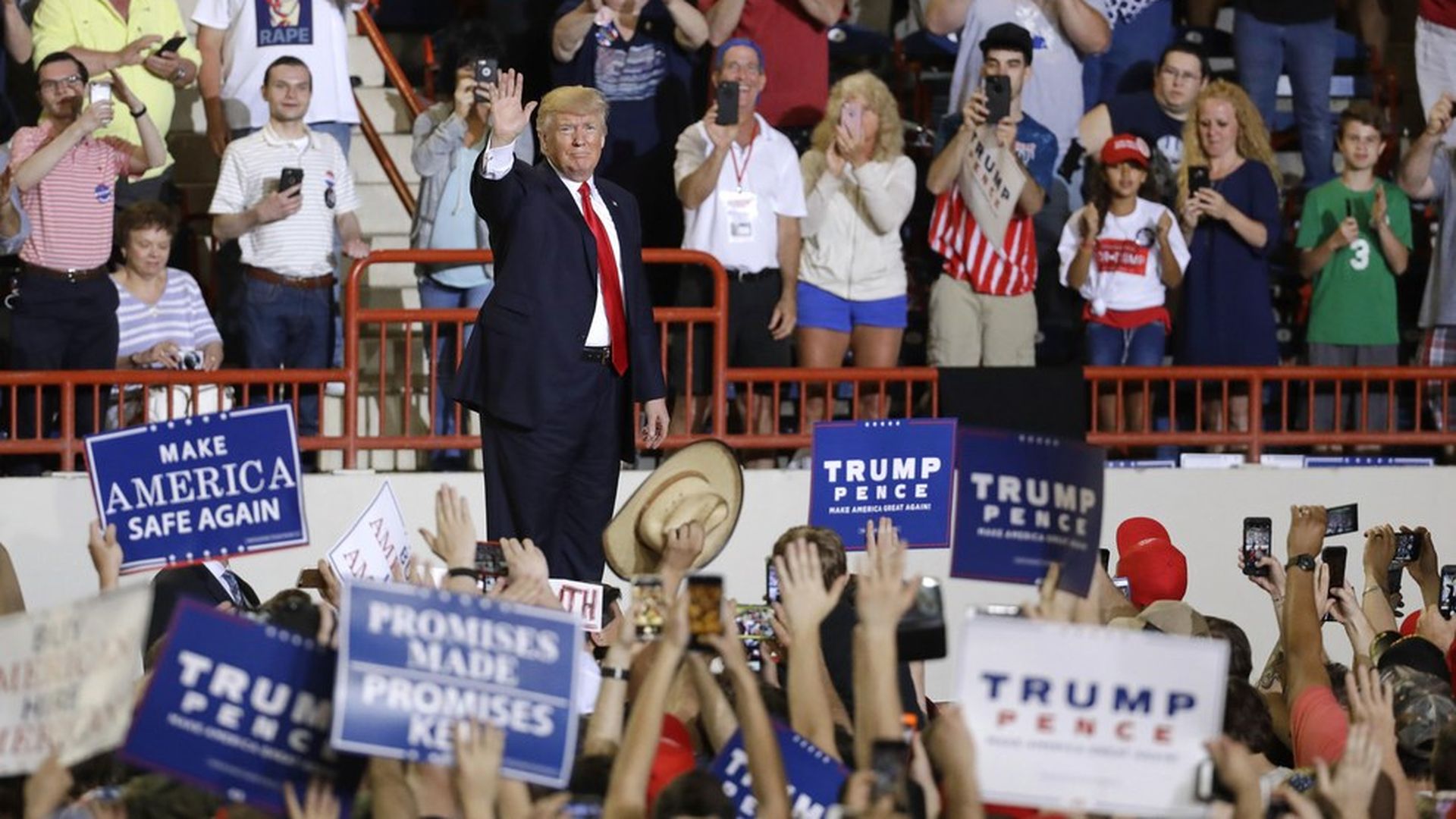 President Trump's rallies are always a production. But last night's Day 100 victory lap in Pennsylvania — festooned with "Promises Made / Promises Kept" signs — was conceived in cinematic terms: us-versus-them, the people-versus-the-media.
Axios' Jonathan Swan reports that West Wing officials, including Steve Bannon and Stephen Miller, conceived of a split-screen effect: TVs would show Trump in full-blown nationalist populist mode, connecting viscerally with "forgotten" Rust Belt Americans.
On the other side of the screen: Washington reporters in bowties and ballgowns, looking out-of-touch, self-congratulatory and elite, at their White House Correspondents' Association Dinner.
Why it matters: Trump's speech showed his inside-outside game. Inside, he's sculpting his 100-days narrative and giving a raft of interviews, assuring Beltway reporters that he knows they still matter. (And he's already teasing that he'll come to next year's dinner.) On the road, journalists are his go-to foil.
According to sources familiar with the speech's drafting, there was a line that Trump didn't end up using that summed up the speech's intent: Washington reporters are "bubble people."
Trump's attack on the press was as full-throated as anything we saw on the trail:
He spent the first 11 minutes whacking the media.
He cited polls showing the public doesn't trust the press. He singled out CNN and MSNBC as "fake news" and went on a riff about the "totally failing New York Times" losing money on real estate.
He contrasted his first 100 days against the media's first 100 days — "a big fat failing grade.
From the speech: "As you may know, there's another big gathering taking place tonight in Washington, D.C. Did you hear about it? [Crowd: Boo!] A large group of Hollywood actors [Crowd: Boo!], and Washington media [Crowd: Boo!], are consoling each other in a hotel ballroom in our nation's capital right now."
"They are gathered together for the White House Correspondents' Dinner without the president. And I could not possibly be more thrilled than to be more than 100 miles away from Washington's swamp, spending my evening with all of you, and with a much much larger crowd, and much better people, right?" [Cheers: "USA!" and "CNN sucks!"] [T]hey're trapped at the dinner — which will be very very boring. But next year maybe we'll make it more exciting for them, in Washington."
Go deeper