Trump's off-script moments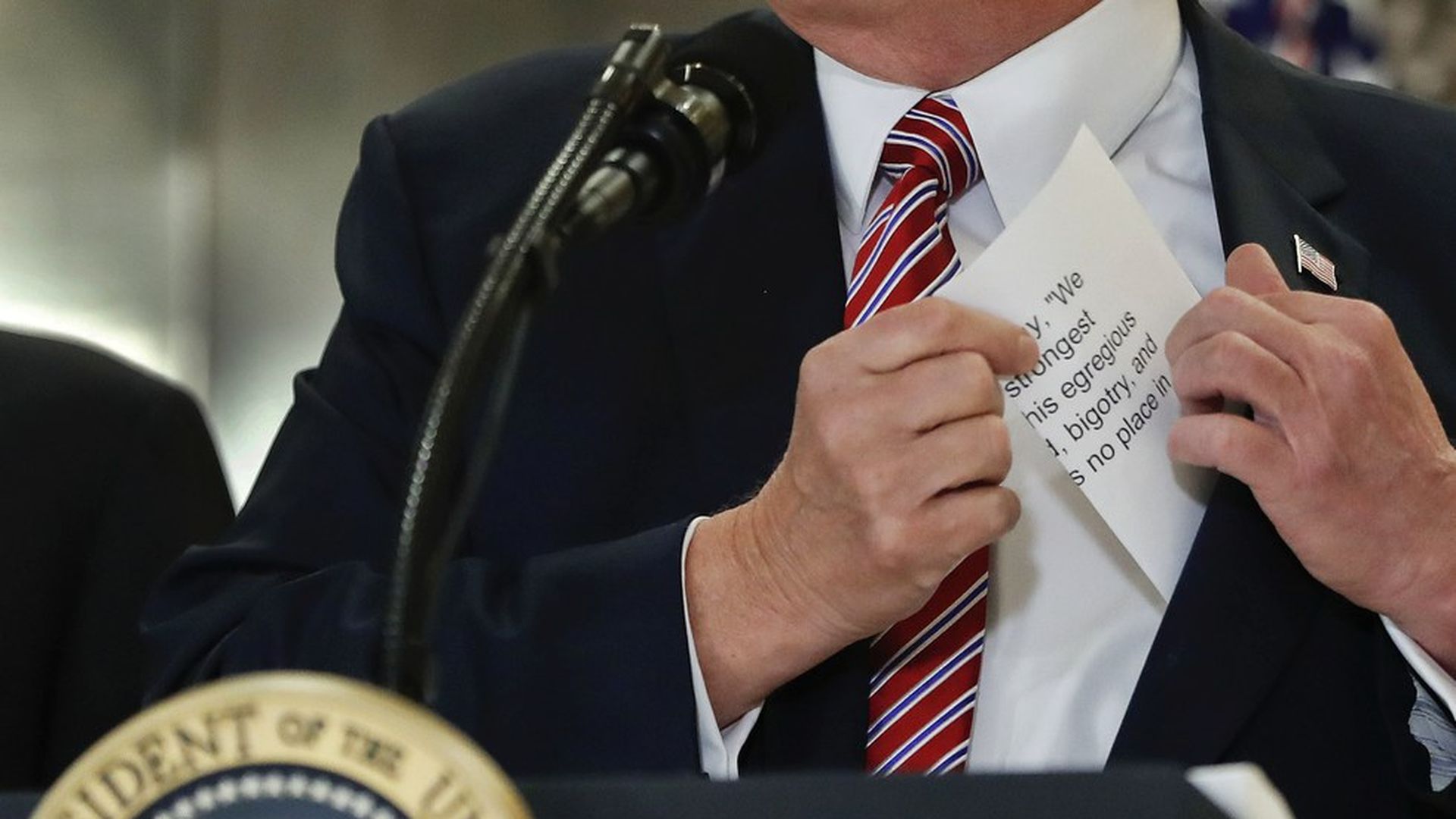 Some of the most controversial moments of Trump's presidency happened because he went off script, most recently when delivering remarks after Charlottesville and blaming the violence on "many sides." Here are Trump's most notable off-script comments — what he said and why it mattered.
What he said: "I think there is blame on both sides. I have no doubt about it and you don't have any doubt about it either." He added that the "alt-left" is partially responsible for the weekend's violence, but argued "nobody wants to say that."
Why it matters: After failing to condemn neo-Nazis, the KKK and white supremacists following the violence and the loss of Heather Heyer's life in Charlottesville, Trump delivered a full condemnation in a do-over, only to double down on his original remarks. Per Axios' Mike Allen, "It was a green light for more hatred, and probably more violence — because now the president has put white supremacy on the same level as angry people reacting harshly to it."
What he said: "Well, Sessions should have never recused himself, and if he was going to recuse himself, he should have told me before he took the job, and I would have picked somebody else."
Why it matters: Several Republican senators swiftly came to Sessions' defense, disapproving of Trump's public shaming of the attorney general. And, per Mike Allen, "Trump's blast shows that no lawyer or aide has convinced him to rein in his remarks in Russia, and makes a public spectacle of the kind of internal West Wing war that in most administrations might be concealed or gossiped about, but never proven in real time."
What he said: "Loyalty, we could use some more loyalty. I'll tell you that."
Why it matters: Trump's political speech to the National Jamboree of the Boy Scouts of America alluded to his beef with Sessions. The president also called out Sec. Tom Price with a joke, saying, "He better get [the votes to pass the health care bill]. He better get 'em. Ah, he better — otherwise, I'll say, 'Tom, you're fired!'"
What he said: "North Korea best not make any more threats to the United States. They will be met with fire and fury like the world has never seen."
Why it matters: The remarks added to the flame of an already-escalating fear of war with North Korea among Americans.
What he said: "I'm not going to rule out a military option. This is our neighbor. We're all over the world, and we have troops all over the world, in places that are very, very far away. Venezuela is not very far away, and the people are suffering, and they're dying."
Why it matters: After Trump spoke, the Pentagon told Reuters it had not gotten any direction regarding military options for Venezuela. The president's remarks also contradicted National Security Adviser H.R. McMaster's comment to MSNBC that military action was not a possibility.
Go deeper