Trump's national security dominoes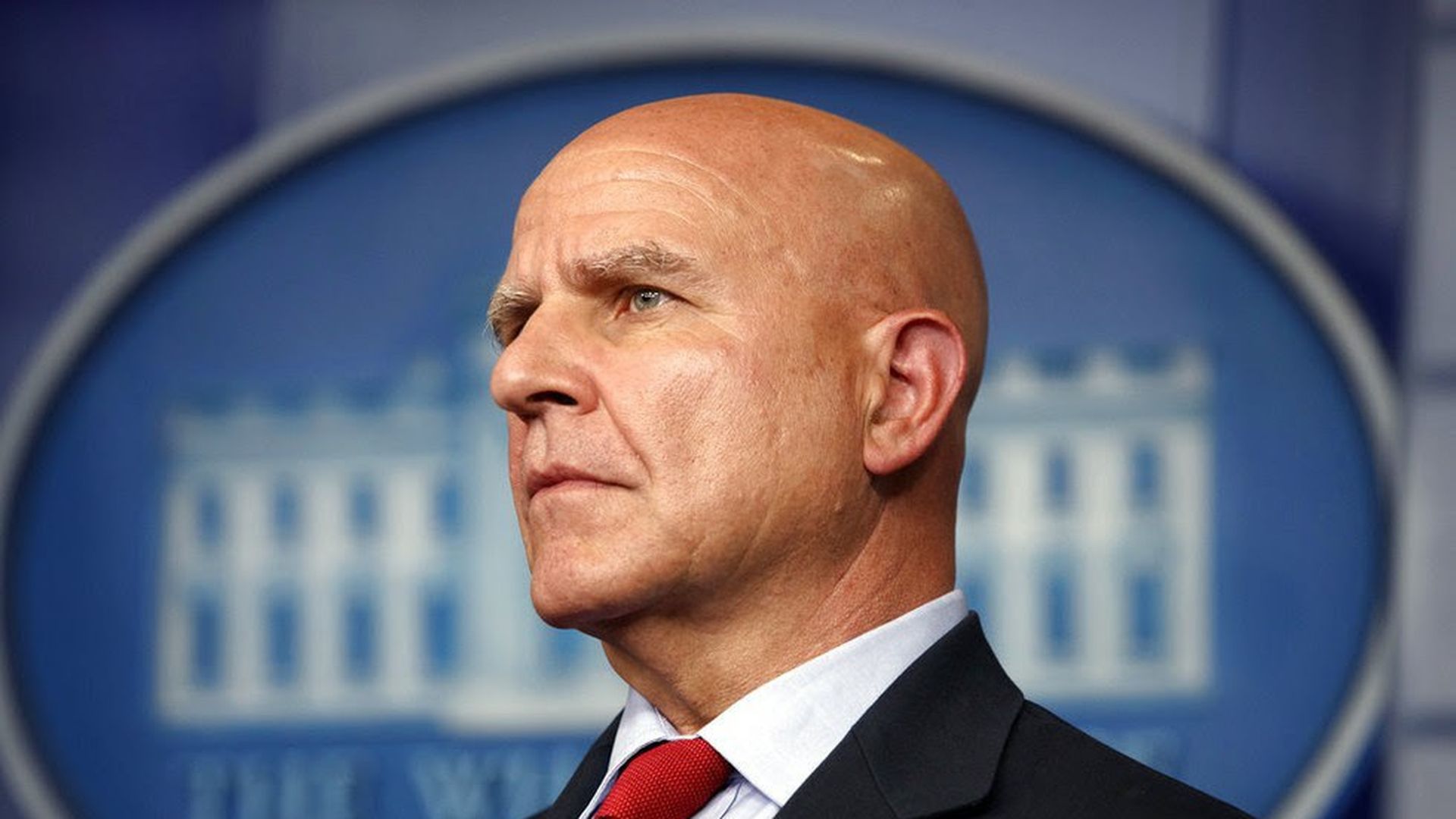 One of the huge internal White House fights, which we hear will be resolved soon, concerns troops in Afghanistan:
National security adviser H.R. McMaster supports Defense Secretary Jim Mattis' push for more troops; Steve Bannon thinks Americans won't support that and wants a slow drawdown. Bannon allies think they're winning.
In June, Trump gave Mattis authority to determine troop levels, but lately the White House has re-asserted itself.
As you know, Trump has style and substance differences with McMaster, and has even openly pined for the return of his fired predecessor, Mike Flynn. West Wing buzz has been that McMaster would be given a fourth star and sent to Afghanistan.
Deets from the N.Y. Times' Glenn Thrush and Peter Baker: "Trump ... has been considering ... appointing Mike Pompeo, the C.I.A. director, to take over as national security adviser, while sending General McMaster to command forces in Afghanistan. Such a move could earn General McMaster a fourth star."
Dominoes: Trump replaces his Afghanistan commander with McMaster, then brings in someone he likes as national security adviser.
We hear Trump has also considered John Bolton, a darling of conservatives who was U.S. ambassador to the U.N. under George W. Bush, for national security adviser.
What the nationalists are saying about McMaster: "He wants to send more troops to Afghanistan, so we're going to send him."
During a July 19 meeting in the Situation Room, per NBC's Carol Lee and Courtney Kube, Trump said of the U.S. position in Afghanistan: "We aren't winning ... We are losing." More on the two-hour meeting:
"Trump repeatedly suggested that Defense Secretary James Mattis and Chairman of the Joint Chiefs of Staff Gen. Joseph Dunford replace Gen. John Nicholson, the commander of U.S. forces in Afghanistan, because he is not winning the war, the officials said. Trump has not met Nicholson, and the Pentagon has been considering extending his time in Afghanistan."
"Trump complained about NATO allies, inquired about the United States getting a piece of Afghan's mineral wealth and repeatedly said the top U.S. general there should be fired. He also startled the room with a story that seemed to compare their advice to that of a paid consultant who cost a tony New York restaurateur profits by offering bad advice."
"Trump told his advisers that the restaurant, Manhattan's elite '21' Club, had shut its doors for a year and hired an expensive consultant to craft a plan for a renovation. After a year, Trump said, the consultant's only suggestion was that the restaurant needed a bigger kitchen."
Go deeper: The side drama to Trump's potential McMaster move — his National Security Council reshuffling.
Go deeper