Trump's folly: giving China a chance for a win-win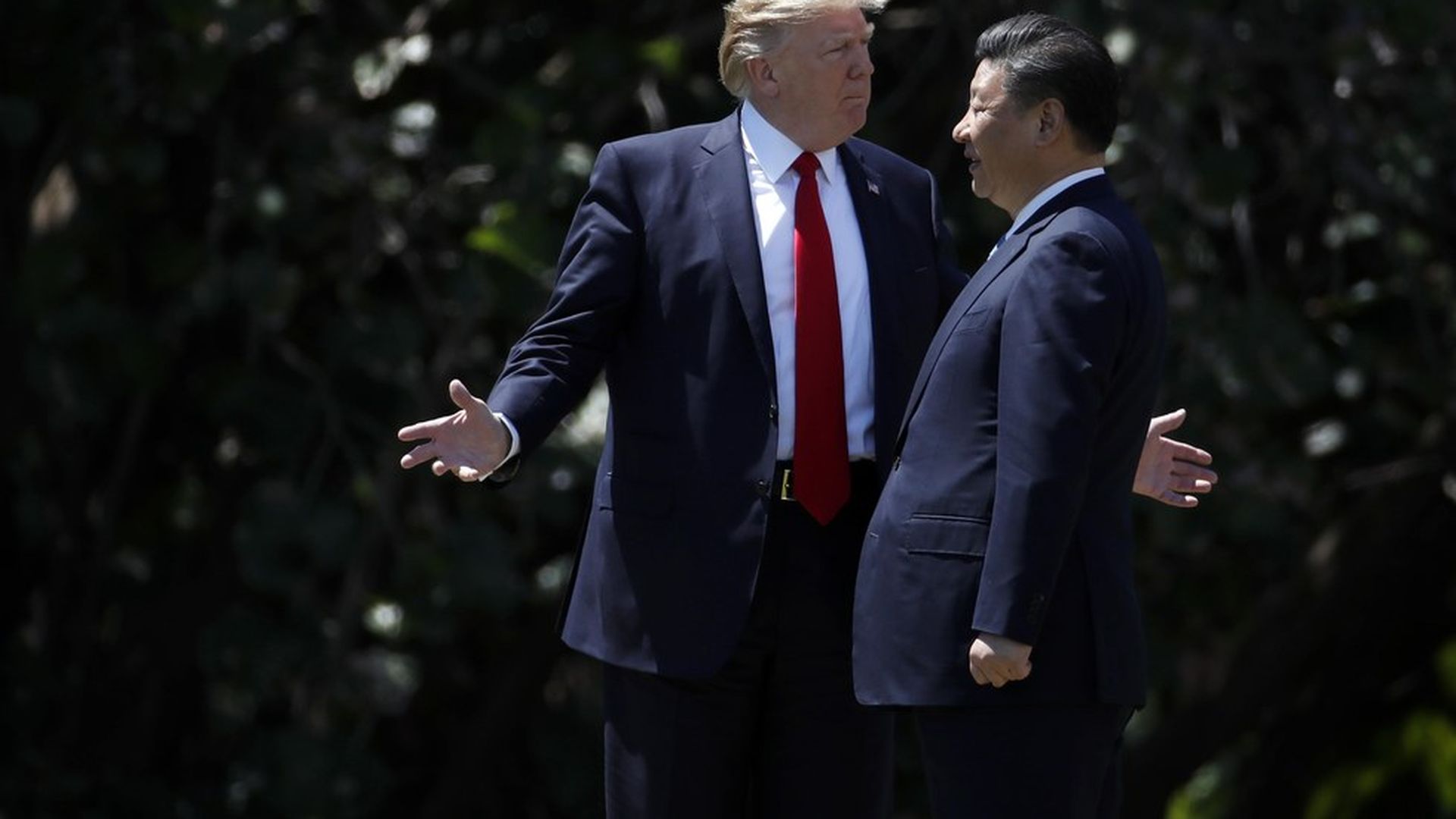 President Trump made a strategic miscalculation by telling China's President Xi that he'll get a better trade deal if he helps out on North Korea, says Richard McGregor, an authority on Chinese internal politics. (McGregor wrote the seminal book "The Party," which Trump has reportedly said is his favorite on China.)
McGregor told Axios:
"For Trump to have a modicum of credibility, he couldn't trade off advances on North Korea against the concerns of the people who put him in the White House in the first place... The Chinese often talk about win-win outcomes, which, the cynics joke, means the Chinese win twice. By linking trade and North Korea, Trump is only making that outcome more likely."
Why McGregor thinks Trump is foolish to link trade negotiations with North Korea:
Trump and Xi agreed to have an intense 100-day trade negotiation, which may result in some concessions on beef and the financial sector, but will have little to no impact on the problem that most animates Trump — the bilateral trade deficit.
In truth, Trump does not have a trade policy at the moment. He is an ill-disciplined president facing an extremely disciplined opponent. Until his administration has developed a trade policy which can be implemented over a lengthy period of time — the sort of time that any serious negotiation will take — then there is little incentive for China to make substantial concessions or more importantly, systemic changes to its own market.
What would Trump say to all its bedrock supporters, the ones whom he told that China was "raping" their country? If China comes to the party on North Korea, however one judges that, does the hollowing out of the US economy suddenly slip off the agenda?
Trump certainly has China's attention with his bellicosity on North Korea, but there are limits to what he can do. Trump shows no sign he will strike — and for good reason, not least because two US allies, Japan and South Korea, are in North Korea's frontline.
China's fundamental calculus shows no sign of changing, let alone being buffeted by trade negotiations. Just like Clinton, Bush and Obama before him, Trump has no good options. The military option is too risky, and China still values a buffer state on its border rather than one falling apart or into the hands of a US ally, in South Korea.
Go deeper