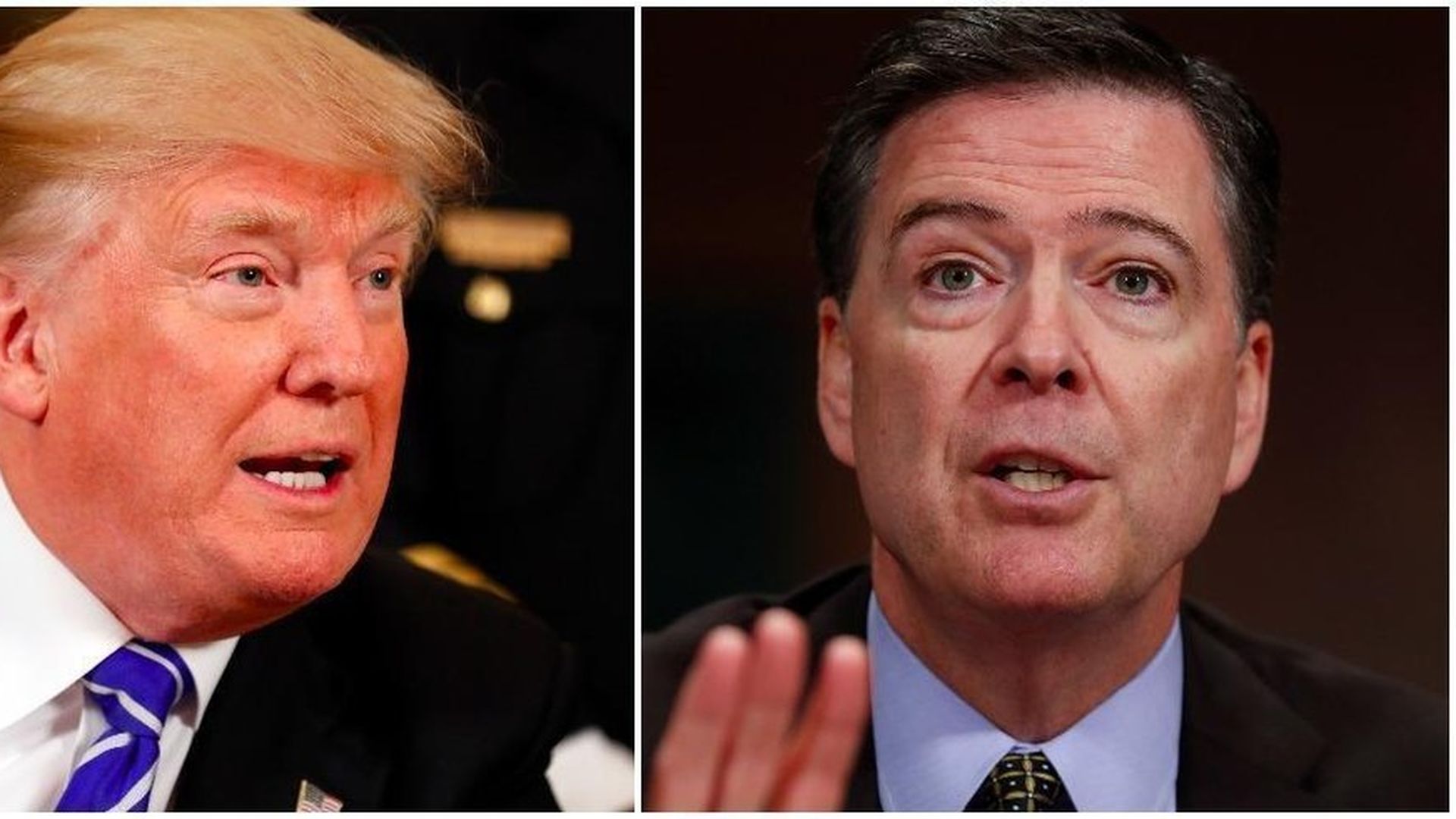 White House officials convey a sense of gloomy doom when they talk about fired FBI Director Jim Comey's public testimony on Thursday. They know his aw-shucks rectitude, combined with real-time written recollections, guarantee riveting testimony. Their hope is that it'll be more atmospherics than substance — how he felt, as opposed to any new facts about what President Trump said or did.
Here's the problem with that hope: Even if Comey didn't have a single new thing to say (unlikely, given his habit of writing memos about his conversations with the president and perhaps his aides), the rat-tat-tat of already-reported, tough-to-explain facts is astounding:
During a Valentine's Day briefing in the Oval Office, Trump asks other national-security officials — including Vice President Pence and Attorney General Jeff Sessions — to leave the room before saying of the investigation into Michael Flynn, the national security adviser Trump had let go the day before: "I hope you can let this go."
That meeting, by itself, could be fodder for years of investigations. But then, three months later — after talking for weeks about firing Comey, with several aides warning of the dire dominoes that the move could touch off — Trump does it anyway, taking many top aides by surprise.
That decision, by itself — with its echoes of Watergate's "Saturday night massacre" firing of a special prosecutor — might dog Trump for the rest of his presidency. But the next day, Trump meets in the Oval Office with two top Russians, Foreign Minister Sergey Lavrov and Ambassador Sergey Kislyak. U.S. media are barred, but a Russian camera is allowed, and Trump's guests quickly release the astonishing shots of Trump and the burly Russians appearing to yuk it up.
That, by itself, would be jaw-dropping, but then Trump is reported to have revealed highly classified information during the meeting. Russian President Vladimir Putin, who had a notetaker at the meeting, cheekily offers to release a transcript.
All that might, by itself, might be hard enough to believe or explain. But then Trump sits down with NBC's Lester Holt and says that when he was pondering the firing of Comey, "I said to myself -- I said, you know, this Russia thing with Trump and Russia is a made-up story." Holt and his NBC News colleagues had war-gamed all kinds of ways to try to get Trump to say Russia was a factor, but he just said it — no cajoling required.
Be smart: Comey's testimony may add logs, but the fire is blazing.
Key concession ... Sen. Mark Warner (Va.) — top Dem on the Senate Intelligence Committee, where Comey will testify — to CNN's Jake Tapper on "State of the Union": "We have no smoking gun at this point."
Go deeper