Trump's Charlottesville backlash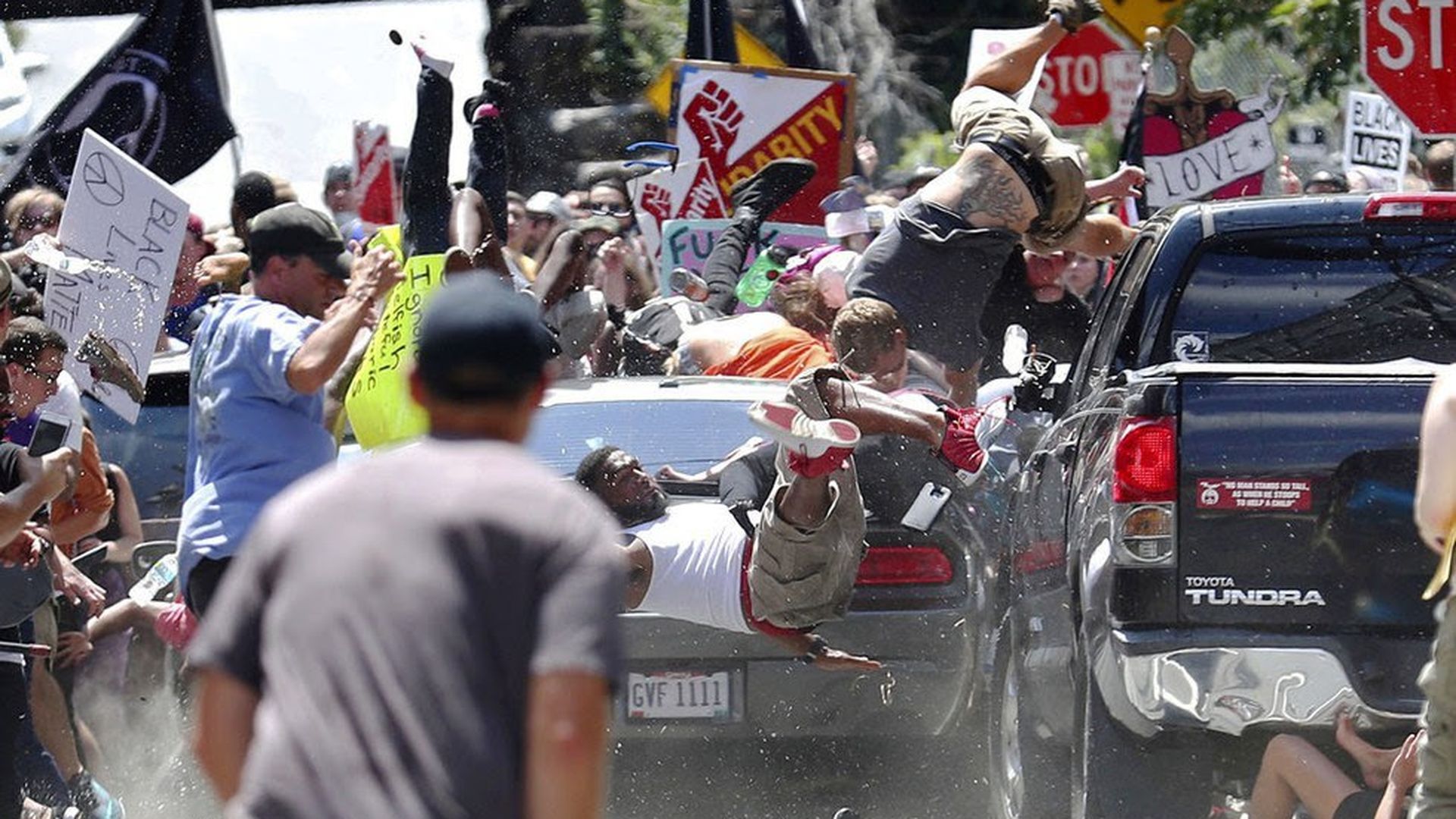 The layup untaken? Unforced error? Worst moment of his days as president?
However you look at it, President Trump's suggestion that "many sides" were responsible for the racist carnage in Charlottesville, Va., produced an instant backlash even from some top Republicans:
At 3:33 p.m., Trump said in televised remarks from his golf club in New Jersey: "[W]e're closely following the terrible events unfolding in Charlottesville, Virginia. We condemn in the strongest possible terms this egregious display of hatred, bigotry and violence, on many sides. On many sides."
Then he added defensively: "It's been going on for a long time in our country. Not Donald Trump, not Barack Obama. This has been going on for a long, long time."
Former Vice President Biden had the most succinct reaction: "There is only one side. #charlottesville."
Sen. Marco Rubio (R-Fla.), who lost to Trump in the primaries, tweeted: "Very important for the nation to hear @potus describe events in #Charlottesville for what they are, a terror attack by #whitesupremacists."
Sen. Cory Gardner, chairman of the National Republican Senatorial Committee: "Mr. President - we must call evil by its name. These were white supremacists and this was domestic terrorism."
Sen. Ted Cruz (R-Texas), who wants to run again, called it a "grotesque act of domestic terrorism."
When NBC's Hallie Jackson asked what Trump meant by "many sides," a White House official replied: "The President was condemning hatred, bigotry and violence from all sources and all sides. There was violence between protesters and counter protesters."
The N.Y. Times' Glenn Thrush and Maggie Haberman note in a story on p. A14 headlined, "Critics Slam Trump's Tepid Condemnation of Violence on 'Many Sides' in Virginia": "Trump is rarely reluctant to express his opinion, but he is often seized by caution when addressing the violence and vitriol of white nationalists, neo-Nazis and alt-right activists, some of whom are his supporters."
Be smart: Being a leader is taking your people where they don't want to go, or don't know they want to go. Being president is about rising to the occasion, not shrinking to your base. Large swaths of Trump's base don't think like this. The vast majority of conservative Americans aren't racists. Trump does them a disservice by creating that impression, and by coddling or fearing the few who resist loving one another.
Go deeper