Trump's binder of frenemies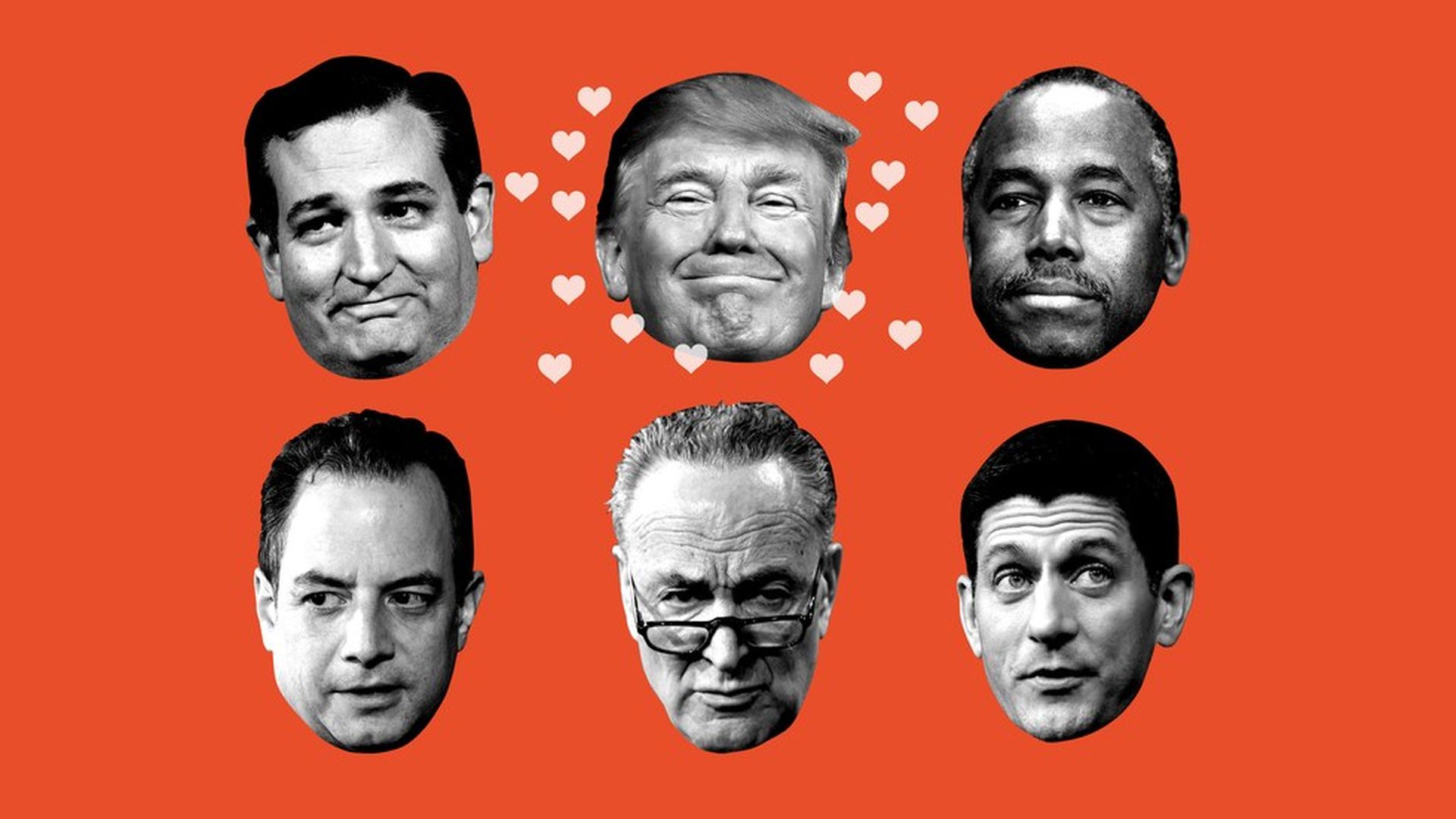 Trump has made the past year a political (and sometimes emotional) roller coaster for many politicians. It's been hard to decide where to place their allegiances, and many of Trump's current supporters avidly opposed Trump in 2016...
Sen. Ted Cruz: Last night, Cruz and his family had dinner with Trump in the White House.
Flashback to almost a year ago when Trump accused Cruz's father of assassinating JFK and insulted Heidi Cruz on twitter, insinuating she was ugly. Then at the RNC, when Cruz called everyone to "vote their conscience" instead of "vote for Trump" and defended himself afterward to the Texas delegation, saying:
"I am not in the habit of supporting people who attack my wife and attack my father. And that pledge was not a blanket commitment that if you slander and attack Heidi I'm going to nonetheless go like a servile puppy dog..."
But since then, Cruz has come around and supported Trump at the end of the campaign (even making voter calls). The meeting between the two seems to show Trump has accepted Cruz's penance.
House Speaker Paul Ryan: Throughout most of the campaign, Ryan refused to meet with or comment on Donald Trump, telling congressmen to vote however was best for their district. Of course, Trump had plenty of criticism for Ryan too:
That all changed after Trump won the election. Ryan came out praising Trump for his victory, excited for the chance to implement his "Better Way" agenda. He called Trump's win the "most incredible political feat." And now, Ryan is one of the only people who has shown full support of the Obamacare replacement plan.
Reince Priebus: The two got off to a rocky start, with Trump telling the Hill that the primary process was "a disgrace for the party. And Reince Priebus should be ashamed of himself. He should be ashamed of himself because he knows what's going on."
Since then, Priebus remained faithful to Trump and his campaign and was awarded his position of White House Chief of Staff.
Ben Carson also got a job in the administration, heading up the Department of Housing and Urban Development. He also had a few sprawls with Trump during the primaries. Trump once said, "How stupid are the people of the country to believe this crap?" about Carson's stories of growing up in the impoverished, crime-ridden inner city of Detroit.
Sen. Chuck Schumer is the only friend-turned-enemy. Trump was much nicer toward Chuck Schumer shortly after the election:
Since then, it's been downhill. Schumer has passionately fought against Trump's agenda, launched the "Make America Sick Again" campaign, while Trump mocked the Democratic Senator for shedding "fake tears."
Go deeper