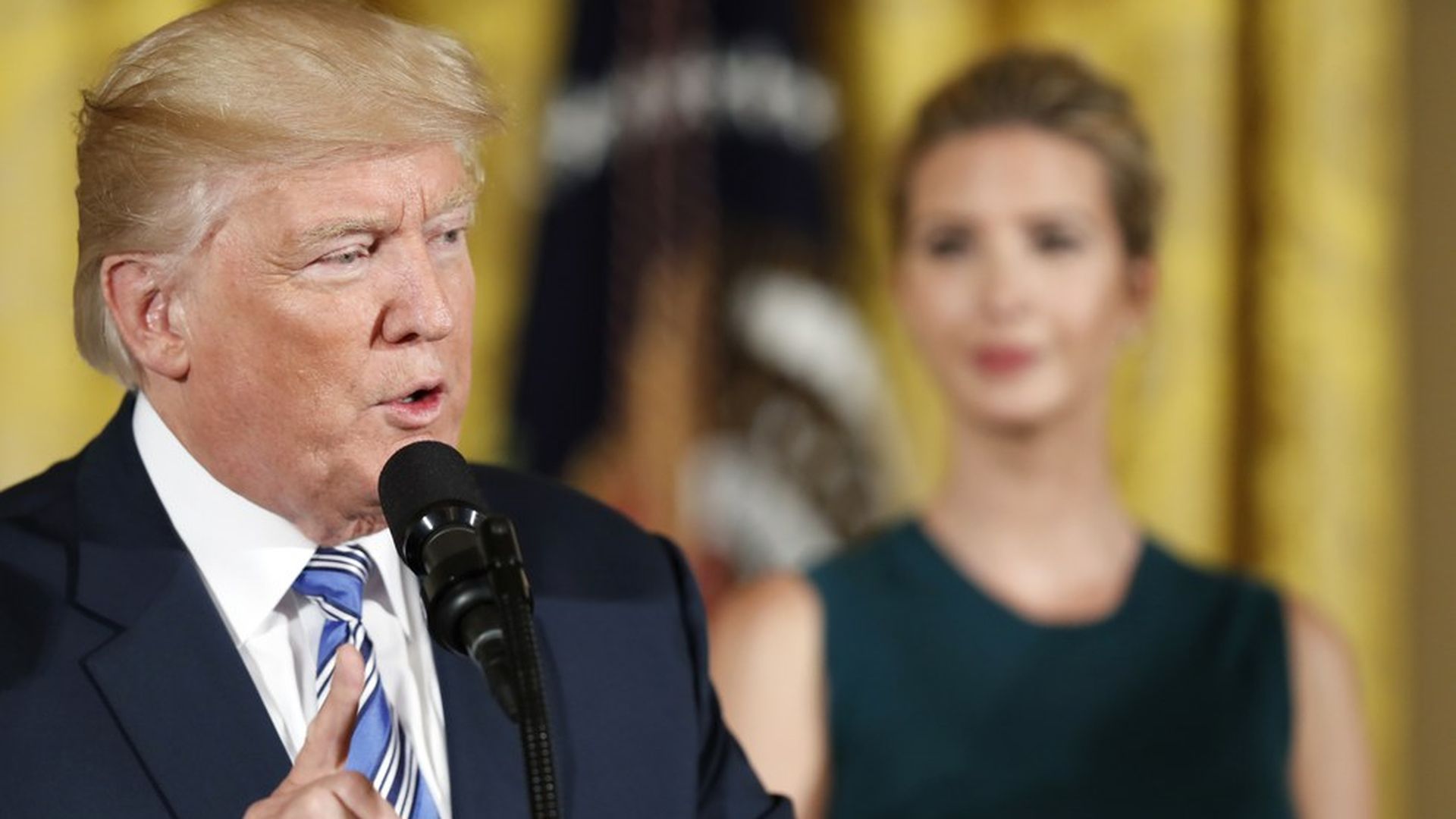 President Trump is spoiling for a fight. Aides say he's excited about plans, revealed last night by Axios' Jonathan Swan, to move aggressively against China over its theft of U.S. intellectual property.
Against what some aides call his better judgment, Trump moderated his campaign rhetoric about China. Now, irritated about how little Beijing has done to help pressure North Korea, Trump plans to let loose.
That announcement, which aides expect soon, reflects a coming hot period for the Trump administration.
Suddenly, Trump is facing a bunch of high-stakes confrontations, any one of which could define his presidency.
Richard Nixon wrote a book called "Six Crises" after losing the 1960 presidential race to JFK. Here are six of Trump's coming trials:
North Korea's nuclear capability went from a long-range worry to a clear and present danger, with Denver and Chicago now thought to be in range of weapons the regime is testing. The U.S. has few levers for directly inflicting pain on Kim Jong-un, and the military options are all horrific.
The administration has been sending mixed signals about trade. But the new plan to confront China is a sign that Trump may touch off a trade war, with unpredictable consequences — from the disruption of the flow of commerce, to possible retaliation by the world's other economic superpower.
Anyone in government with access to intelligence and data will tell you the most likely source of a crippling attack on the U.S. is cyber — and the most likely genesis is Moscow. Although this is a known risk, with Putin interfering in elections around the world, Trump has done little to mitigate the danger.
Trump is at real risk of losing his party. His base voters are remaining steadfast, but Republican senators are getting increasingly impatient and resistant. Sen. John McCain's surprise thumbs-down on health care is likely the beginning of a wave of defections from establishment Republicans.
It's rarely discussed publicly, but people in government say that a domestic attack — although unlikely to be on the scale of 9/11 because of all the countermeasures that have been added — is a constant possibility. And critics and skeptics worry about ways Trump could consolidate power in the wake of such an event.
We put Bob Mueller last just because the special counsel gets so much attention. But make no mistake: The special counsel's investigation remains the existential threat to this presidency. Reuters reported that Mueller just added a 16th lawyer to his team — Greg Andres, who has experience prosecuting illegal foreign bribery.
Be smart: Trump, who had a pretty good life before, has never seemed to love this job as much as friends thought he might. And he's about to find out just how hard a job it is.
Go deeper