Trump will discuss drones, wireless tech with investors, execs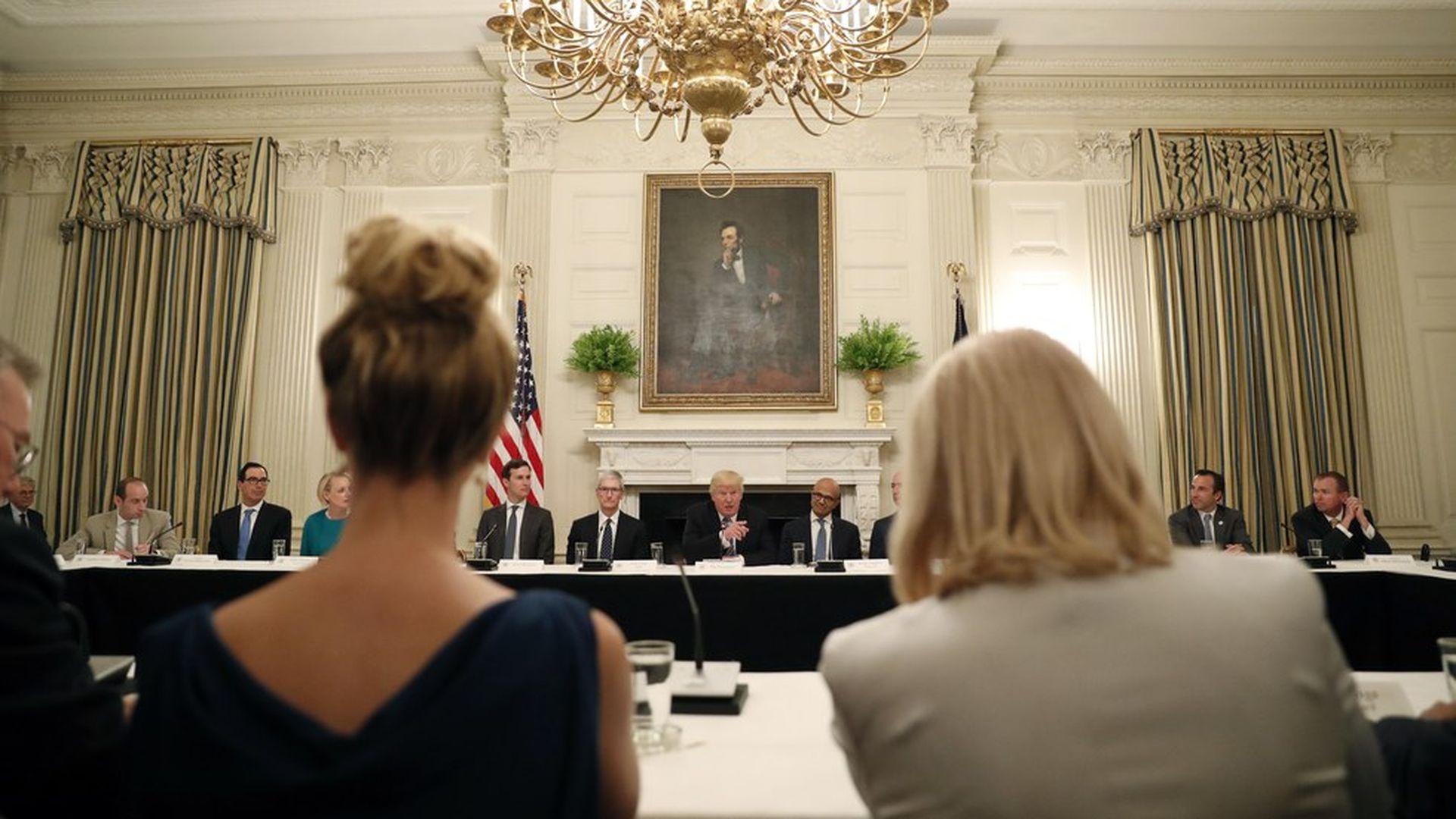 The White House will host executives and investors on Thursday for sessions on emerging technology like drones, 5G wireless and the Internet of Things.
Why it matters: The Office of Science and Technology Policy was, under the Obama administration, a key way for the White House to engage in thorny problems involving new technology like artificial intelligence and self-driving cars. But it's been far less active so far under Trump, who hasn't appointed a chief technology officer to lead it. The event is part of a larger "Tech Week" at the White House that included a meeting with major company execs on Monday.
The rundown:
Three working group sessions will focus on drones, new wireless and connected devices technologies and on "financing successful emerging tech companies," said Michael Kratsios, and organizer of the meeting and the U.S. deputy chief technology officer. That last conversation will include a discussion of "ways we can expand geographical diversity in venture investment, so that as the tech economy grows communities nationwide can benefit."
The president will speak at a general session about emerging technology and will then talk with the attendees to "learn more about some of the topics raised during the breakout session," Kratsios said. Trump's meeting will also include demos meant to show off drone technology and how 5G wireless could be built into a city.
The guest list: In addition to a cadre of attendees from the White House, the administration will be represented by Commerce Secretary Wilbur Ross, FCC Chairman Ajit Pai, SEC Commissioner Michael Piwowar and officials from other executive agencies.
Expected guests from venture capital:
New Enterprise Associates Managing General Partner Peter Barris
Revolution LLC CEO Steve Case
Cayuga Venture Fund Partner Jennifer Tegan
500 Startups COO Aman Verjee
Mohr Davidow Ventures General Partner Jim Smith
Arboretum Ventures Managing Director Jan Garfinkle
EPIC Ventures Managing Director Nick Efstratis
Lightspeed Ventures Founding Partner Barry Eggers
A number of major venture capital firms won't be present.
And from companies:
GE CEO Jeff Immelt
Honeywell CEO Darius Adamczyk
CenturyLink CEO Glen Post
T-Mobile COO Mike Sievert
AT&T CEO Randall Stephenson
Verizon President John Stratton
Sprint CEO Marcelo Claure
Airspace CEO Jaz Banga
PrecisionHawk CEO Michael Chasen
Measure CEO Brandon Declet
Xcel Energy CEO Ben Fowke
Trumbull Unmanned CEO Dyan Gibbens
Nasdaq Executive Vice President Nelson Griggs
Qadium CEO Tim Junio
Airmap CEO Ben Marcus
Kespry CEO George Mathew
Go deeper