Trump versus Curry, Lebron, the NFL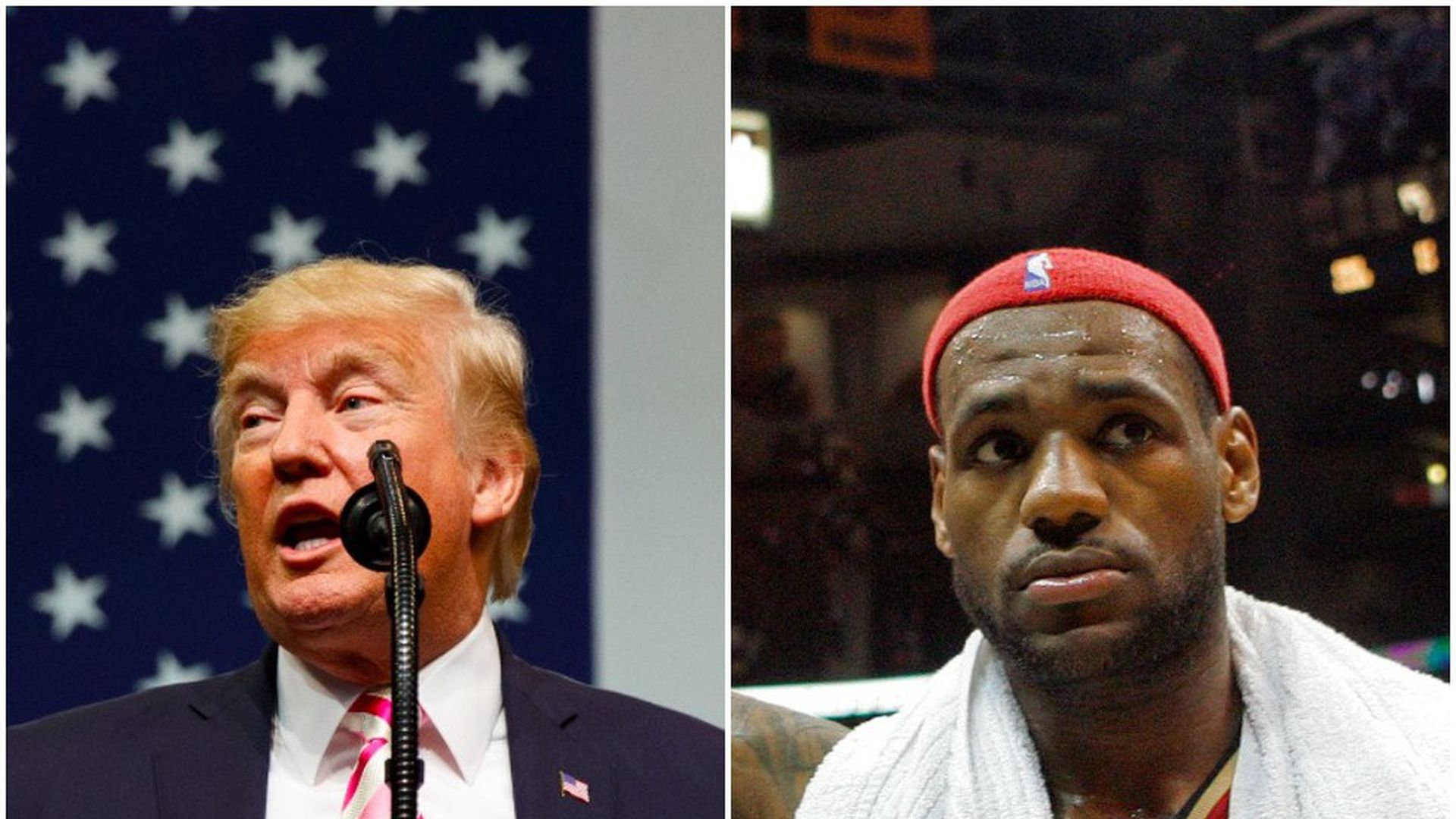 Trump's tweet: "Going to the White House is considered a great honor for a championship team.Stephen Curry is hesitating, therefore invitation is withdrawn!"
LeBron James' response: "U bum @StephenCurry30 already said he ain't going! So therefore ain't no invite. Going to White House was a great honor until you showed up!"
Chris Paul of the Houston Rockets responded as well:
With everything that's going on in our country, why are YOU focused on who's kneeling and visiting the White House??? #StayInYoLane — Chris Paul (@CP3) September 23, 2017
And I doubt he's man enough to call any of those players a son of a bitch to their face... — Chris Paul (@CP3) September 23, 2017
Former L.A. Laker Kobe Bryant tweeted:
A #POTUS whose name alone creates division and anger. Whose words inspire dissension and hatred can't possibly "Make America Great Again" — Kobe Bryant (@kobebryant) September 23, 2017
Trump's criticism last night of "those people taking the knee when they are playing our great national anthem" also drew criticism from a number of NFL players. He doubled down on his criticisms on Saturday afternoon:
If a player wants the privilege of making millions of dollars in the NFL,or other leagues, he or she should not be allowed to disrespect.... — Donald J. Trump (@realDonaldTrump) September 23, 2017
...our Great American Flag (or Country) and should stand for the National Anthem. If not, YOU'RE FIRED. Find something else to do!— Donald J. Trump (@realDonaldTrump) September 23, 2017
DeMaurice Smith, head of the NFL Players Association
We will never back down. We no longer can afford to stick to sports. pic.twitter.com/Ec3Bc4qt9h — DeMaurice Smith (@DeSmithNFLPA) September 23, 2017
Lesean McCoy of the Buffalo Bills
It's really sad man ... our president is a asshole — Lesean McCoy (@CutonDime25) September 23, 2017
Eric Ebron of the Detroit Lions
Does anyone tell trump to stick to politics, like they tell us to stick to sports? Smh. — Eric Ebron (@Ebron85) September 23, 2017
Zach Brown of the Washington Redskins
Trump stay in ur place... football have nothing to do wit u smh — Zach Brown (@ZachBrown_55) September 23, 2017
Chris Conley of the Kansas City Chiefs
"Stick to sports boy... Sit down and do what your told. Say or do something we don't like and your fired" Well I hate to break it to ya... — Chris Conley (@_flight17_) September 23, 2017
Benjamin Watson of the Baltimore Ravens
It is a sad day when the #POTUS seeks to disregard and punish American citizens for peacefully exercising their constitutional rights. https://t.co/QPvrKDS29D — Benjamin Watson (@BenjaminSWatson) September 23, 2017
Bishop Sankey of the Minnesota Vikings
It's a shame and disgrace when you have the President of the US calling citizens of the country sons of a bitches. — Bishop Sankey (@BishopSankey) September 23, 2017
Michael Thomas of the Miami Dolphins
Continue to use your voices and your platforms for racial equality and to stop injustices in our communities. This is bigger than us!!! ✊🏿 — Michael Thomas (@Michael31Thomas) September 23, 2017
George Iloka of the Cincinnati Bengals
I can't take anything our Celebrity in Chief says seriously. He's a real life clown/troll 🤡 — George Iloka (@George_iloka) September 23, 2017
Rishard Matthews of the Tennessee Titans
I'm a full supporter of the Flag & This country! Trust Me! But this can't be real! https://t.co/GAPkZPB8hz — Rishard Matthews (@_RMatthews) September 23, 2017
Chris Baker of the Tampa Bay Buccaneers
So the BLACK NFL PLAYERS are SON OF A BITCH now WOW — Chris Baker (@cbakerswaggy) September 23, 2017
Devin McCourty of the New England Patriots
Ppl said it was disrespectful not going to the White House..I'm sure they are quiet about us being called "sons of bitches" 🤦🏿♂️(D-Mac) — Devin&Jason McCourty (@McCourtyTwins) September 23, 2017
Richard Sherman of the Seattle Seahawks
The behavior of the President is unacceptable and needs to be addressed. If you do not Condemn this divisive Rhetoric you are Condoning it!! — Richard Sherman (@RSherman_25) September 23, 2017
Adewale Ogunleye, former player
WHITE SUPREMACIST IN THE OVAL OFFICE!!! Donald J Trump — Adewale Ogunleye (@aotheprince93) September 23, 2017
Lance Moore, former player
So Trumpster is more mad at "son of a bi!@&" athletes than he was the neo-nazi's in Charlottesville. How am I not surprised? — Lance Moore (@LanceMoore16) September 23, 2017
Go deeper