Trump told Jeanine Pirro he wanted to fire Comey on Day 1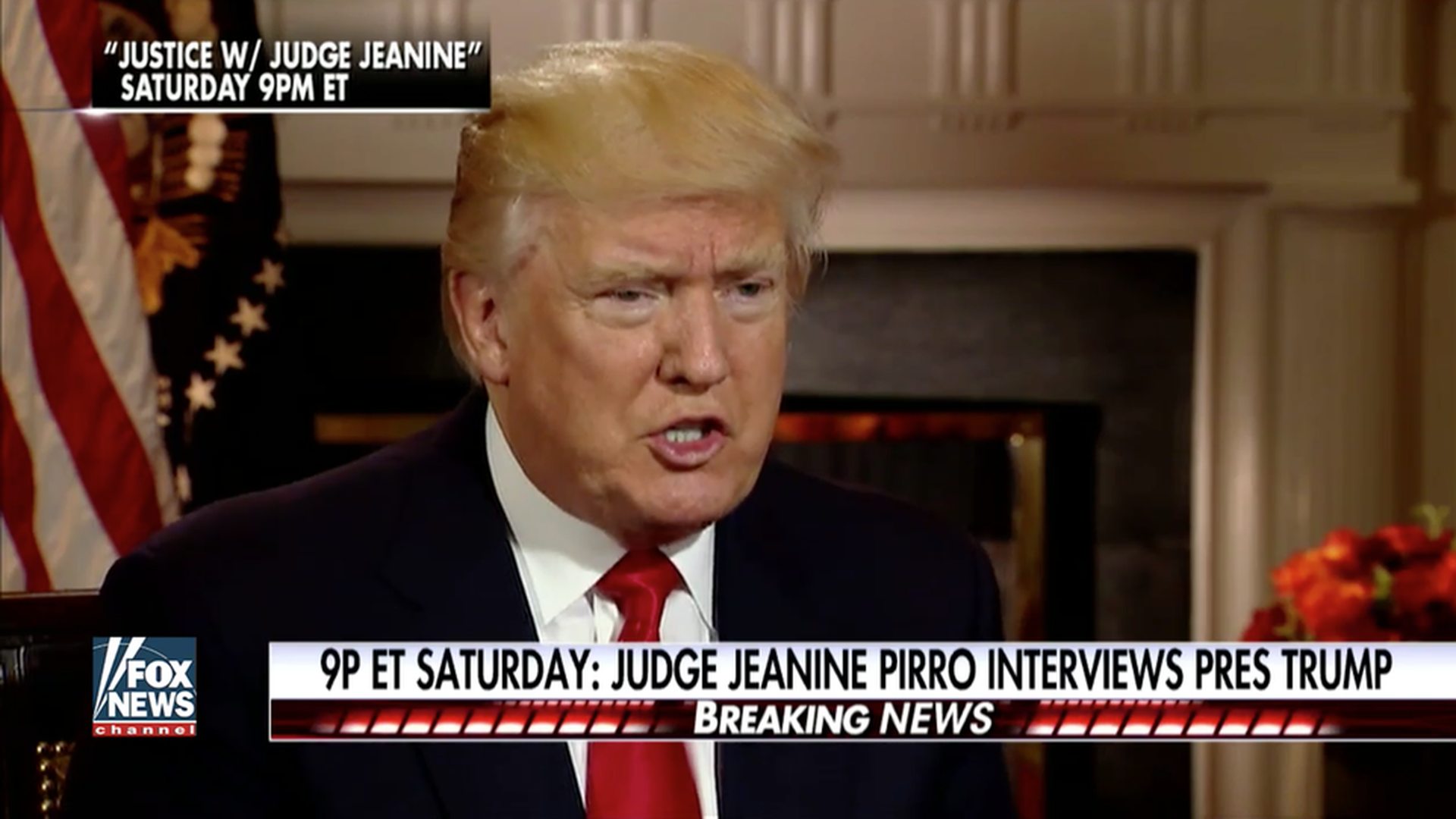 Trump's sit-down interview with Jeanine Pirro aired tonight on her Fox News show "Justice with Judge Jeanine" and, unsurprisingly, James Comey was still a hot topic of discussion. They talked about Trump's presidency and a bit about his policies, but Pirro went for the Comey questions right at the start — and Trump revealed two somewhat surprising things:
He thought the Democrats would be happy about firing Comey, which suggests he was motivated by that presumed bipartisan support.
He said he was considered firing Comey on Jan. 20, but admitted he didn't want that news to overshadow the inauguration. "Let's say I did it on January 20, the opening, right, and that would have been the big story as opposed to the inauguration. I was thinking about it then. I was thinking about it during this period of time."
Why it matters: As Trump told Pirro, "Look, it's all politics." His responses about Comey suggest he was the one who was showboating — he told Lester Holt that Comey was a "showboat" and a "grandstander") — whether keeping the focus on his inauguration or trying to make what he anticipated would be a strategic move with Democrats.Other highlights from the interview:"I guess I was a little bit surprised, because all of the Democrats, I mean they hated Jim Comey. They didn't like him. They wanted him fired or whatever. And then all of a sudden, they come out with these glowing reports."Comey 3.0: " I mean, he gave her a free pass like nobody's ever, ever gotten a free pass. ...Then he came out with Comey two, and then he came out with Comey three, and the ultimate thing is, he gave her a free pass."AHCA wasn't a failure: "And we're doing very well with healthcare. By the way — well, it wasn't really an initial failure. It was just a continuation of a negotiation."Health care predictions: "And I think the Senate is going to come up with some really, really great additions and changes, and we're going to have a plan that's going to be really great."He says he made friends while trying to pass AHCA: " made so many friends. I was in business, and I didn't know a lot of these Congressmen and Congresswomen. They're great people. I met so many people that I really like." He also said he was speaking to "30, 40, 50" people — members of the Freedom Caucus, the Tuesday Group, and House Republican — each day trying to pass AHCA.
Go deeper