Trump: "the reason our stock market is so successful is because of me"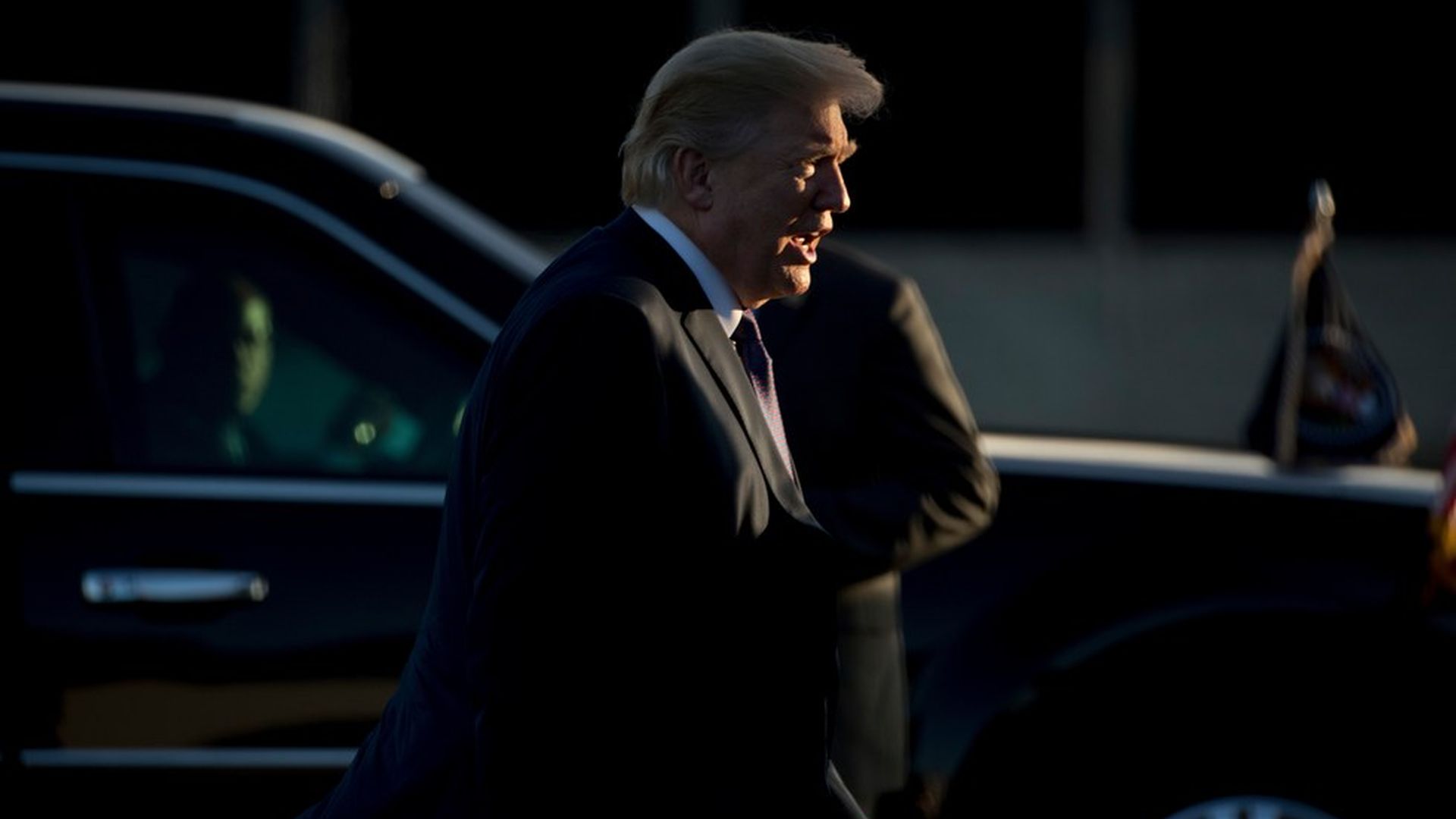 President Trump took credit Saturday for stock market gains since his election, telling reporters on Air Force One he's "always been great with money" and he's "always been great with jobs, that's what I do."
Why it matters: These quotes won't age well if the stock market takes a turn for the worse. They also came in response to questions about how Trump wants China, which recently elevated President Xi Jinping to a status not achieved since Mao Zedong, to view the U.S.
Go deeper: Trump's stock market expansion vs. those under Obama and Bush.
---
Full test of Trump's answers on the subject below. For context, this starts in response to a question "about Xi's consolidation of power, compared with Trump entering China, with Xi coming off a very successful run":
"Excuse me, so am I. Highest stock market in history, lowest unemployment in 17 years, a military that's rapidly rebuilding, ISIS is virtually defeated in the Middle East. We are coming off some of the strongest numbers we've ever had, and he knows that and he respects that and he's a friend of mine. We're friends.
"Now, with that being said, he represents China, I represent the United States. But we're going in with tremendous strength. We're going in with a stock market that's higher than ever before. We literally Friday closed at the highest point in the history of the stock market. You look at the unemployment numbers—we picked up 5.5 trillion dollars since my election in market value. These are tremendous numbers. Whether it's China or anybody else, these are massive numbers."
Then Trump is asked how he wants China to view the U.S. at the end of the trip:
"Well I think he's viewing us very, very strong, and also very friendly. But we have to do better with trade with China, because it's a one-way street right now and it has been for many years. And we will.
"But the reason our stock market is so successful is because of me. I've always been great with money, I've always been great with jobs, that's what I do. And I've done it well, I've done it really well, much better than people understand and they understand I've done well. But we have a tremendous amount of strength because of what's happened. You know, think of it -- $5.5 trillion worth of value.
"But also, look at ISIS. Look at our military budget that we just had approved. We're at $700 billion, and by the way, going up. We make the best military equipment in the world. A shot was just taken by Iran, at my opinion, at Saudi Arabia. You know about that, right? You saw the missile that went out? And our system knocked the missile out of the air. That's how good we are. Nobody makes what we make, and now we're selling it all over the world.
"One of the reasons our markets are so high and our defense companies are doing so well is I am demanding our allies and people we are working with that they buy our equipment. Now, there's two advantages to that. Number one, we make by far the best equipment, but, number two, they're buying from us.
"So I think we're going in with tremendous strength. I mean, I don't think – I mean, there's a question that you asked, and I understand the question. But when you think on Friday we hit the highest point in the history of our stock market when we picked up from November 8, which can you believe it is almost exactly one year?
"We going to be at China together? We'll have to celebrate together. November 8. I hope we'll all celebrate together, but — in fact I was going to have a big celebration party, and then I said, 'Well…' We'll celebrate together. But, um, what you think of $5.5 trillion, when you think what we've done to ISIS. Now, ISIS—the remnants—they go into Africa and other places and we're meeting them before they get there. So they've never seen anything like it. We have been more successful with ISIS than in eight years of the previous administration.
"So, anyway, I was just coming back to say hello. Go and have a good time. We'll see you a lot."
Go deeper