Trump talks, Russia listens, Israel reacts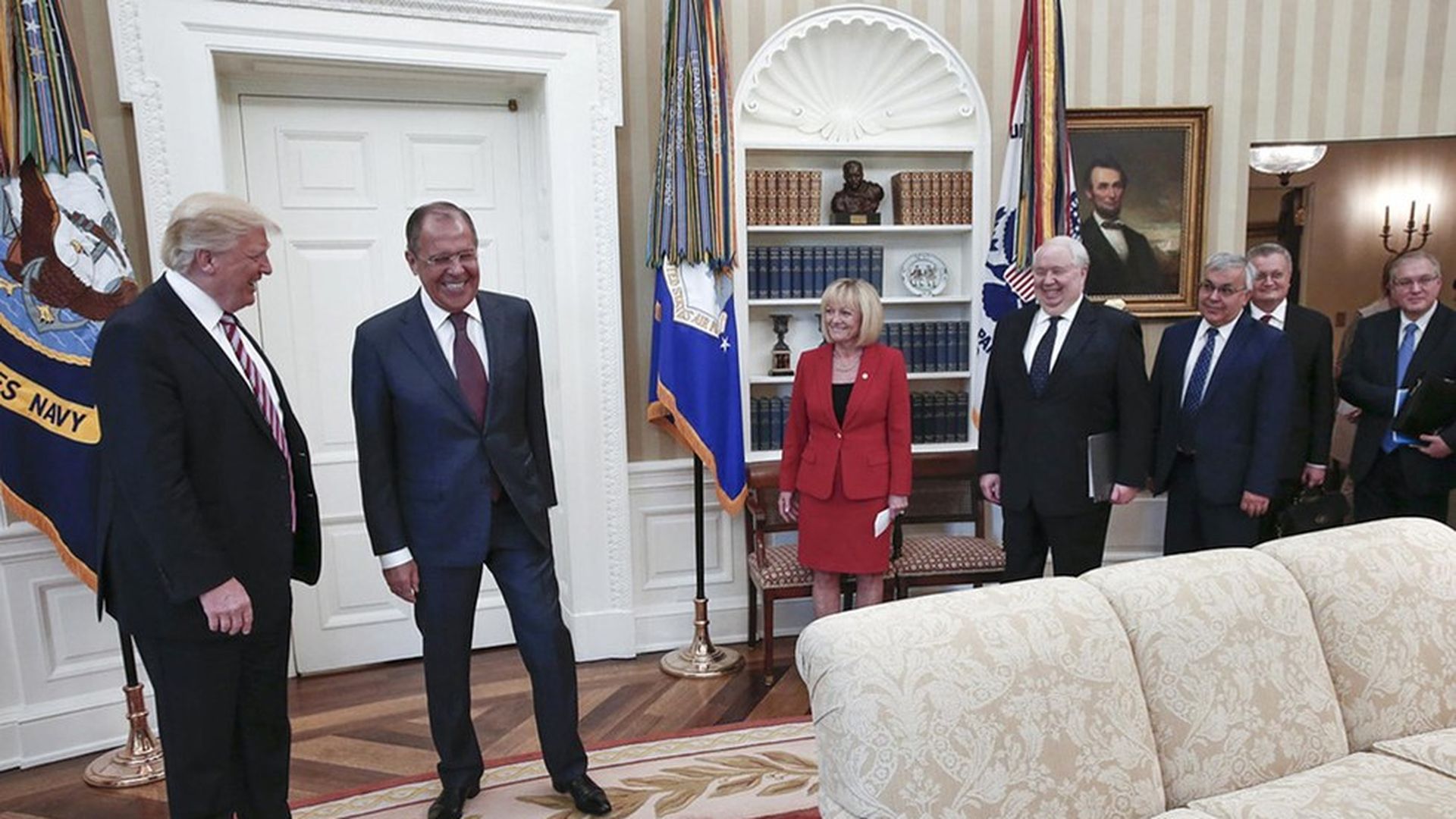 As the aftershocks from the Washington Post report that President Trump shared classified information with the Russians reverberate through Washington, the White House is insisting that Trump's actions were "wholly appropriate," and more details are emerging about what exactly was disclosed.
The latest:
The New York times reported that Israel was the source of the intelligence, with Israeli intel officials confirming that to Buzzfeed News and describing the disclosure as their "worst fears confirmed."
The information was related to an ISIS plot to bomb U.S.-bound flights, per Buzzfeed
Trump's position: "We had a very, very successful meeting with the foreign minister of Russia… we want to get as many to help fight terrorism as possible."
Full coverage: Report: Israel was source, Israel outraged by disclosure, Trump speaks, Dems react, Spicer dodges, CIA to brief, Europe concerned, How media covered it.
What McMaster did and didn't say when briefing reporters
Was the intel classified? Didn't answer.
When did Trump decide to share the intel? On the fly during the meeting.
Why did he do it? To expand the anti-ISIS fight and protect U.S. national security.
Did Trump know who the source of the intel was? No.
Does he stand by denial of Washington Post report? Yes, because "premise" was false.
Point, counterpoint
McMaster implied Trump revealed the city the tip came from, a key aspect of the Post's reporting, but said "it was nothing that you would not know from open-source reporting."
CNN's Jake Tapper says CNN had the name of the city previously but was urged not to report it: "By reporting the city's name, Trump administration officials insisted, that would tip off American adversaries about sources and methods used to gather the intelligence. It would, they insisted, get people killed."
Highlights from Sean Spicer's briefing
Claimed the tip regarded a common threat: "Why wouldn't we want to share a common threat?"
On leaks to press: "What has occurred here... is frankly dangerous. It undermines our national security."
The pattern
Some revealing excerpts from the NYT's Maggie Haberman and Glenn Thrush:
"There is a fear among some of Mr. Trump's senior advisers about leaving him alone in meetings with foreign leaders out of concern he might speak out of turn. General McMaster, in particular, has tried to insert caveats or gentle corrections into conversations when he believes the president is straying off topic or onto boggy diplomatic ground Mr. Trump… has referred to him as 'a pain.'"
"A dozen of Mr. Trump's aides and associates… spoke candidly, in a way they were unwilling to do just weeks ago, about the damage that was being done to the administration's standing and the fatigue that was setting in after months of having to defend the president's missteps, Twitter posts and unpredictable actions."
"Three administration officials conceded that they could not publicly articulate their most compelling — and honest — defense of the president: that Mr. Trump, a hasty and indifferent reader of printed briefing materials, simply did not possess the interest or knowledge of the granular details of intelligence gathering to leak specific sources and methods of intelligence gathering that would do harm to United States allies."
The consequences
A "senior European intelligence official" told the AP that his country, which was not identified, could stop sharing information with the U.S. to protect its sources.
It could damage recruitment of foreign spies, David S. Cohen writes in the NYT: "Every asset who is not recruited impoverishes our understanding of the opportunities, risks and threats in the world."
Go deeper