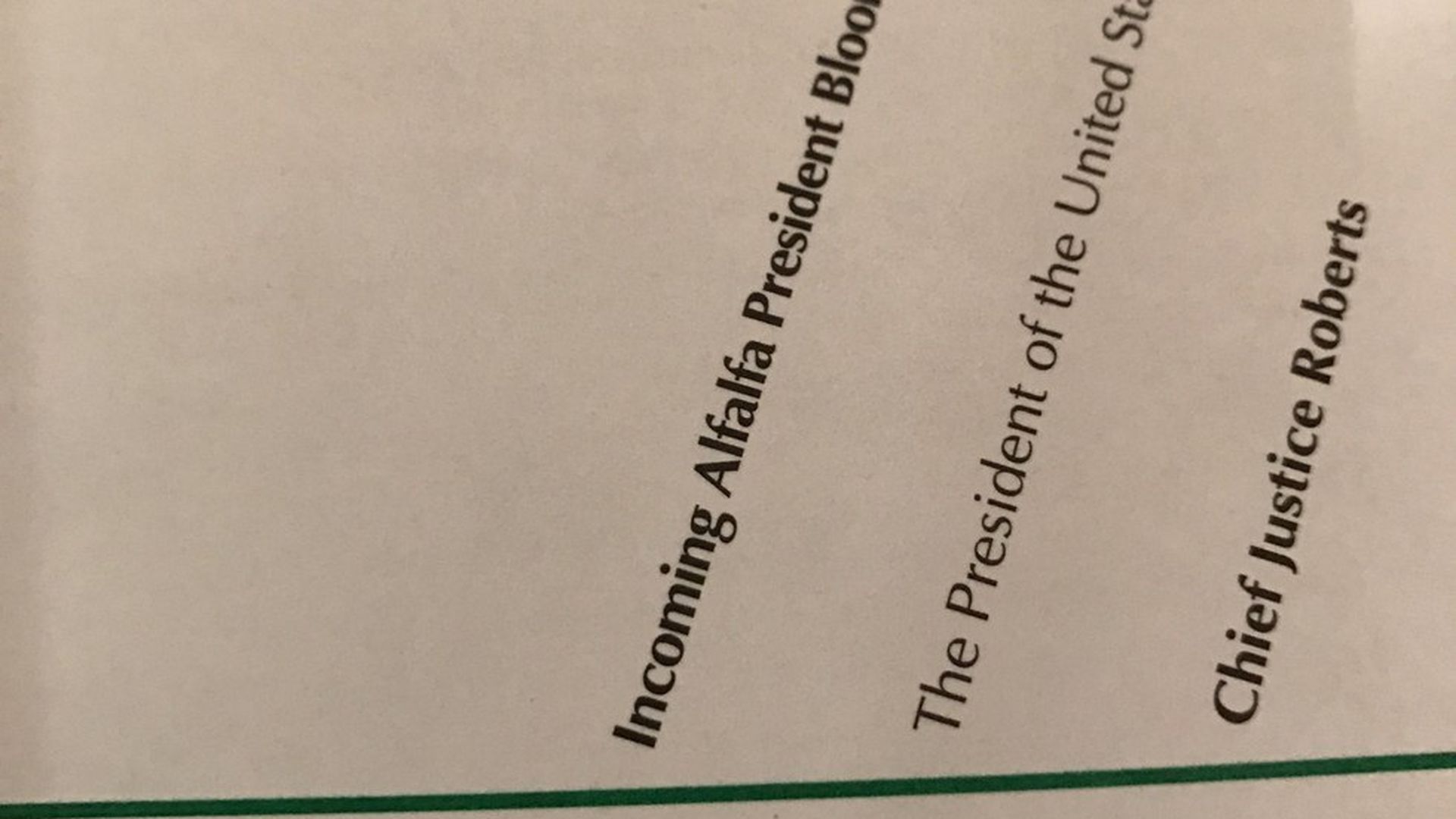 The annual black-tie dinner of the Alfalfa Club is the board meeting of America's establishment: The 750 guests tonight include Warren Buffett, Tim Cook, Jamie Dimon, Bill Gates, Bob Gates, Vernon Jordan, Charlie Rose, Jeb Bush, James Baker and plenty more moguls and grandees. The head table, stretching across a giant ballroom, includes the Cabinet, the congressional leadership and the cream of the diplomatic corps.
President Trump's name is in the program, seated between Michael Bloomberg and Chief Justice Roberts.
But in a shot at the swamp, Trump isn't coming. The White House says he'll be working, and never committed to going. Vice President Pence is still expected and some West Wing officials, including Kellyanne Conway, plan to attend. Chief strategist Steve Bannon was going, but now will be with the president in some briefings.
Others from the Trump inner circle who are expected: Jared Kushner, Reince Priebus, Gary Cohn, Hope Hicks, deputy chief of staff Katie Walsh, CIA Director Mike Pompeo, incoming SecState Rex Tillerson, incoming SecDef James Mattis and incoming Commerce Secretary Wilbur Ross. Dina Powell, Trump's senior counselor for economic initiatives, is a "sprout" – an inductee to Alfalfa.
The evening includes funny speeches, with plenty of barbs aimed at the president. During the debate over whether Trump should go, some aides worried that a zinger might rankle the boss. Now they won't have to fret about the piercing comedy stylings of Mayor Bloomberg and Erskine Bowles.
Go deeper