Trump phones a friend on health care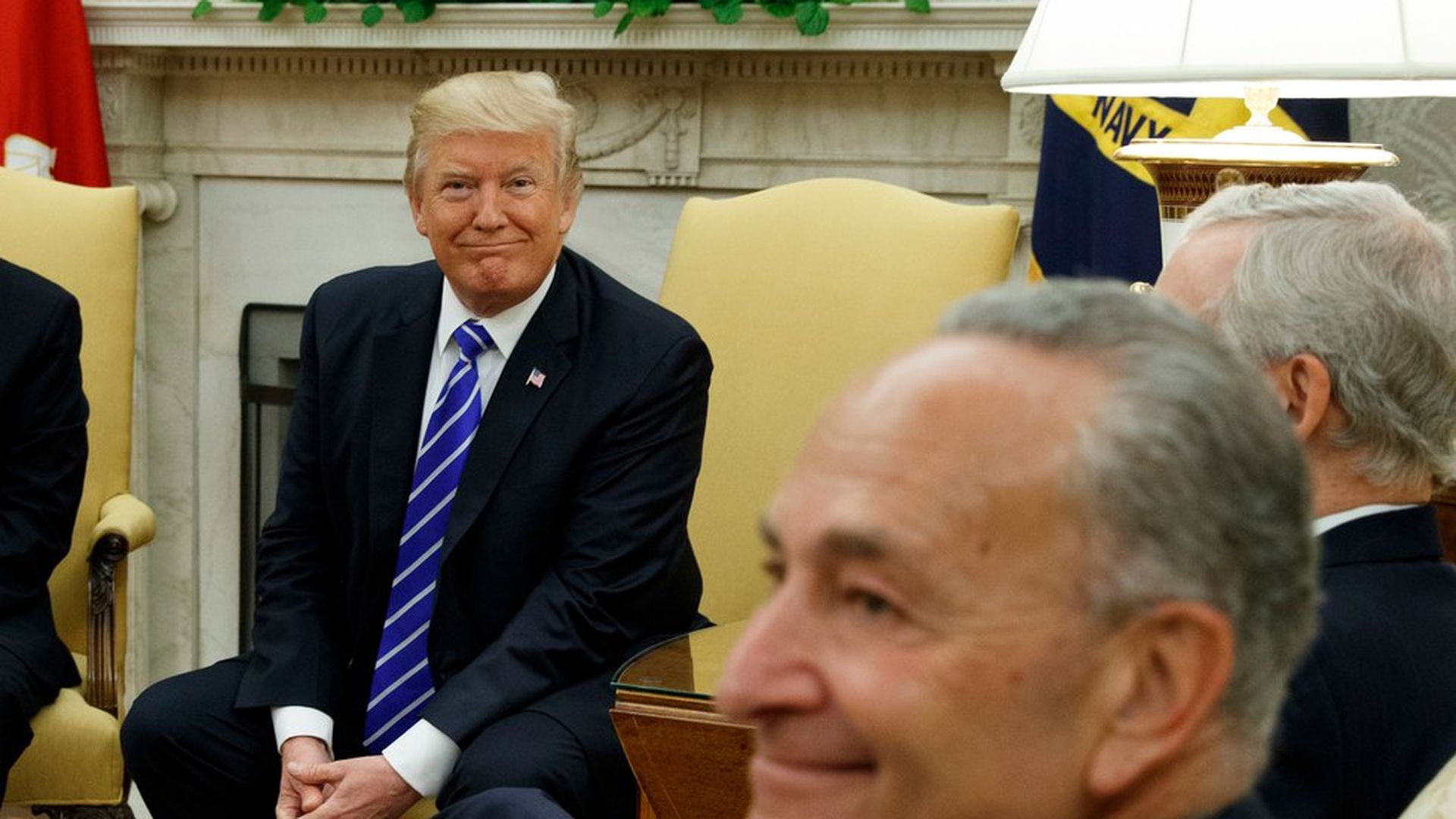 A Trump tweet this morning confirms last night's Axios scoop: "I called Chuck Schumer yesterday to see if the Dems want to do a great HealthCare Bill. ObamaCare is badly broken, big premiums. Who knows!"
Be smart: Trump wants to be the deal guy, and he's going to keep playing the "Chuck and Nancy" card. To him, Republicans consternation is a feature, not a bug.
Shortly after Trump's tweet, Democratic Senate leader Chuck Schumer gave his version of the Friday phone call: "The president wanted to make another run at repeal and replace and I told the president that's off the table. If he wants to work together to improve the existing health care system, we Democrats are open to his suggestions. A good place to start might be the Alexander-Murray negotiations that would stabilize the system and lower costs."
A Democratic aide added, in an email: "Particularly after the birth control decision yesterday, the administration has to stop sabotaging the law before anything real can happen."
The initial reaction among some Republicans was consternation:
A well-wired Republican told us: "It codifies the Rs' failure on repeal/replace and shows the President can move without hesitation or ideological impediment to make a deal with the Dems. It depresses R base turnout in the midterms, as Trump voters are further disconnected from the Congressional wing."
Between the lines ... Axios health care editor Sam Baker emails me:
"All of the things Trump and his administration have done on health care — not just pushing for repeal-replace, but independently cutting off enrollment outreach, keeping insurers in limbo about their payments, reportedly putting the kibosh even on Republican governors' efforts to stabilize their markets, all of it — cuts in the exact opposite direction of anything Schumer would want or could abide."
"If there's any hope for something bipartisan, I would have thought the most likely vehicle for that would have been [Sens.] Lamar Alexander [R-Tenn.] and Patty Murray [D-Wash.], since they're both already working and not nearly as far apart as Trump and Schumer would have to be. Yet that effort is far from a lock."
Go deeper: Read Axios' scoop from last night on the call.
Go deeper