Trump on defensive after oddly measured Charlottesville remarks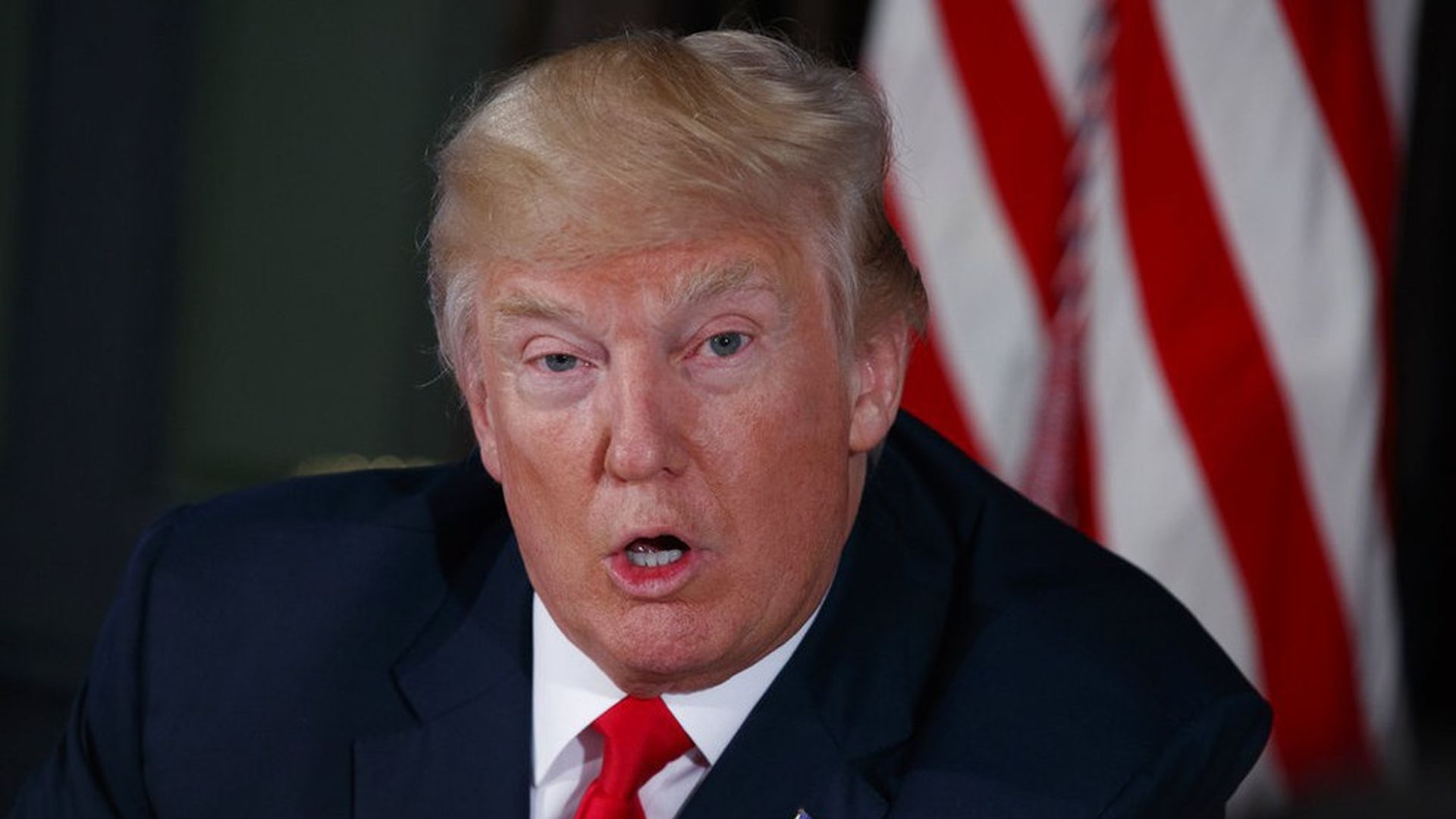 Look for President Trump to say more today about this weekend's racist pageant in Charlottesville, which resulted in three deaths but drew oddly measured condemnation from him.
Top Republicans, including some who have been trying to give Trump the benefit of the doubt, fear the damage may be done to the party, and to the president.
Yesterday's deafening presidential silence was underscored when Vice President Mike Pence told reporters in Cartagena, Colombia: "We have no tolerance for hate and violence from white supremacists, neo Nazis or the KKK. These dangerous fringe groups have no place in American public life and in the American debate, and we condemn them in the strongest possible terms."
Trump, in New Jersey but on vacation in name only, returns to the construction-zone White House today for 8½ hours.
He'll meet the cameras of the press pool at 3 p.m. in the Diplomatic Reception Room to sign a memo jabbing China on trade. We expect he'll amplify his "many sides" remark from Saturday.
He's on the defensive, when he could be soaring:
N.Y. Times' Glenn Thrush and Rebecca Ruiz: "As the gravity of the events on Saturday became clearer, the pressure on Mr. Trump to make a stronger statement came from his innermost circle of advisers and family."
"Trump consulted a broad range of advisers before speaking on Saturday, most of whom told him to sharply criticize the white nationalist protesters. ... Trump listened attentively ... but repeatedly steered the conversation to the breakdown of 'law and order,' and the responsibility of local officials to stem the violence."
NBC's Chuck Todd, on "Meet the Press": "It was almost as if the Republican Party was waiting to see what he would do. And then, it was a rush to say, 'Whoa.' He's on an island right now, I think, in his party."
Rich Lowry, National Review editor and proud U.Va. grad, to Chuck: "[T]his was a moment ... where the president could've elevated himself. Instead, he came up small. And that's one of the reasons ... you've seen such a premium on the statements from other Republicans on moral clarity, given the president's ambiguity."
CNN: "IS THIS A DEFINING MOMENT FOR THE REPUBLICAN PARTY?"
Front page of today's N.Y. Times: "A White House Statement on Virginia Is Also Found Wanting." And WashPost: "White House seeks to quell backlash over Trump remarks." And L.A. Times: "Criticism of Trump intensifies." And Boston Globe: "Division in the United States: Trump draws criticism for reaction to violence." And Guardian: "Trump under fire from all sides."
And the paper he'll see this morning, the N.Y. Post: "TRUMP SLAMMED FROM 'MANY SIDES.'"
Be smart: The truism that you only have one chance to make a first impression has been leavened by today's short attention spans. I've told you before that the biggest surprise of the Trump presidency is that he's done so little to reach out to the 54% of people who didn't vote for him.
Today's his chance to do that in a big way, on a subject that matters vitally to a fractured, fractious country. Trump's challenge is to lead the more extreme elements of his own coalition, and also resonate with America's great middle.
Go deeper