Trump "loved" Scaramucci's quotes — but he hates being upstaged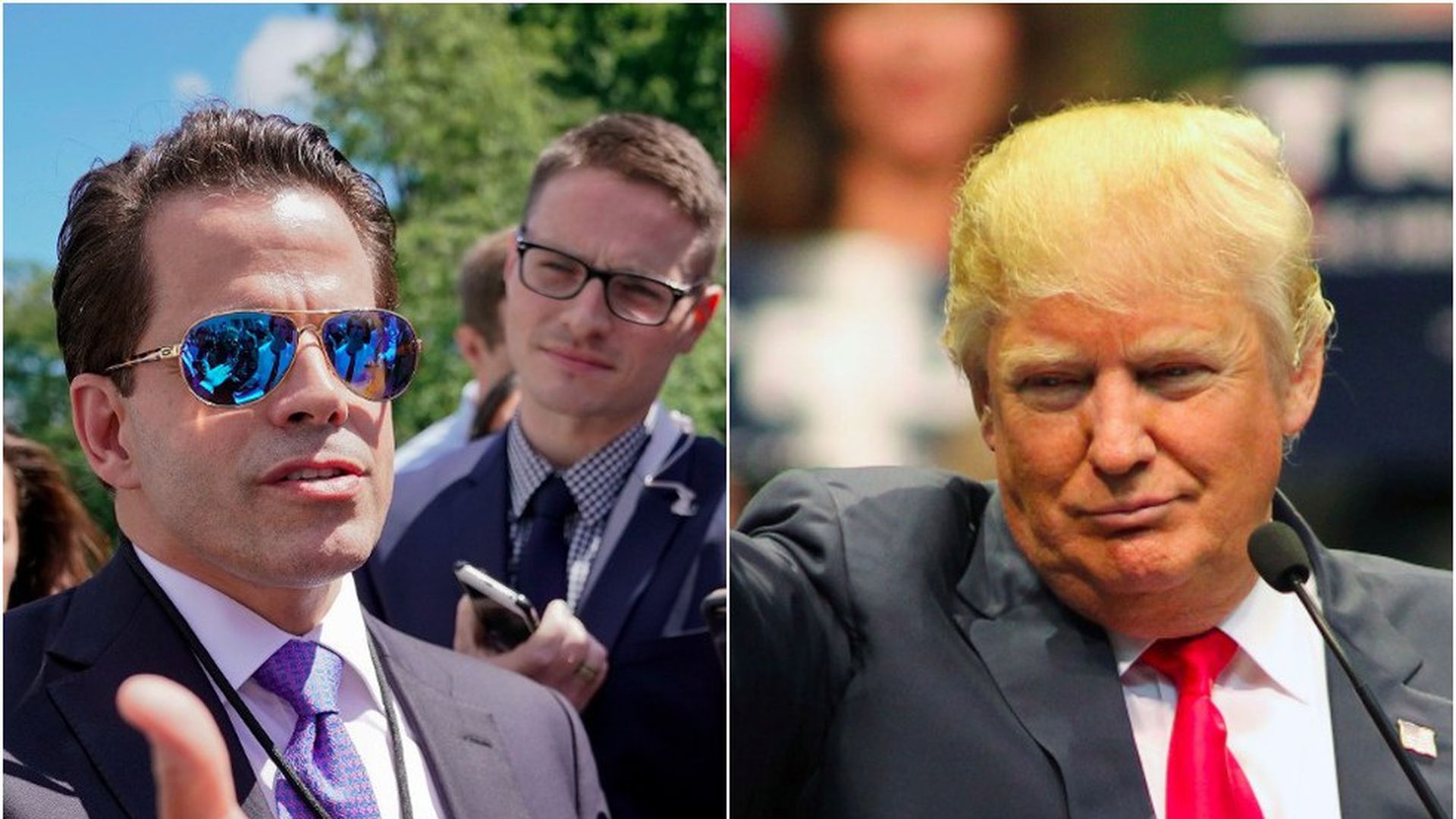 Top Republicans tell us that yesterday may have been an inflection point in the West Wing meltdown — that if behavior like this continues, apparently sanctioned by the President, people will finally leave.
The story that they've been telling themselves and others, about the President growing in office, looks more and more like a fable. Instead, insiders feel the situation is getting worse.
A George W. Bush alumnus told us last night: "Republicans don't care about Russia. They do care about dysfunction."
What triggered this new bearishness among White House officials and their allies were the crude quotes by incoming White House communications director Anthony Scaramucci to The New Yorker's Ryan Lizza in a jaw-dropping piece headlined, "Anthony Scaramucci Called Me to Rant About Reince Priebus: He started by threatening to fire the entire White House communications staff. It escalated from there."
In the seconds after the astonishing story posted, a veteran lobbyist sent me a screenshot and said: "not sure if this is truly real."
It wasn't The Onion. It was real:
Scaramucci said White House chief of staff Reince Priebus "is a f---ing paranoid schizophrenic, a paranoiac."
"He reiterated that Priebus would resign soon, and he noted that he told Trump that he expected Priebus to launch a campaign against him. 'He didn't get the hint [when it was announced] that I was reporting directly to the President.'"
"Scaramucci also told me that, unlike other senior officials, he had no interest in media attention. 'I'm not Steve Bannon, I'm not trying to s--k my own c--k ... I'm not trying to build my own brand off the f---ing strength of the President. I'm here to serve the country.'"
"Yeah, let me go, though, because I've gotta start tweeting some sh-t to make this guy [the White House chief of staff] crazy."
What some in the West Wing are thinking: There are interns reading this.
Be smart: The President likes people with backbone. And at the moment, Scaramucci is empowered: We're told the President loved the Mooch quotes. But President Trump doesn't like being upstaged. "Mini-me" can't forget the "Mini" part. Being more Trump than Trump, in Trump's house, is a dangerous game.
P.S. A source close to Mooch says he thought he was off the record, and Mooch tweeted: "I made a mistake in trusting in a reporter. It won't happen again."
A New Yorker spokesperson tells us: "Late in the conversation, Scaramucci requested that one part be off the record, and we respected that. The rest was on the record. Today (Thursday), Ryan and Scaramucci had another conversation and Scaramucci was clear and agreed that the conversation was on the record."
Go deeper