Trump in Japan: Itinerary and photos
President Trump has a jam-packed schedule for his second day in Japan, where he's set to meet with Emperor Akihito before taking part in a working lunch and bilateral meetings with Prime Minister Shinzo Abe. POTUS will also meet with the families of Japanese citizens abducted by North Korea and meet the press at a joint news conference with Abe. He'll end his day at a state banquet at Tokyo's Akasaka Palace.
Go deeper: His full trip itinerary.
Sunday
Trump's arrival at Yokota Air Base: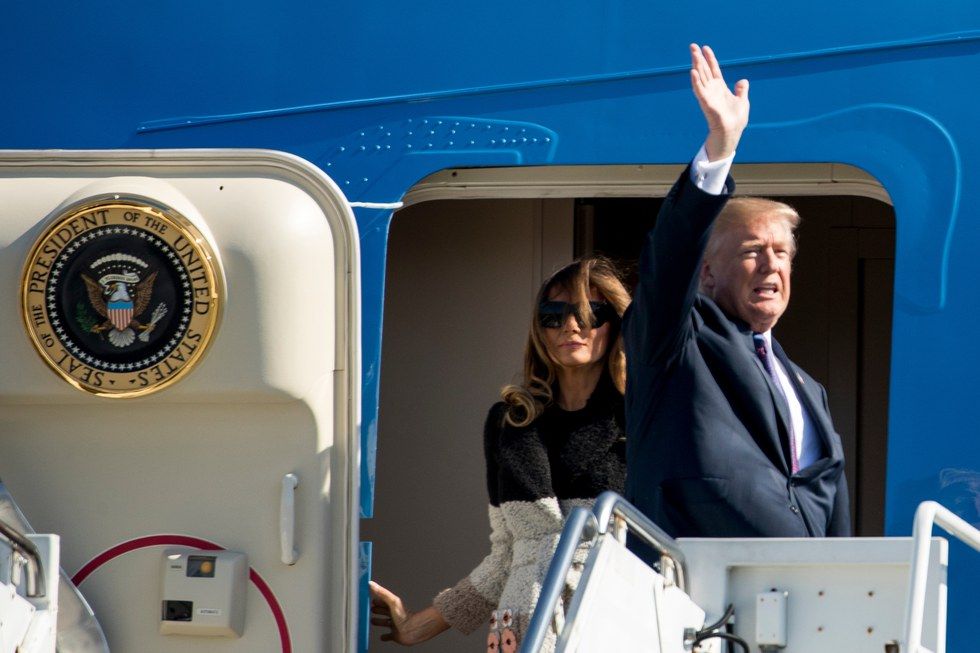 Photo: Andrew Harnik / AP
The hangar at Yokota Air Base where he addressed U.S. servicemembers: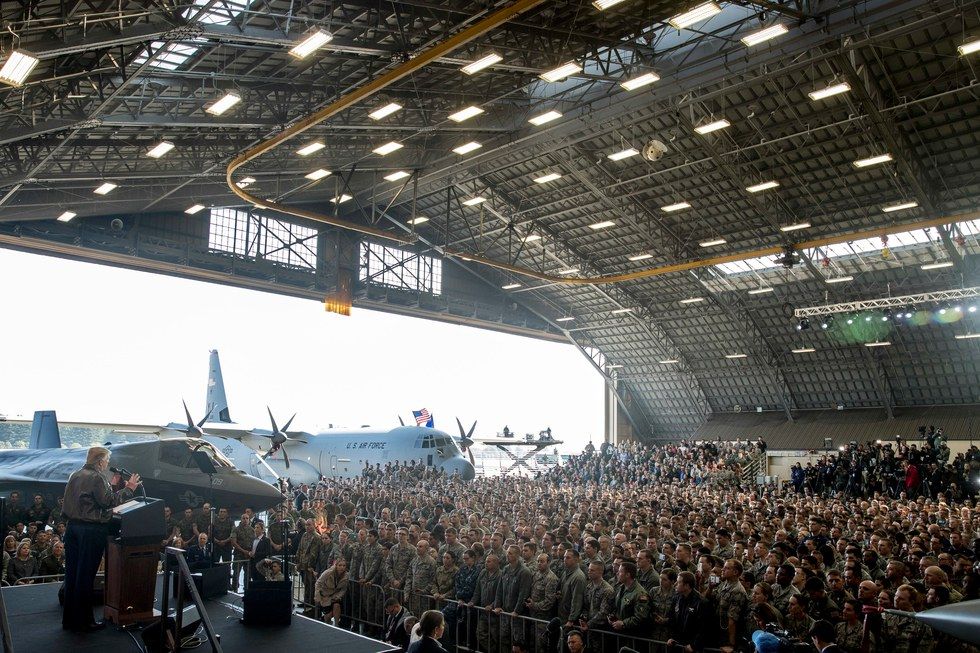 Trump put on a bomber jacket: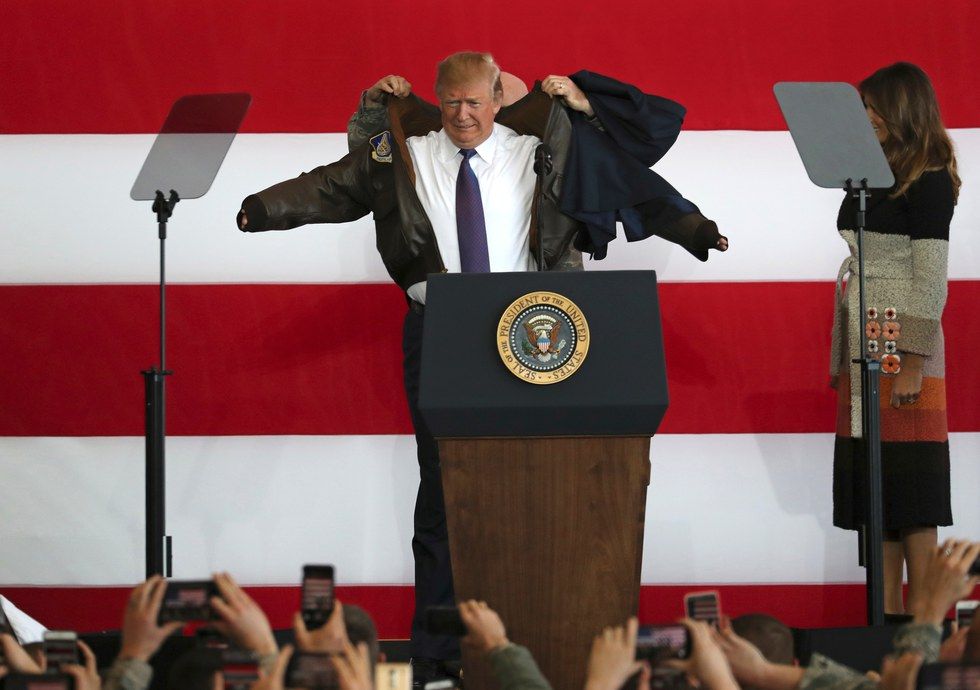 Photo: Eugene Hoshiko / AP
Highlights from his speech at Yokota:
"As long as I am president, the servicemen and women who defend our nation will have the equipment, the resources, and the funding they need to secure our homeland, to respond to our enemies quickly and decisively, and when necessary, to fight, to overpower, and to always, always, always win."
"We dominate the sky. We dominate the sea. We dominate the land and space... Not merely because we have the best equipment, which we do, and by the way, a lot of it's coming in..."
"No one, no dictator, no regime, and no nation should underestimate, ever, American resolve... Every once in a while in the past they underestimated us. It was not pleasant for them. Was it? It was not pleasant. We will never yield. Never waiver, and never falter in defense of our people, our freedom and our great American flag."
Trump was then welcomed by Japanese Prime Minister Shinzo Abe upon his arrival at the Kasumigaseki Country Club.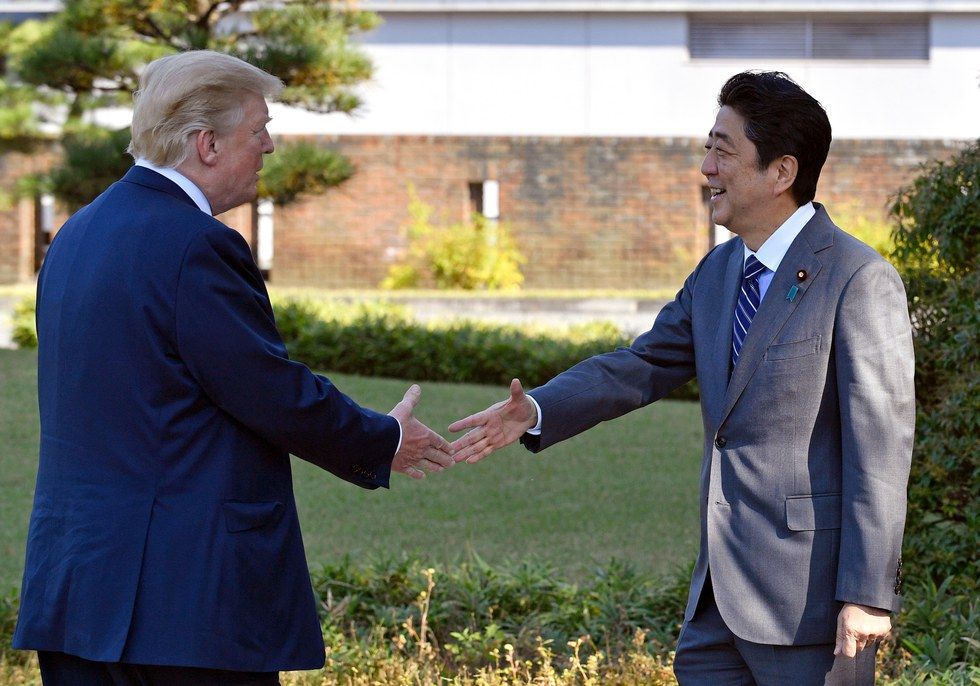 A video Trump tweeted from the golf round:
Trump waved as Abe and he finished playing golf.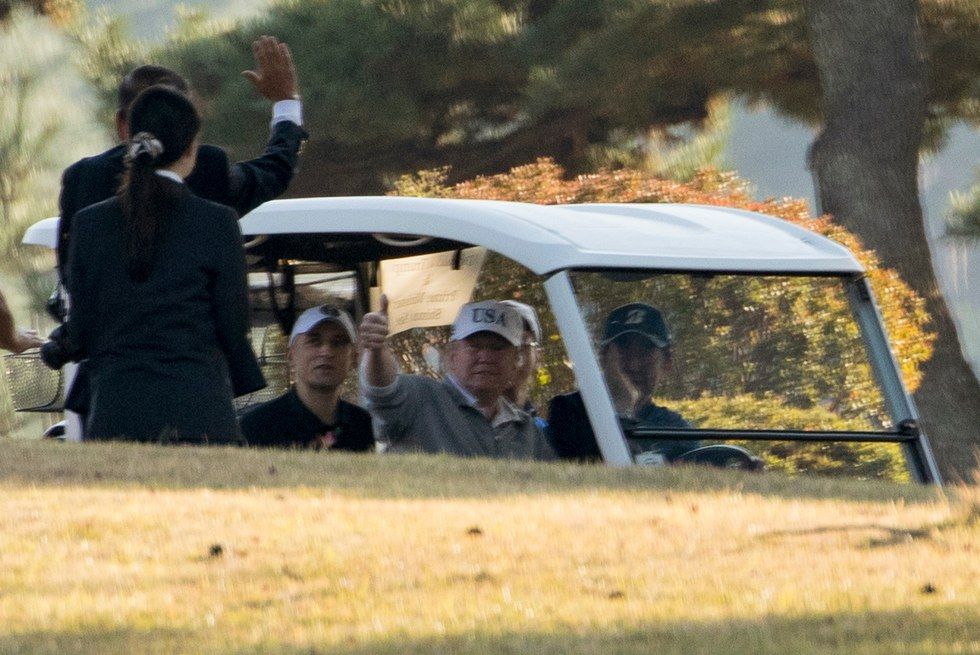 Trump and the Abe family when they arrived for supper at Ginza Ukai Tei restaurant in Tokyo. Per the WH press pool, dinner "included Hokkaido scallop & white truffle salad; sautéed shizuoka's ise ebi bisque; tajima beef steak, according to a Japanese official"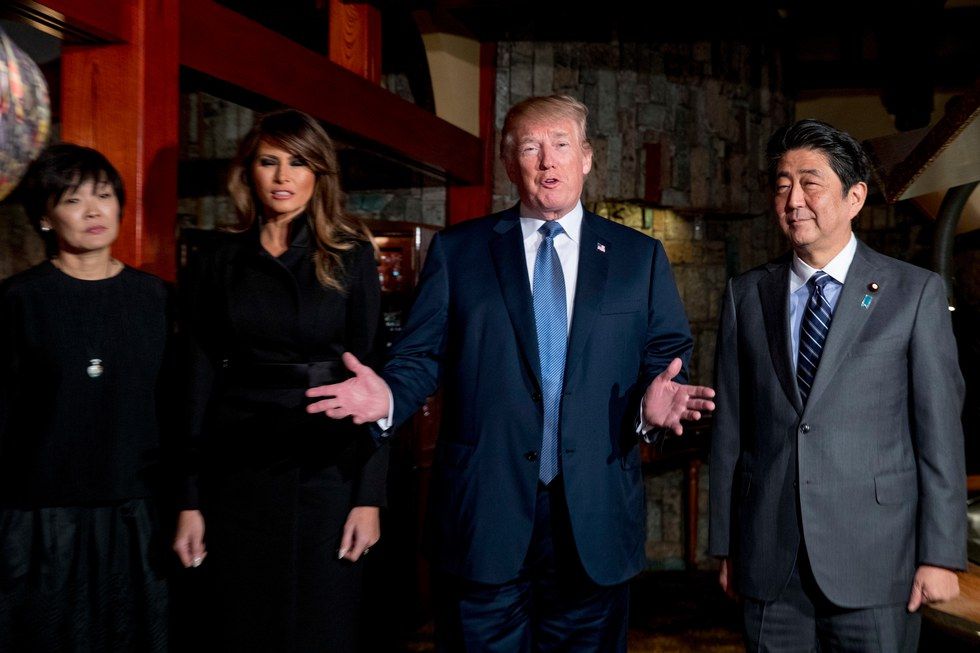 Monday
Trump kicked off the day with a meeting with Japanese business leaders, telling them to "try building your cars in the United States instead of shipping them over." That comment set off a wave of controversy as, per Columbus Business First, three out of every four Japanese cars sold in the U.S. are manufactured in North America.
He and Melania then met with Emperor Akihito and Princess Michiko at the Imperial Palace: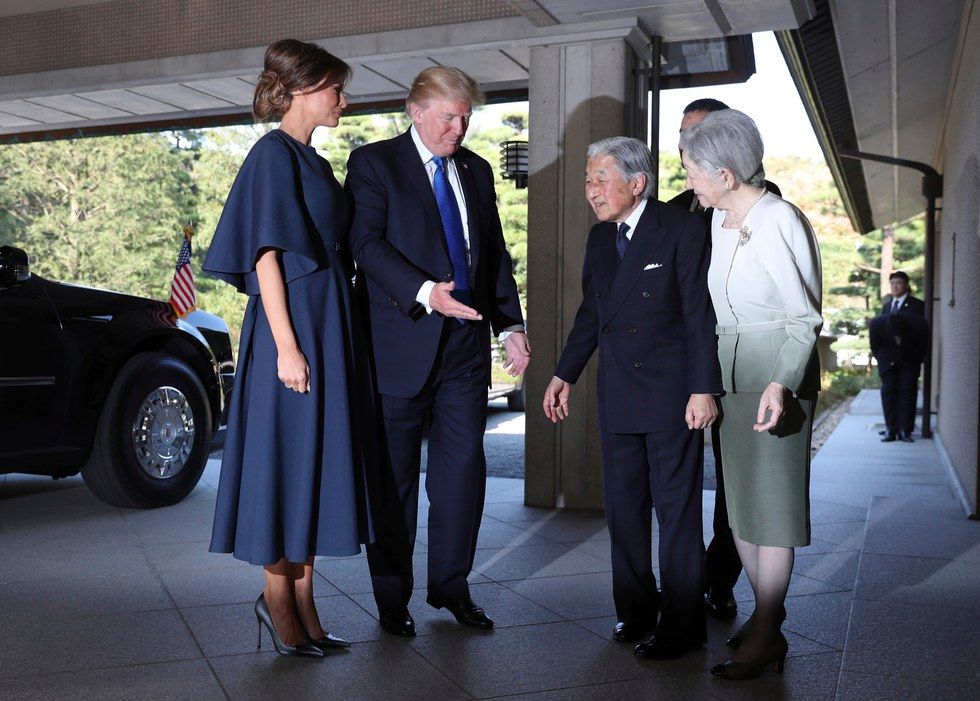 Trump then traveled to Akasaka Palace, where he took part in an honor guard ceremony with Abe: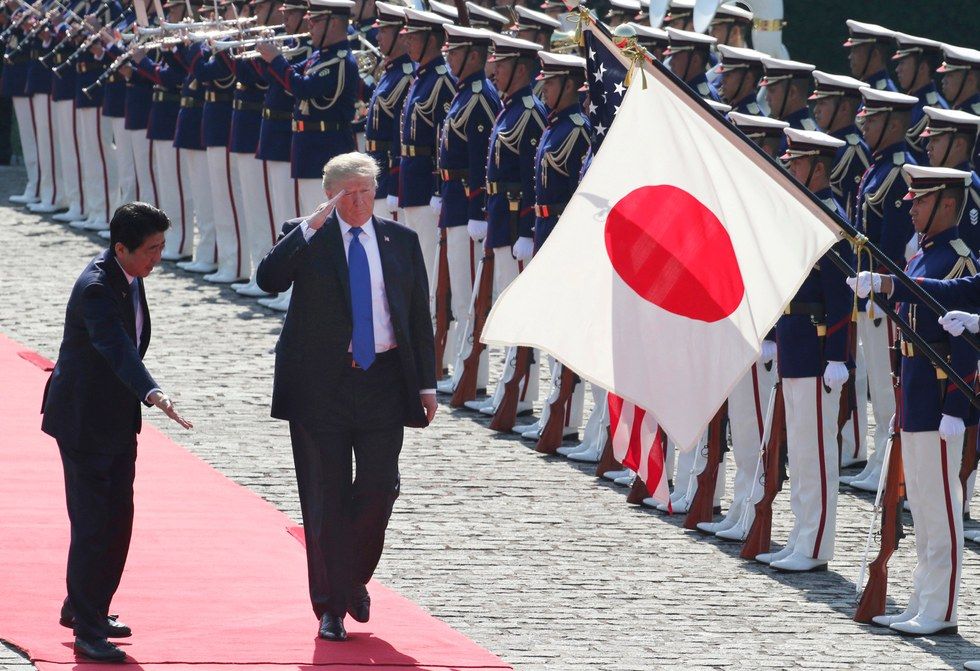 Abe and Trump then headed to a working lunch — but stopped to ceremonially feed koi beforehand, where Trump set the Internet ablaze by dumping the entirety of his food container into the pond after distributing a few spoonfuls: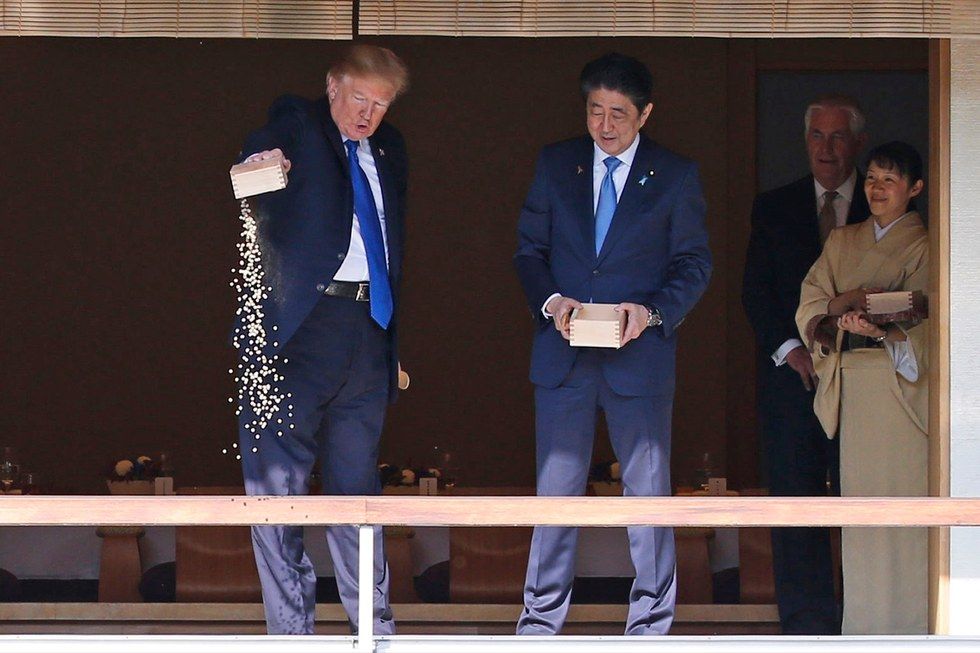 It's worth noting that — despite the Internet's fervor — Abe also distributed the bulk of his koi food moments before Trump:
Meanwhile, Melania took part in a calligraphy class at a Japanese elementary school with Akie Abe: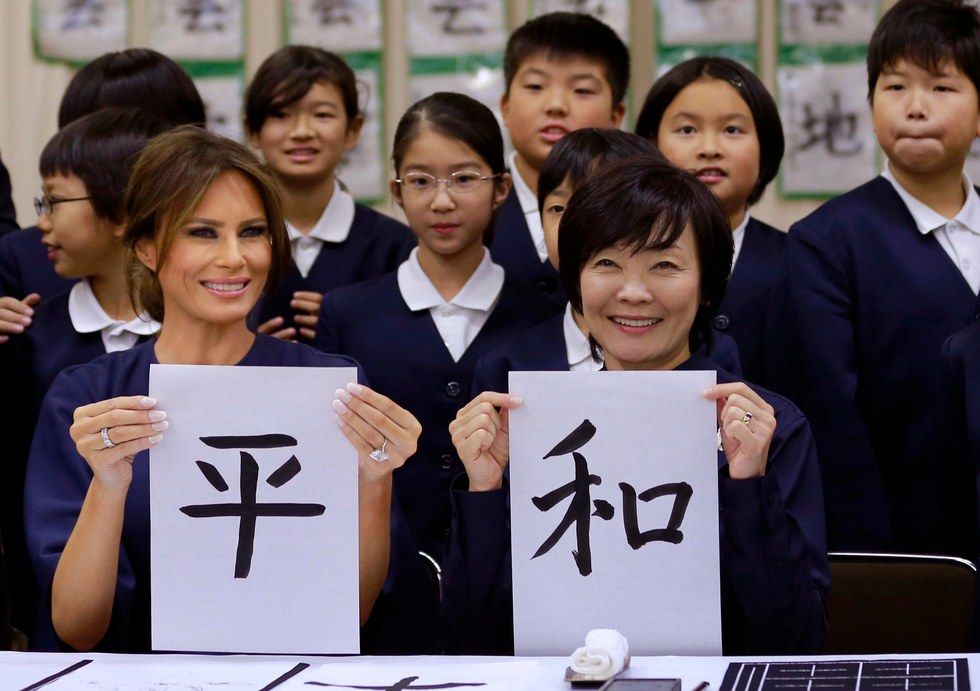 Trump and Melania, along with the Abes, also met with the families of Japanese citizens who had been abducted by the North Korean regime: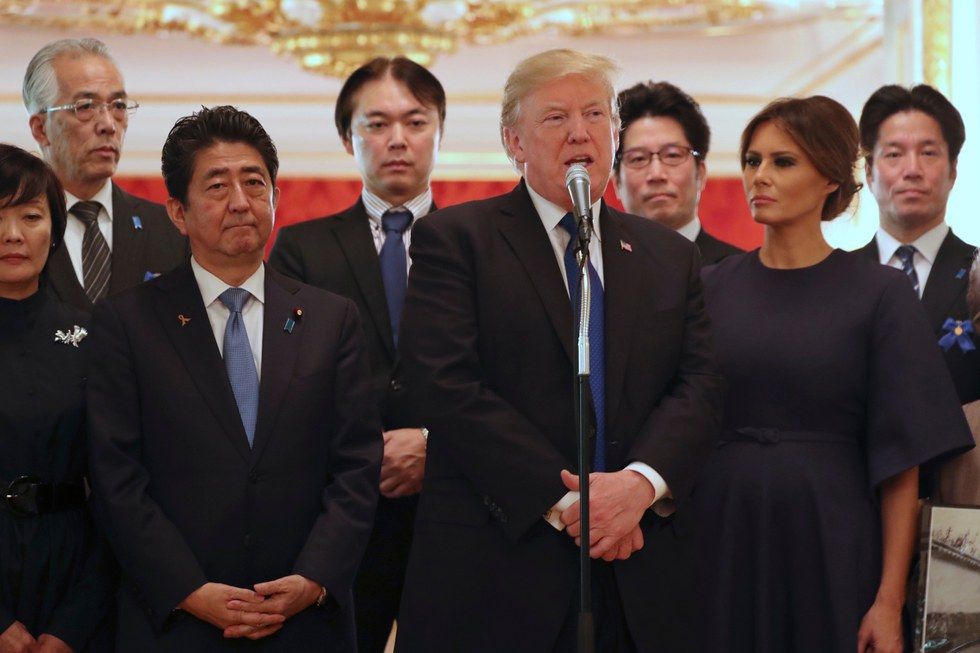 President Trump then took part in a joint press conference with Abe: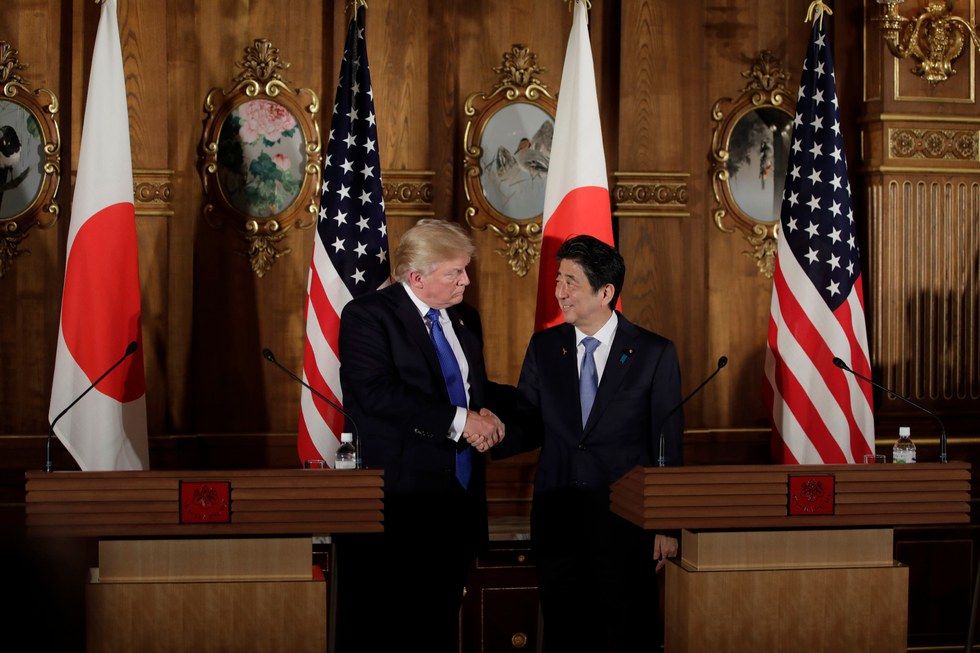 Highlights from the press conference:
Trump said yesterday's Texas shooting was "not a guns situation," instead affirming that "mental health is your problem here."
Trump didn't back down from his harsh rhetoric on North Korea, calling the regime "a menace to the civilized world" and continuing to refuse to rule out military action.
Go deeper