Trump budget to slash entitlements by $1.7 trillion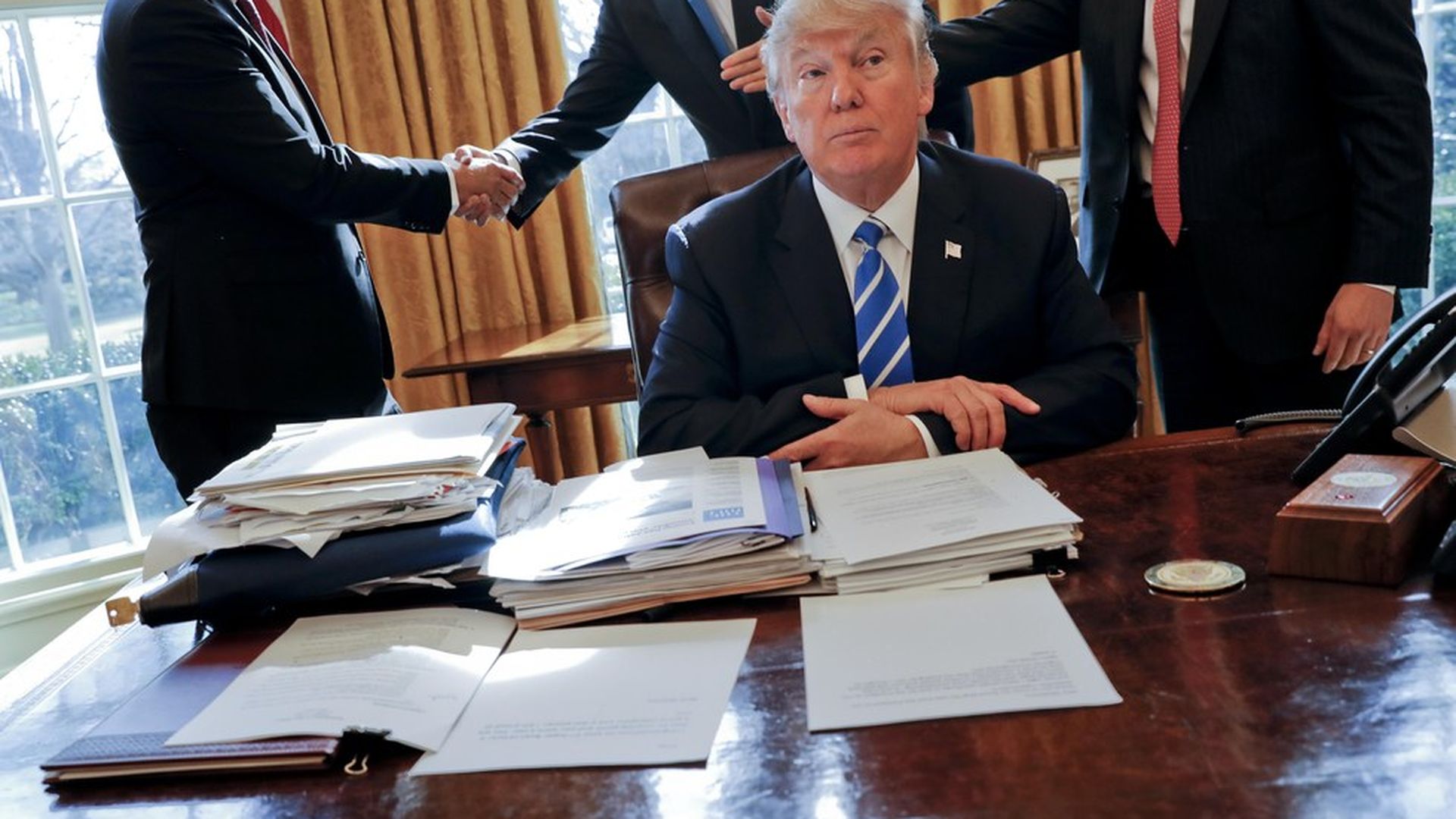 President Trump's 2018 budget proposal on Tuesday won't cut Social Security payments to retirees or Medicare, but it will make serious cuts to other entitlement programs. A source with direct knowledge tells me the Trump budget will save $1.7 trillion on the mandatory side over the next ten years.
Expected reaction: In the past couple days I've spoken to a number of White House officials about the budget proposal. The best summary, from one White House source: "Conservatives will love it; moderates will probably hate it." These mandatory cuts — especially to politically-sensitive programs like food stamps — will make some moderate Republicans as nervous as the recent health care bill did.
Balanced budget: I am told Trump's budget will balance over ten years. To get there, it will propose tough cuts on both the mandatory and discretionary sides — e.g. to the EPA and State Department — and will assume that the U.S economy will grow at 3 percent instead of the 1.6 percent rate it grew in 2016. The 3 percent growth rate will be reached after a few years, not immediately.
Where the entitlement cuts are made: From programs including SNAP (food stamps), CHIP (Children's Health Insurance Program), and SSDI (Disability Insurance). The budget proposal will also assume that Trump can sign into law the American Health Care Act — the Obamacare repeal and replace bill that passed the House and is now being considered by the Senate. That bill makes substantial cuts to Medicaid.
How the entitlement money will be saved: The source tells me there'll be an "emphasis on work requirements for able-bodied people" to save money on these social welfare programs.
"Good news" budget items the administration will tout:
Student loans: As the Washington Post previewed: "students currently can have the balance of their loan forgiven after paying 10 percent of their income for 20 years. Trump's proposal — which makes good on a campaign promise — would raise the maximum payment to 12.5 percent of income, but shorten the payment period to 15 years."
Pell grants: As the Post previewed: "The spending plan supports year-round Pell Grants, which allow low-income students to use the money for three semesters of college, instead of two. That way, students can take a full load of courses year-round and earn a degree faster."
Go deeper