Trump breaks with Republicans on debt ceiling deal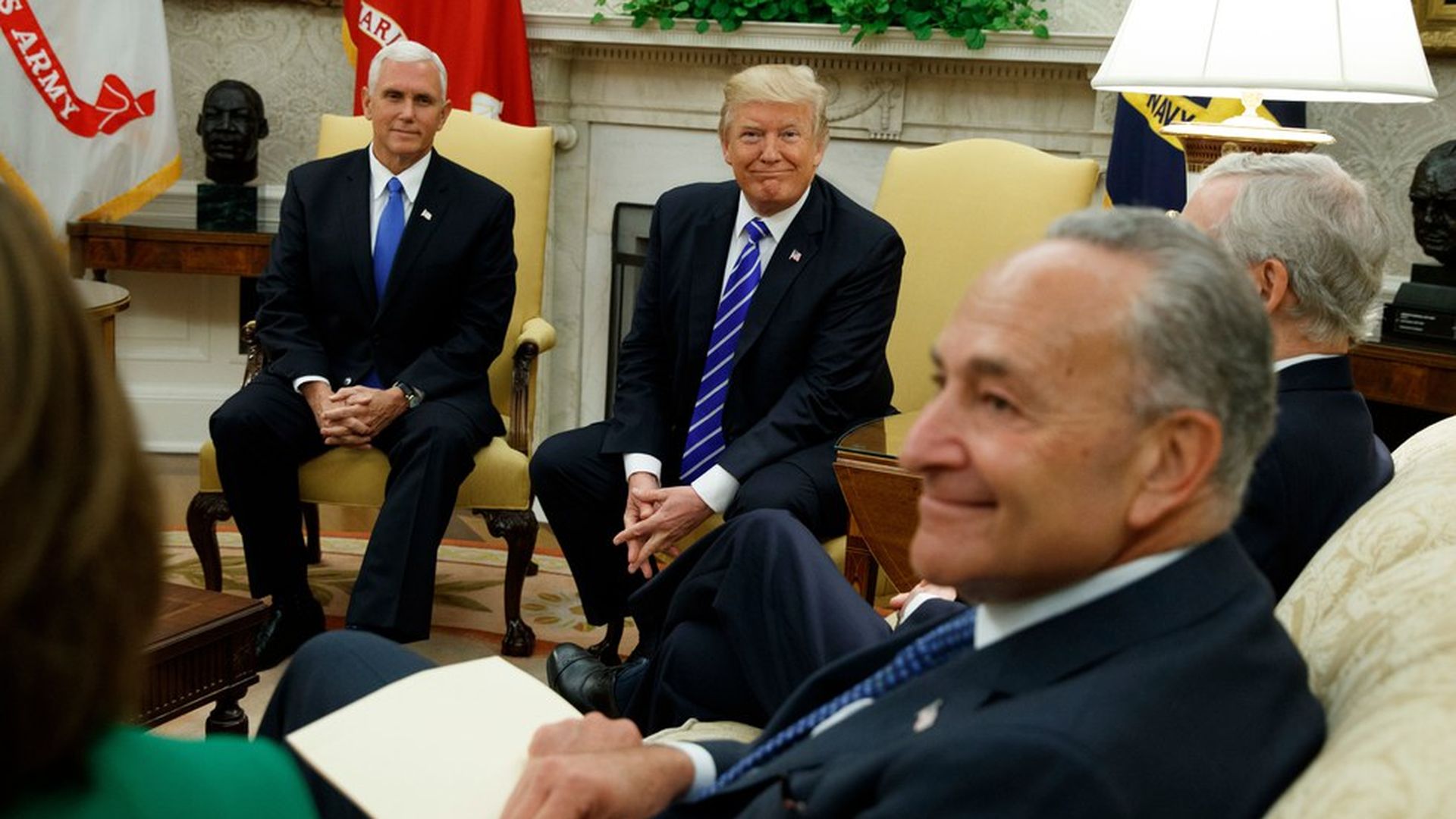 President Trump backed the Democratic plan to combine Harvey relief funding with extending the debt limit and funding the government, both for three months, after a meeting with congressional leaders from both parties. The Republicans in the meeting opposed that plan.
A Republican close to leadership: "Dems bluffed their way into total victory. They win the politics of DACA and leverage on debt in the winter. The fate is sealed - DACA will be reauthorized without strings, Schumer has inserted himself into all negotiations in the winter, including tax, spending and immigration."
Latest: Mitch McConnell says he supports the plan, and will attach the continuing resolution and debt ceiling raise to the Harvey bill as an amendment.
Nancy Pelosi and Chuck Schumer announced the news in a joint statement after meeting. Trump confirmed it later.
According to a source briefed on the meeting with POTUS, "McConnell, Ryan, McCarthy, and Mnuchin all advocated for a longer debt limit. Basically everyone with an R behind their name."
Mnuchin argued against the plan in the meeting, but was overruled.
Paul Ryan said earlier today that a short-term debt ceiling extension was a "ridiculous" and "disgraceful" plan, and "playing politics" with an important issue.
Trump agreed with Schumer and Pelosi on the debt limit issue, while McConnell wanted a continuing resolution to be a part of that package, according to a person familiar with the debate.
Word of warning: There's a tentative deal, but it still has to pass Congress.
From Trump
"We had a very good meeting with Nancy Pelosi and Chuck Schumer [Trump notably did not mention Ryan or McConnnell]. We agreed to a three-month extension on debt ceiling, which they consider to be sacred, very important, always we'll agree on debt ceiling automatically because of the importance of it. Also on the CRs and also on Harvey, which now we're going to be adding something because of what's going on in Florida, but we had a very good meeting. We essentially came to a deal, and I think the deal will be very good."
From Pelosi and Schumer
"In the meeting, the President and Congressional leadership agreed to pass aid for Harvey, an extension of the debt limit, and a continuing resolution both to December 15, all together. Both sides have every intention of avoiding default in December and look forward to working together on the many issues before us. As Democratic leaders, we also made it clear that we strongly believe the DREAM Act must come to the floor and pass as soon as possible and we will not rest until we get this done."
Go deeper