Trump antitrust enforcer vows to scrutinize mergers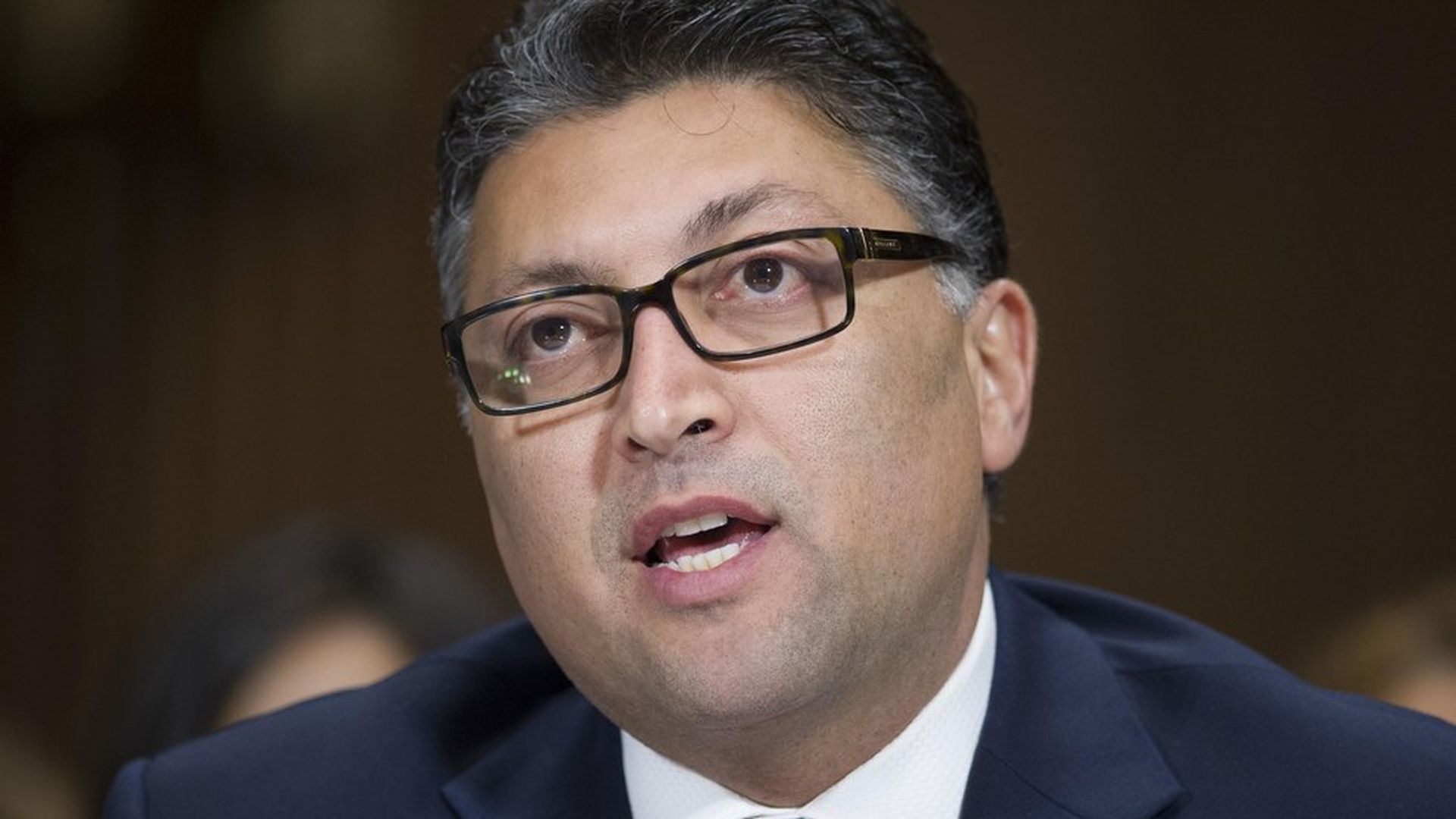 Makan Delrahim, who's expected to be confirmed this week as head of the Justice Department's Antitrust Division, believes some so-called vertical mergers (such as the proposed AT&T-Time Warner deal) could pose anticompetitive concerns. He also said he will "vigorously enforce antitrust laws with respect to online platforms."
"Just because a transaction or particular types of transactions have been approved int he past does not mean that they could not raise competitive concerns in the future," he said in written responses, obtained by Axios, to questions submitted by Senators after Delrahim's short confirmation hearing earlier this month.
Why it matters: Delrahim's confirmation process has been closely watched by executives and investors looking for clues about how he views big-ticket mergers.
The questions from prominent senators, including Dianne Feinstein, Amy Klobuchar and Al Franken, indicate their concerns about increasing concentration in the telecom and media markets — and that a wave of consolidation could take place under the Trump administration. Delrahim also committed to resisting any political inference from the White House, a key point given President Trump's strong views toward some deals.
On the growing competitive power of online platforms:
"The antitrust laws cover unilateral and coordinated conduct in industries throughout the economy, including companies operating on the Internet such as online platforms. Over time, these laws have proven effective and adaptable to various types of anticompetitive conduct even as industries have evolved and technology has created new markets. If I am confirmed, the Antitrust Division will investigate and vigorously enforce the antitrust laws with respect to online platforms as I would in any industry, based on the economic and analytical tools appropriate to the circumstances and to ensure robust competition and innovation."
On the proper role of antitrust and consumer protection laws in the high-tech sector:
"Antitrust has a vital role to play in the high-tech, e-commerce economy to protect consumers. Actions by firms that threaten competition in the high-tech, e-commerce economy, whether by merger or conduct, should be investigated and pursued if the investigation uncovers an antitrust law violation."
When asked about the state of competition in the wireless market, in the context of a possible merger of Sprint and T-Mobile:
"I have not recently studied the state of competition in the wireless market and therefore do not have any particular impression regarding it's competitiveness at this time. If confirmed and presented the opportunity, I look forward to studying it."
On the potential harm of vertical mergers:
"I think the majority of antitrust scholars recognize that most vertical mergers can create efficiencies that benefit consumers in a way that horizontal mergers may not. At the same time, there are instances where a vertical merger may have anticompetitive effects....The vertical mergers most likely to require a close look by government enforcers are those where there is risk that upstream or downstream competition may be foreclosed by the transaction."
On the role the antitrust division should have in protecting net neutrality:
"To the extent that firms with market power take anticompetitive exclusionary actions to limit competition on the internet, the Antitrust Division can and should use the antitrust laws to protect that competition. It would not be appropriate to utilize the antitrust laws to reach objectives beyond protecting competition."
On whether he will act independently of the president:
"It is important that all antitrust investigations comply with Department policies, and that political considerations do not influence the handling of particular cases. ...To the best of my recollection, I have never been in a situation where I have had to compromise my principles due to White House or other political pressure, including, in particular, my previous service at the Department of Justice."
Go deeper