Trump and Putin get what they came for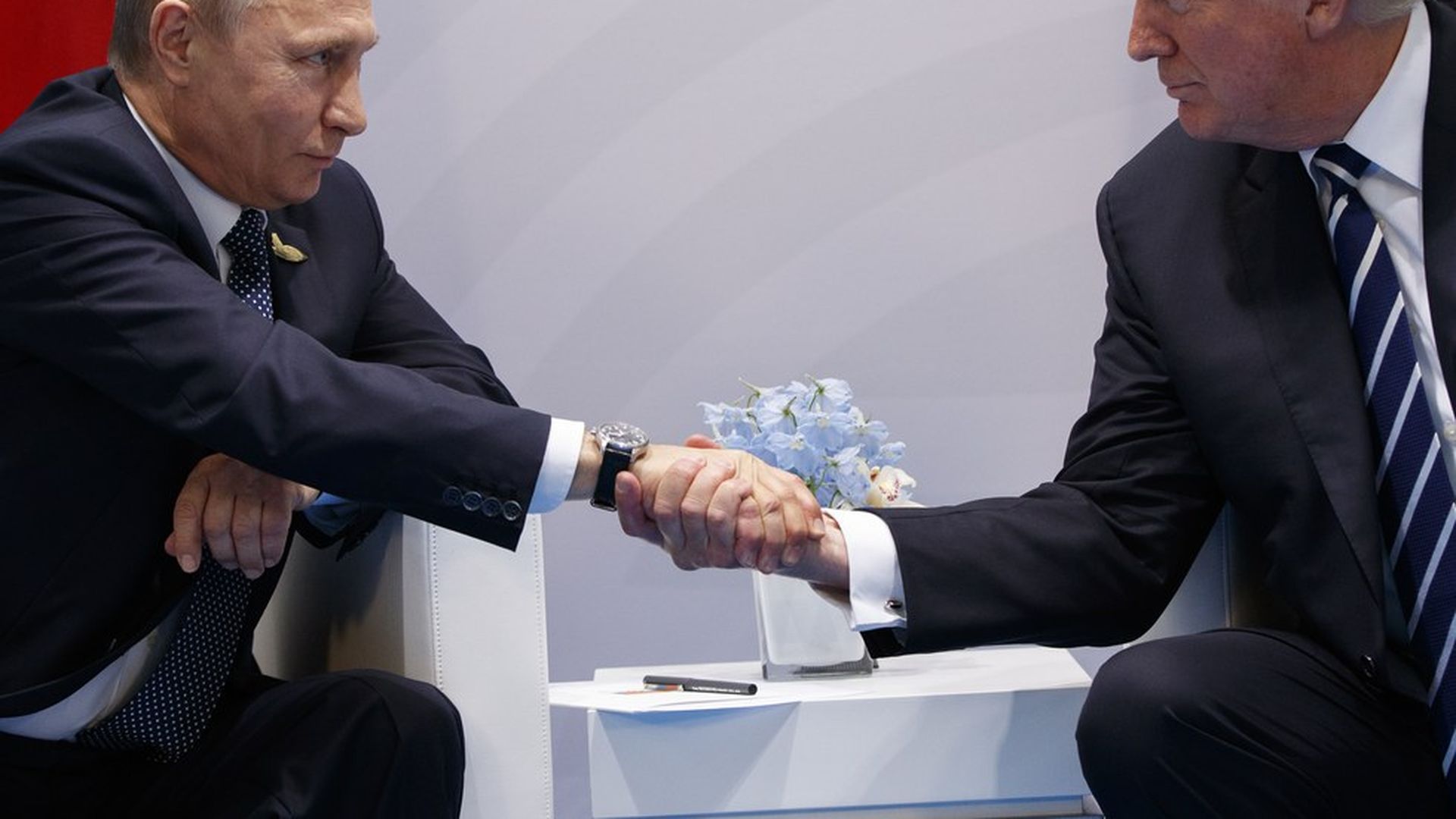 Trump and Putin perfectly staged their first meeting so that both men could get what they needed out of it, politically.
"The deal": Sources close to Trump told us he went into the meeting believing it was still possible to strike a deal with Russia.
Now we have a better understanding of what that means: Secretary of State Rex Tillerson says they spent a good amount of the meeting discussing a solution to the Syrian conflict, and we saw a gift-wrapped victory, with the post-meeting announcement of a ceasefire. Tillerson held out the possibility of larger cooperation — which should be understood as possibly a deal that would encompass fighting ISIS together and resolving the Russia-Ukraine conflict.
Best of both worlds...
Sources who've spoken to Trump privately over the past few months say he's never fully bought into the intelligence community's assessment that Russia interfered in the election to help him win. He believes to his core it's a politically-motivated "fake" attack by Democrats.
Still, Trump's advisers knew that if he didn't "confront" Putin over the election hacking then that would be the headline in every newspaper and on every cable news show after the meeting. It would drown out everything else they discussed and accomplished.
So Trump took a middle course: he raised the issue with Putin but Tillerson made clear in his briefing after the meeting that Trump has no intention of continuing to litigate the issue. They want to move on, Tillerson said.
Putin got what he wanted: he got the respect and recognition he craved. Trump said it was an "honor" to meet him, and Tillerson described the two leaders' chemistry in glowing terms. (They were having such a great chat, Tillerson said, that even when they'd run well over the allotted 30 minutes and Melania Trump came in to try to get her husband to leave, they ignored her and continued talking for another hour.) Putin can also spin the election hacking conversation to his advantage. The Russian spin is that Trump accepted Putin's assurance that he had nothing to do with the election hacking. (A Trump official has already disputed this to NBC News.)
The upshot: Trump, like many presidents before him, still believes he can reshape the U.S-Russia relationship. Today's meeting appears to have reinforced that view.
Go deeper