Trump 101: the two sides of his brain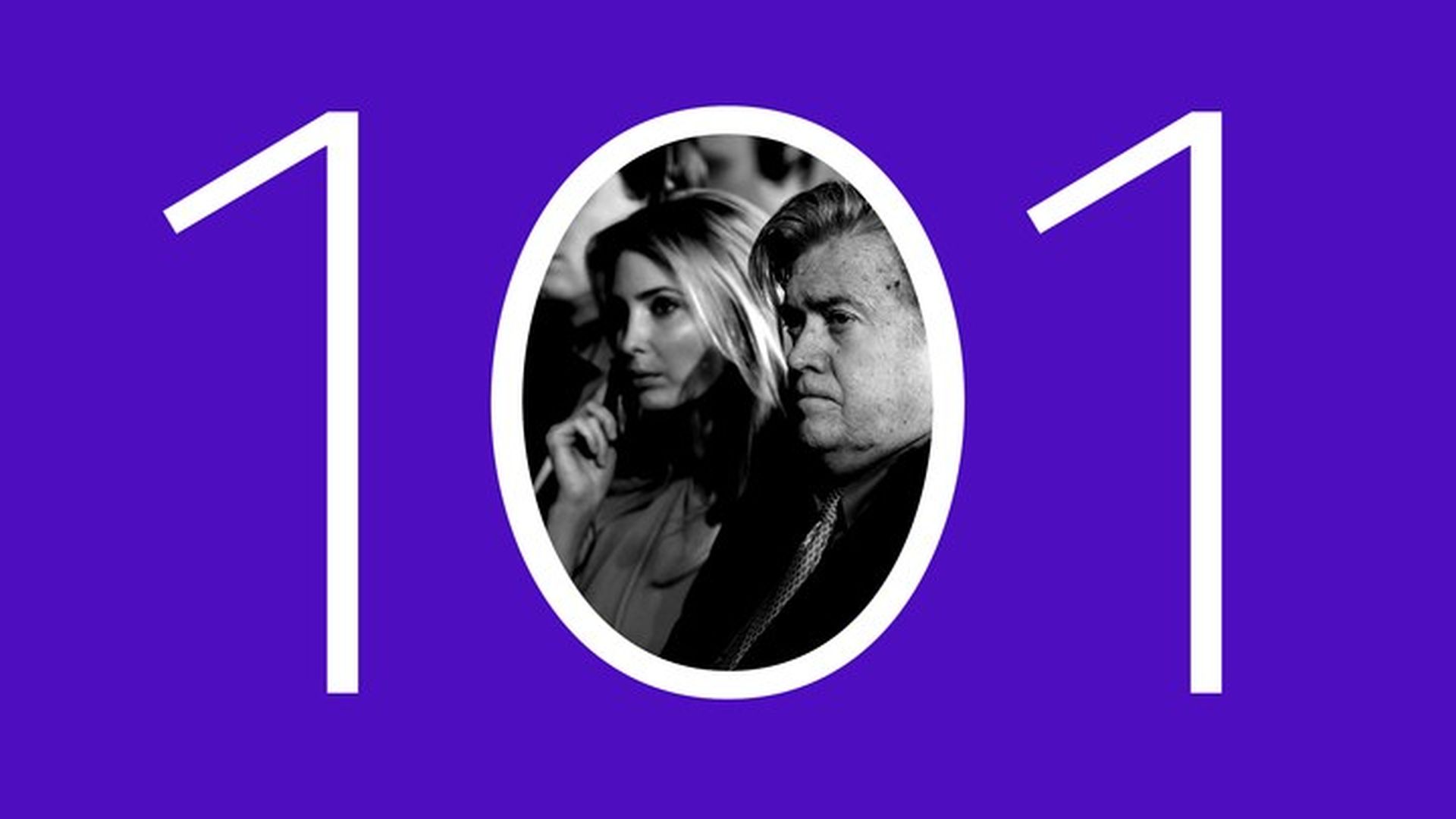 In the bipolar Trump presidency, on one side is Darth Vader Steve Bannon and on the other is Trump's Manhattanite daughter Ivanka. These two people occupy opposite sides of the president's brain and impulses. Bannon is the guy goading Trump to go scorched Earth on the media and reminding him of his hardline campaign promises. Ivanka pushes gentler tones and more liberal lines. Caught in the middle of this war for bandwith is the president.
Tuesday night's speech was the first time Trump's Yin and Yang was on full display. The core of the speech was the issues on which Trump built his campaign: trade, immigration and national security. On these the Trump-Bannon worldview remains unchanged and is being pursued almost to the letter.
But the speech also had a softer side: the environment, childcare, women's health and female entrepreneurship. These are Ivanka's projects. The President has encouraged her to pursue them and he keenly appreciates how they moderate his image.
The praise heaped on Tuesday's speech shows the power of these two sides working together, the Bannon agenda packaged with Ivanka polish. If over time Trump can stick to that (and that's a huge if), Trump's upside might be higher than people think. But if he can't, the perception and reality of herky-jerky chaos will reign.
Why it might work: Bannon has been able to stay personally close to Ivanka Trump while being in her father's orbit because their influences on the president — Bannon's hardline, Ivanka's moderation — haven't collided on the issues. The reality is that for the time being Bannon and Ivanka aren't clashing. They're personally close and their differences are more tonal than substantive. As a nationalist, Bannon believes it's the duty of nation states to look after their people. He loves her childcare plan and could care less about her stance on LGBT issues. And on the issues where Bannon is uncompromising, like trade, immigration and national security, Ivanka isn't especially engaged.
Some key issues:
The media: Trump loves fighting with the press, so he hardly needs much encouragement here, and Bannon has helped put a framework — an extreme one — around the President's hostility. Bannon calls the media the "opposition party" and both he and Trump embrace the "enemy" language that makes so many other Republicans uncomfortable. Ivanka has been silent on the issue.
LGBT rights: According to Politico, Jared and Ivanka "helped lead the charge to scuttle a draft executive order that would have overturned Obama-era enforcements of LGBT rights in the workplace." In doing so, they irritated some influential people on the Christian Right. Bannon isn't interested in this issue.
China: Few in America noticed this move, but it was all over Chinese social media. Ivanka took her 5-year-old daughter Arabella, who is learning to speak Mandarin, to the Chinese embassy in Washington to celebrate the Lunar New Year. Bannon's economic nationalism sees China has as a singular threat. It'll be harder to square social calls on China with planning for economic conflict with them.
Environment: Bannon is behind the Trump budget's gutting of the regulatory state, in particular the EPA. Trump has already signed executive orders rolling back environmental rules. Ivanka encouraged and helped arrange Trump's meeting with Al Gore and, according to the Wall Street Journal, she and her husband Jared Kushner pushed to remove language critical of the 2015 global climate deal from an upcoming executive order. This might be the starkest point of contention between the two.
What this creates: A quiet, constant wrestle for the tone of the presidency, if not its substance. As one source close to the White House explained: "One side believes pain is necessary to alleviate the symptoms. The flip side says: 'Hold on: There are human impacts here.'"Check out some our other versions of Trump 101 here: Trump 101: He's definitely not a health nut; Trump 101: The producer of his own epic film; Trump 101: He plans rapid, radical gutting of government regulations.
Go deeper