Trump 101: His on-the-edge management style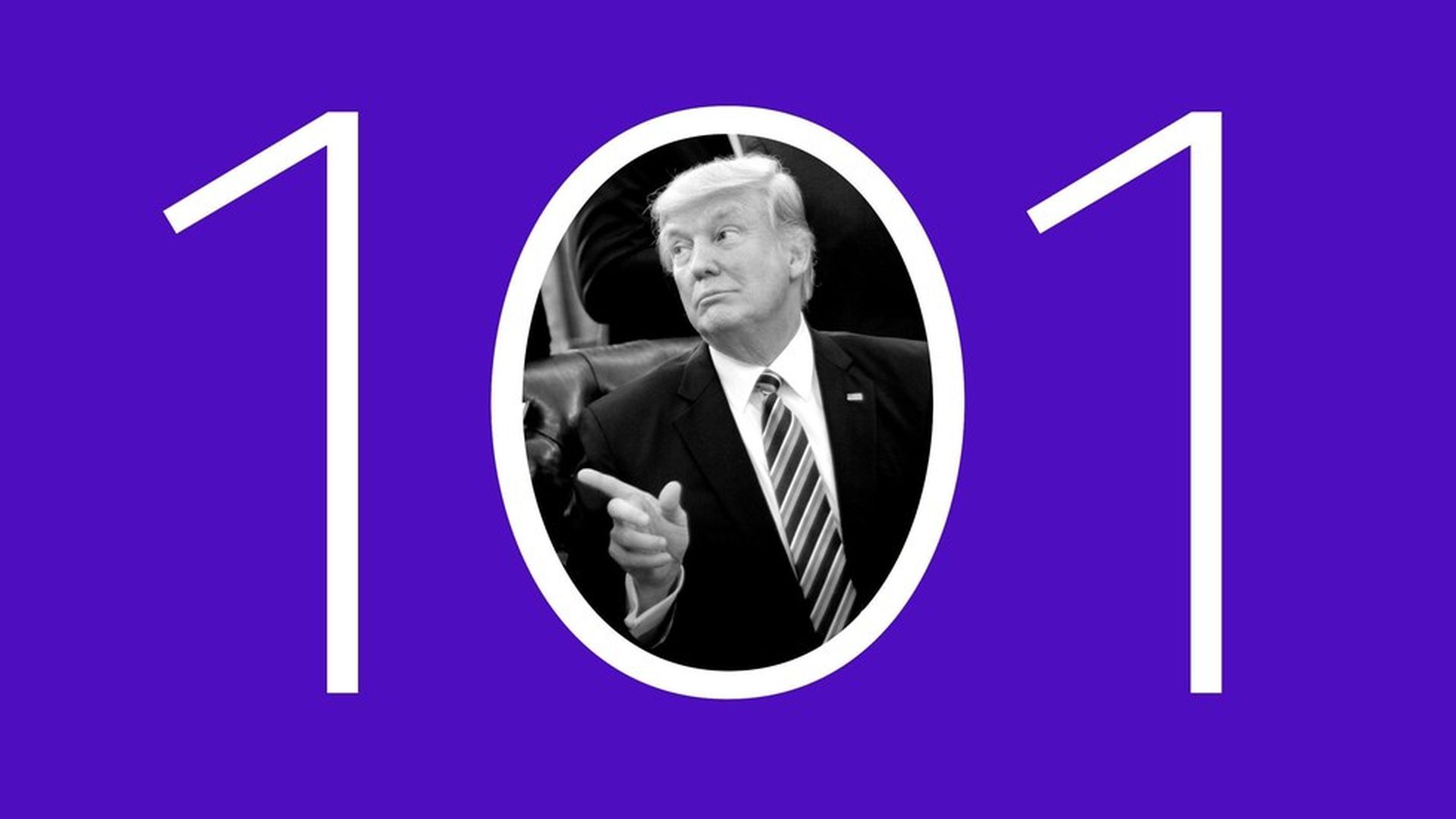 Last week, Donald Trump told the New York Post about advisor Steve Bannon: "I like Steve, but..." Bannon's friends and colleagues scrambled to figure out if the story was as bad as it looked — frantically texting him with questions. They're still trying to get answers, gleaning much of their information via anonymous quotes in the press.
Trump likes it that way, and the episode illuminates Trump's improvisational management style. He's always been more of a creative deal-maker and salesman than a manager. In his business career, he oversaw a very lean executive team, and he preferred to his deals to be mano-a-mano.
He made phone calls from early morning to late into the night. He stayed loose, always open to next idea. The bigger the concept, the more potential for glamor, the better. And he always, always — as Bannon, Reince and the rest now keenly know — kept his associates on edge.
The elements of Trump's management style, from Trump's own words, interviews with former staff, current staff, and three of his biographers:
Throwing people off balance: "He's spent his entire life doing this," says Trump biographer Gwenda Blair. "Super competitive, looking for the opening, the angle, the way to win … always get in ahead, throw everybody off balance, say you won, double down, insist, bully, charge ahead."
His door always open: That cliché was, and remains, true. Inexperienced staff who worked for Trump recall being amazed at the free and easy access they got to the boss. Now he's President, Mar-a-Lago members are amazed to be chatting with the commander-in-chief on everything from Reince Priebus' suitability as chief of staff to that "crazy" guy Kim Jong-Un.
"Creative combat": "His theory," says Blair, "is that it will bring out the best performance from [staff] if they're extremely competitive and afraid they're going to be fired." A good number of White House staff assume they could be fired at a moment's notice, given Trump's history of cycling through campaign managers. Only a tiny fraction of employees — family chief among them — have reasons to feel safe.
Loyalty: Trump prefers to hire intensely loyal staff, and we're seeing that now in the way he's filling his White House (and excluding "Never Trumpers"). In a one paragraph statement for this story, White House aide and former Trump-family employee Hope Hicks used the words "unbelievably successful," "incredibly effective," "great," "leadership," "ingenuity," and "high energy" to describe her boss.
Delegation: "He's more inclined to trust people" than many outsiders assume, says biographer Michael D'Antonio. Trump will "give them a lot of leeway with regard to their portfolio, and if they succeed pile on more duties."
But…selective micromanagement: Trump is a micromanager on matters of style and reputation. And money. At the Trump Organization he personally signed relatively minor checks, and now in the White House he haggles over airplane contracts and plays theatre critic when his spokespeople go on TV.
Ruthless: Trump had two mentors. His dad, Fred, who was ruthless. And his lawyer Roy Cohn, who was even more ruthless.
Why this matters: Trump is the only U.S. president in history to win the office having spent no time in elected office or in the military. The early days of his presidency have been deliberately fast-paced and, in some cases like the botched travel ban rollout, incompetent and needlessly chaotic. For the first time he's running into an entire bureaucracy, large parts of which are completely foreign to him. We're still learning whether he has the capacity to adapt.
Go deeper