Top tech execs blast DACA decision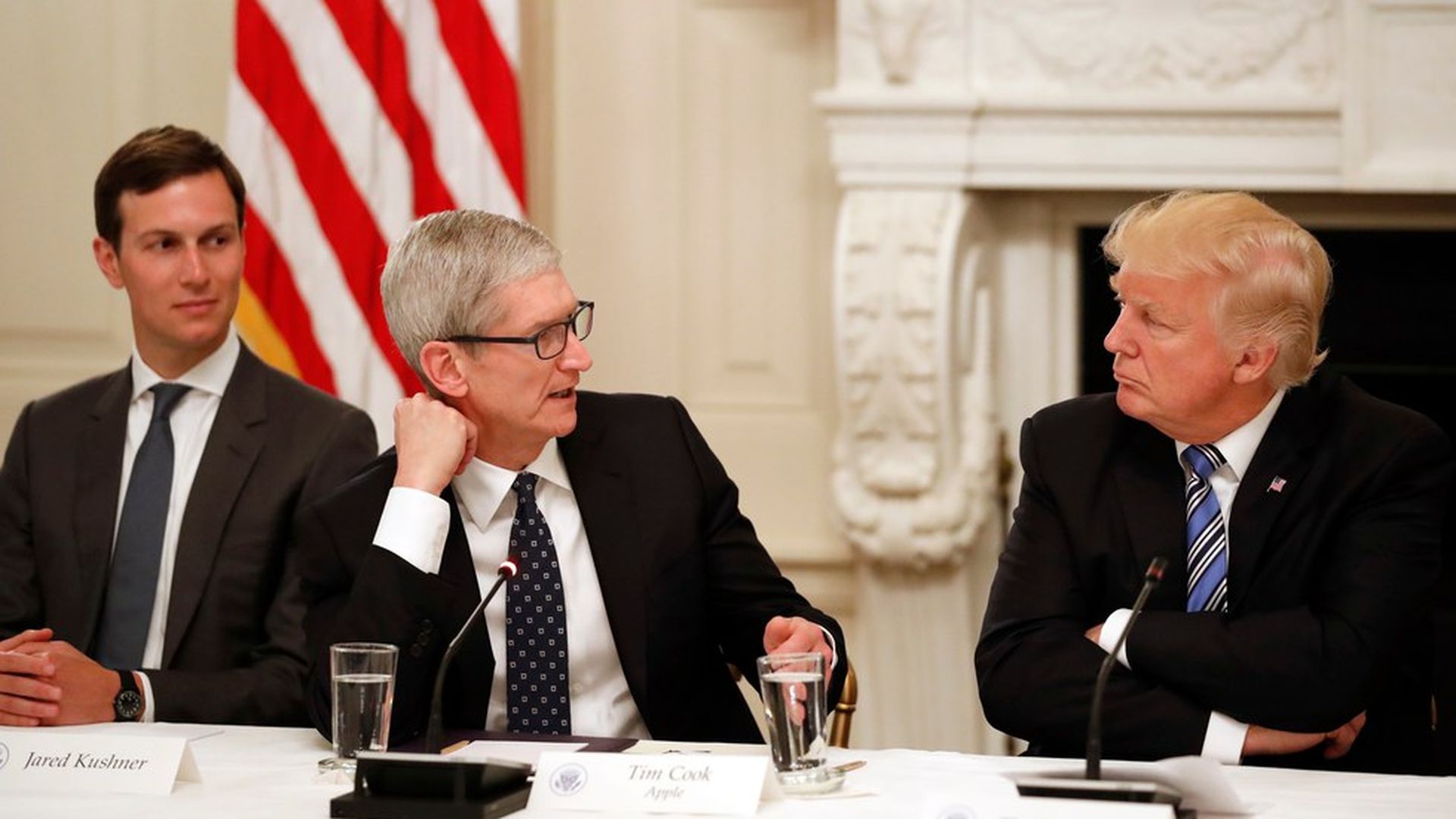 Big tech CEOs were quick to pan the Trump administration's decision to rescind the Deferred Action for Childhood Arrivals program for immigrants brought to the United States as children without authorization.
Why it matters: Immigration has always been an important issue for tech thanks to Silicon Valley's multinational workforce, and it's been a major divide between the industry and the Trump administration.
"I am deeply dismayed that 800,000 Americans — including more than 250 of our Apple coworkers — may soon find themselves cast out of the only country they've ever called home," said Apple CEO Tim Cook in an email to employees obtained by Axios. "I want to assure you that Apple will work with members of Congress from both parties to advocate for a legislative solution that provides permanent protections for all the Dreamers in our country."
Facebook CEO Mark Zuckerberg, who has long made immigration reform a signature issue, called it "particularly cruel to offer young people the American Dream, encourage them to come out of the shadows and trust our government, and then punish them for it." COO Sheryl Sandberg also said she was "heartbroken" at the administration's decision.
Google CEO Sundar Pichai said that "Congress needs to act now to" protect the DACA program.
"Dreamers make our country & communities stronger," said Microsoft CEO Satya Nadella. "We stand for diversity and economic opportunity for everyone."
Uber CEO Dara Khosrowshahi tweeted that "It's against our values to turn our backs on #DREAMers. Everyone deserves a chance to work, study and contribute - the #AmericanDream!"
Emerson Collective President Laurene Powell Jobs: "Is there anything more heartless and less intelligent that our government could do?" (Emerson Collective is an investor in Axios.)
Airbnb CEO Brian Chesky put out a joint statement with other co-founders: "We founded Airbnb based on the idea that our lives and our world are better when we accept each other. Those aren't just economic or business values. Those are the values America has been and should be all about."
Lyft CEO Logan Green tweeted, "We stand with Dreamers & support inclusivity for all. Ending DACA is wrong."
Go deeper