Top quotes from Bloomberg Global Business Forum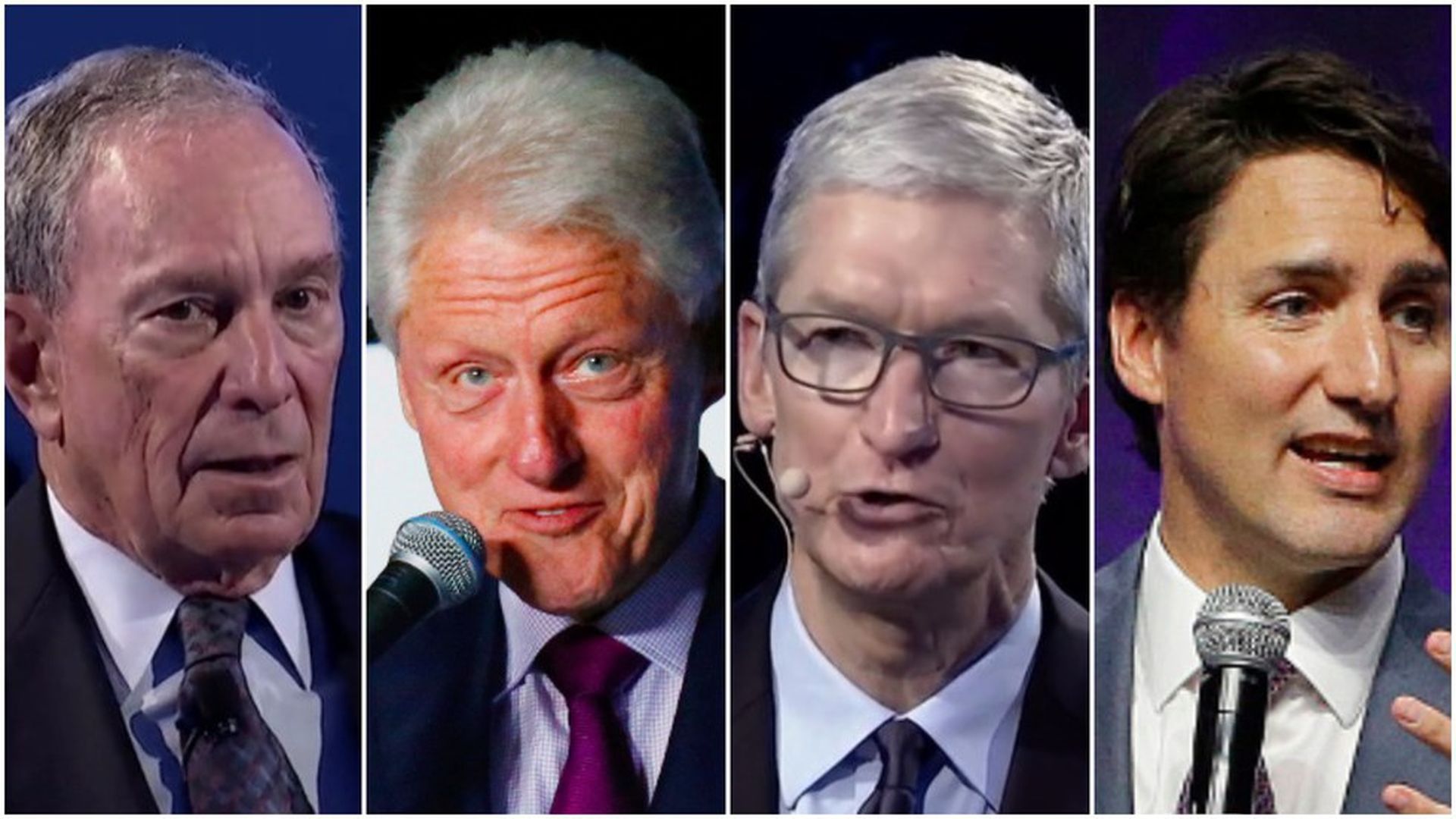 Top world leaders and CEOs from the most influential global corporations gathered at the Plaza Hotel in NYC Wednesday for the first-ever Bloomberg Global Business Forum, intentionally hosted the same week as the UN General Assembly, to address some of the most pressing issues impacting cross-border societies today.
Mike Bloomberg kicked off the event, explaining how "Too often governments and businesses don't talk to each other. This forum aims to fix that, and it's especially important when isolationism is rearing its head... including here in the U.S."
Former President Bill Clinton: "I want you to look to the future, but I believe underneath all these debates that are going on today lingers one simple question... whether you believe social strength, economic reform and political reform flow from division or multiplication."
French President Emmanuel Macron's main priority for France and Europe: To be the leader of climate change, new finance, artificial intelligence and transformation of the new industrial world.
Founder and CEO of Alibaba, Jack Ma: "[I]n the past 30 years we made people like machines. In the next 30 years we'll make the machines like people." But people shouldn't worry, because although machines will be faster and stronger than humans, "human beings have the heart, soul, beliefs, and value."
Apple CEO Tim Cook: "I think [deciding what to do with Dreamers] is the biggest issue of our time because this goes to our values of being American... If I were a leader of a country... I'd want every smart person coming into my country...[because] smart people create jobs... I'd have a very aggressive plan not to just let a few people in. I would be recruiting."
Canadian Prime Minister Justin Trudeau: "[T]rade leads to growth... and we made a deal with citizens that we would pursue pro-growth policies and that everyone would benefit... So we've seen growth, but it hasn't necessarily reached everyone... and that's where we fall into the politics of fear and envy... so now we need to make a turn into a new progressive trade agenda."
World Bank President Dr. Jim Kim: Announced a new initiative, along with Mike Bloomberg and Patricia Espinosa, titled "Invest for climate," which will be a continuation of the Paris Agreement. His bottom line: "There needs to be much more cooperation between the multilateral system, corporations, and governments" in combatting climate change.
Turkish President Recep Tayyip Erdogan on whether he considers Russia an ally: He thinks leaders should "decrease the number of your adversaries and increase the number of allies."
Bill Gates: "I had an early career in the digital revolution, and that's still the fastest moving thing... but today my focus is more on the latest health breakthroughs... [that's what] I'm most excited about."
CEO of Softbank, Masayoshi Son (while sitting next to Gates): "For three days I became richer than Bill Gates. Twelve months later, I became almost broke."
CEO of Pepsi, Indra Nooyi: "Every aspect of our lives is changing, but the single best thing I feel good about is gender inclusion... 20 or 30 years ago when I first started working, there weren't many women."
Go deeper