Timeline: The days after Harvey and Katrina struck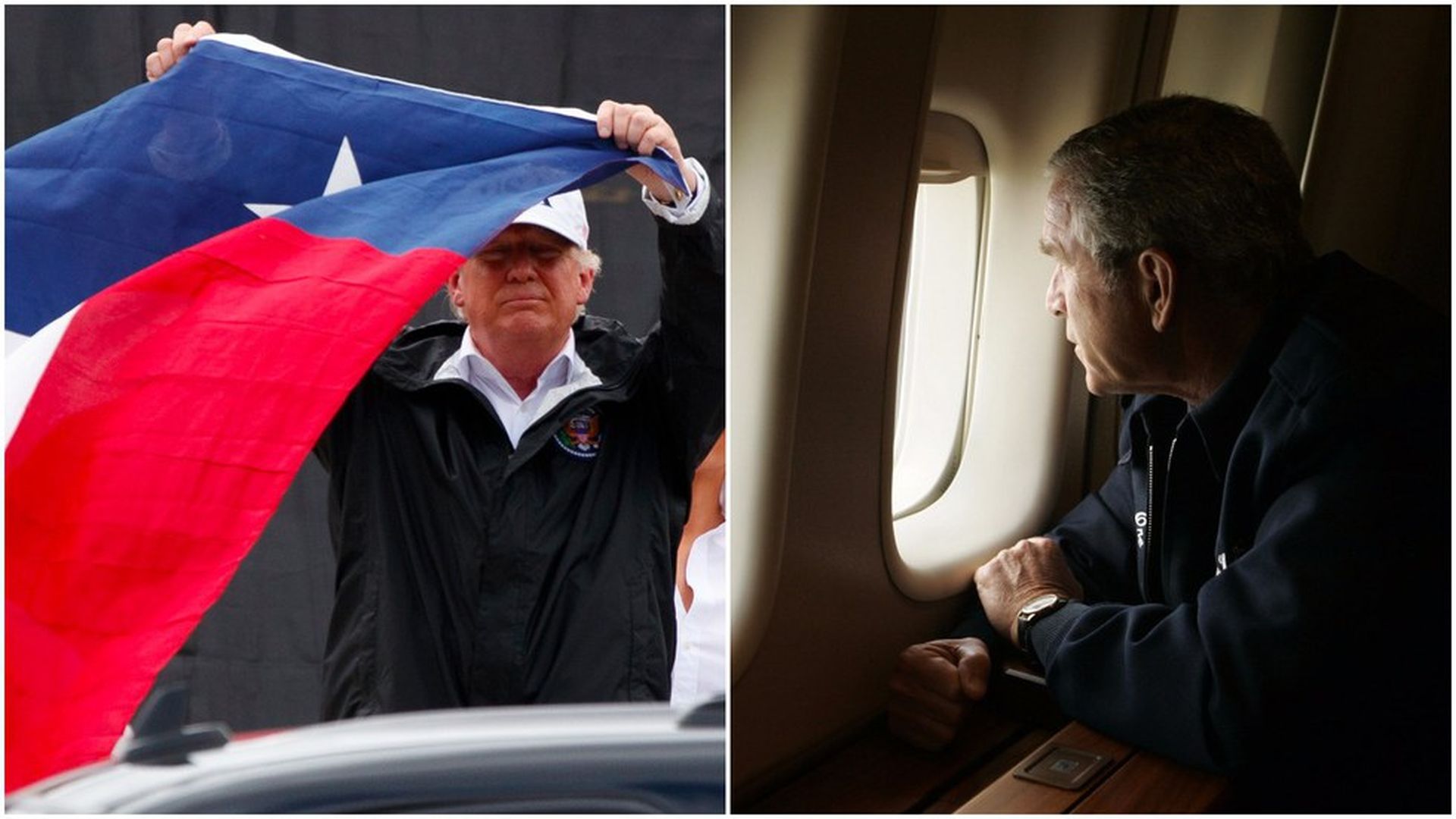 Harvey and Katrina were the most destructive hurricanes to strike the U.S. in recent decades, and the days after landfall were punctuated by presidential visits, broken rainfall records and international offers of aid. Here's a look at how the devastation spread, and how the country responded from Day 1 to Day 9 following each of the storms.
Day 1
Harvey (Aug. 25, 2017): Hurricane Harvey hits and all but levels the small fishing town of Rockport, Texas and other nearby towns. It quickly moves toward Galveston as a Category 4 storm with 130 mph sustained winds. 250,000 people are without electricity and parts of Texas' Gulf Coast experience 16 inches of rainfall in 24 hours. President Trump signs a disaster declaration for Texas, mobilizing FEMA's resources.
Katrina (Aug. 29, 2005): Hurricane Katrina makes landfall near the Mississippi-Louisiana border as a Category 3 storm with 145 mph sustained winds. The devastation includes at least 55 deaths and 1 million power outages across Alabama, Mississippi, and Louisiana. New Orleans' 17th Street Canal levee cracks, causing water to pour into the city. President Bush declares emergencies in the affected states.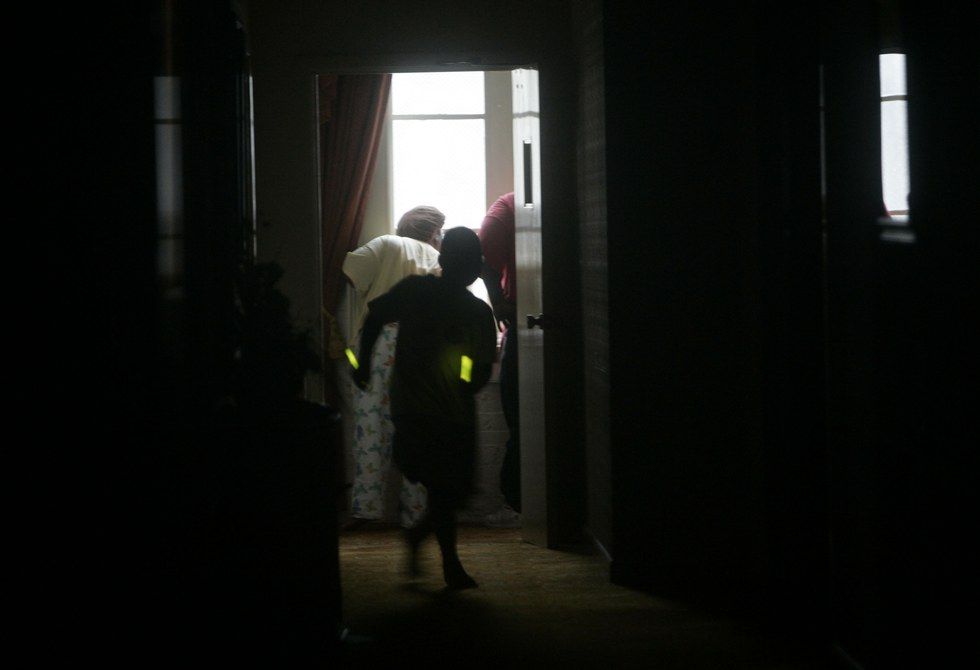 Day 2
Harvey: Downgraded to "tropical storm" status, Harvey barrels toward Houston. The first 6 deaths resulting from the storm are confirmed.
Katrina: Bush begins a speech on the War on Terror with these remarks about Katrina: "The federal state and local governments are working side by side to do all we can to help people get back on their feet, and we have got a lot of work to do."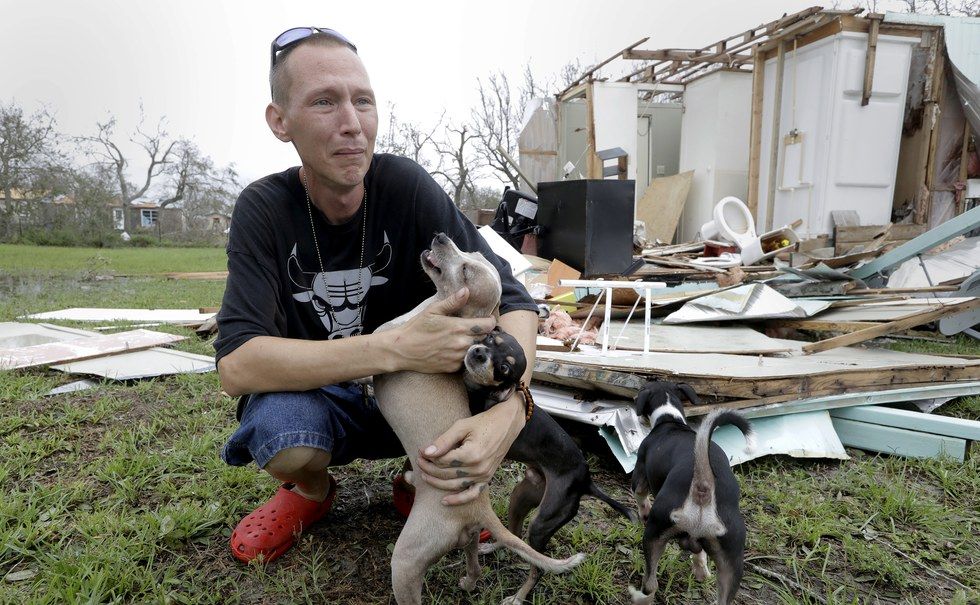 Day 3
Harvey: The "worst case scenario" hits Houston, with the storm lingering over the city and bringing days of torrential downpours and subsequent flooding. The city has not been evacuated, and authorities instruct residents to shelter in place. Trump tweets, "Wow - Now experts are calling Harvey a once in 500 year flood! We have an all out effort going, and going well!"
Katrina: Hurricane Katrina is downgraded to a tropical storm, and 85% of New Orleans is under water. Addressing the nation, Bush says "this recovery will take a long time. This recovery will take years." The president garners criticism for flying over but not stopping in New Orleans while on board Air Force One coming back to Washington from a vacation in Texas.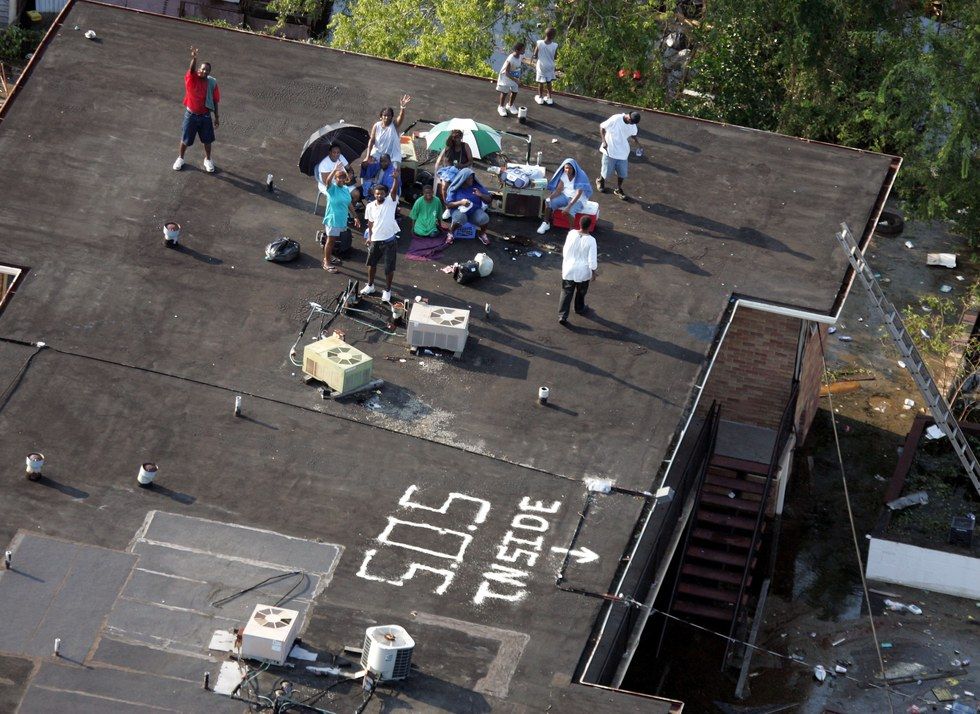 Day 4
Harvey: As the death toll ticks upward, the water level rises and rescue workers mobilize in Houston, Harvey retreats back to the Gulf of Mexico — for the time being. Ten oil refineries in the Corpus Christi and Houston area — with a combined capacity of roughly 2.2 million barrels per day, or roughly 12% of the U.S total — are offline. Mexico offers aid to the victims of the storm.
Katrina: Bush approaches Congress for $10.5 billion for hurricane relief.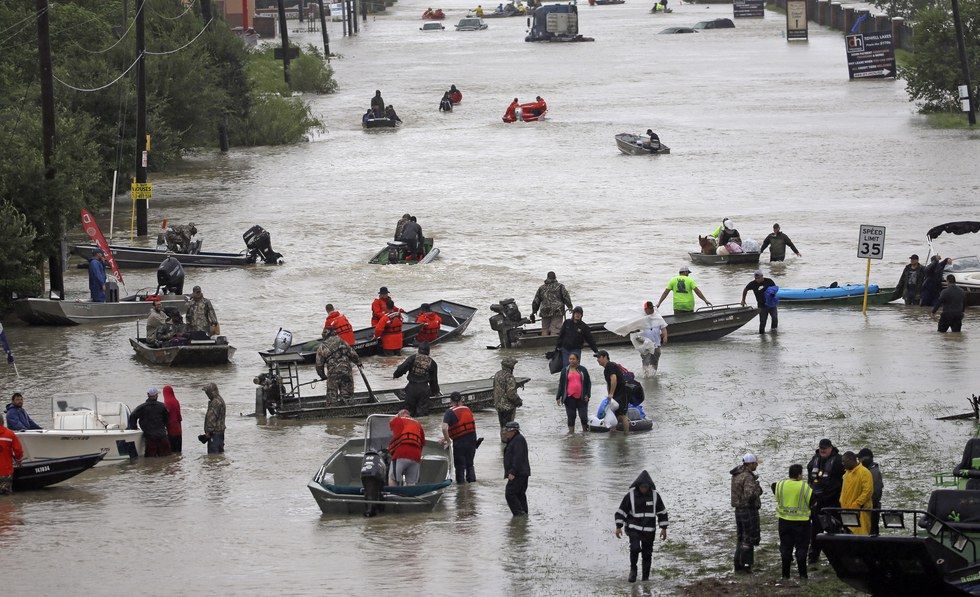 Day 5
Harvey: The President and First Lady visit parts of Texas, including Corpus Christi. Harvey makes its second landfall on the Texas-Louisiana border.
Katrina: Bush visits areas affected by Katrina along the Gulf Coast, including parts of Mississippi and New Orleans. Congress pushes through the $10.5 billion disaster-relief bill after a late night of voting, and the president signs it into law. China offers $5 million and emergency supplies.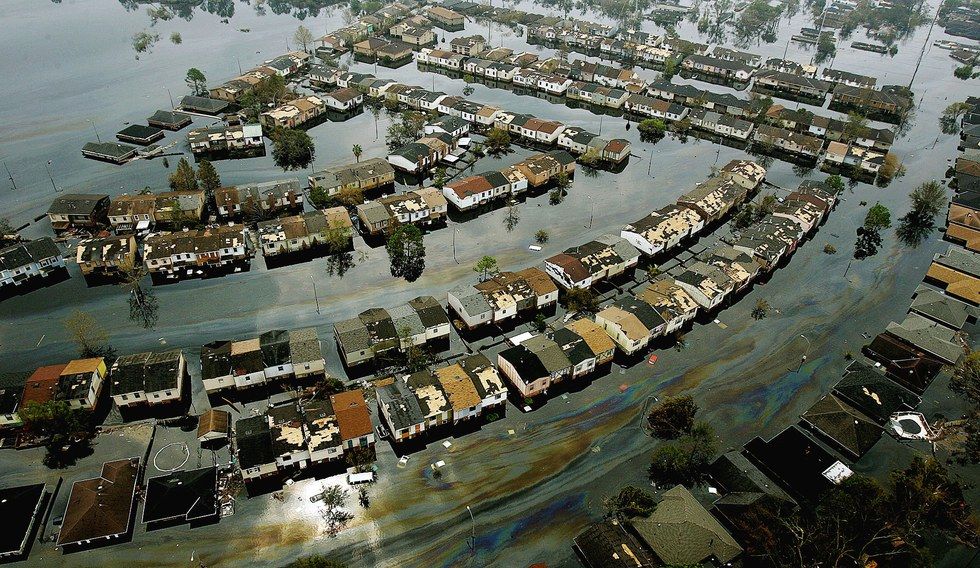 Day 6
Harvey: "According to the latest update from S&P Global Platts, over 2.3 million barrels per day of refining capacity in Texas remains down, but the true figure is likely well above 3 million when refineries running at reduced rates are factored in," Axios' Ben Geman reports.
Katrina: Bush announces that he will dispatch 7000 additional active duty troops, army and marines, to Katrina's disaster zone. The president returns to the affected areas for a second visit, and he says, "Brownie, you're doing a heckuva job," to FEMA director Michael D. Brown despite widespread criticism that FEMA's response to Katrina has been slow and ineffective. Seven days later, Brown is removed from his position by Homeland Security secretary Michael Chertoff.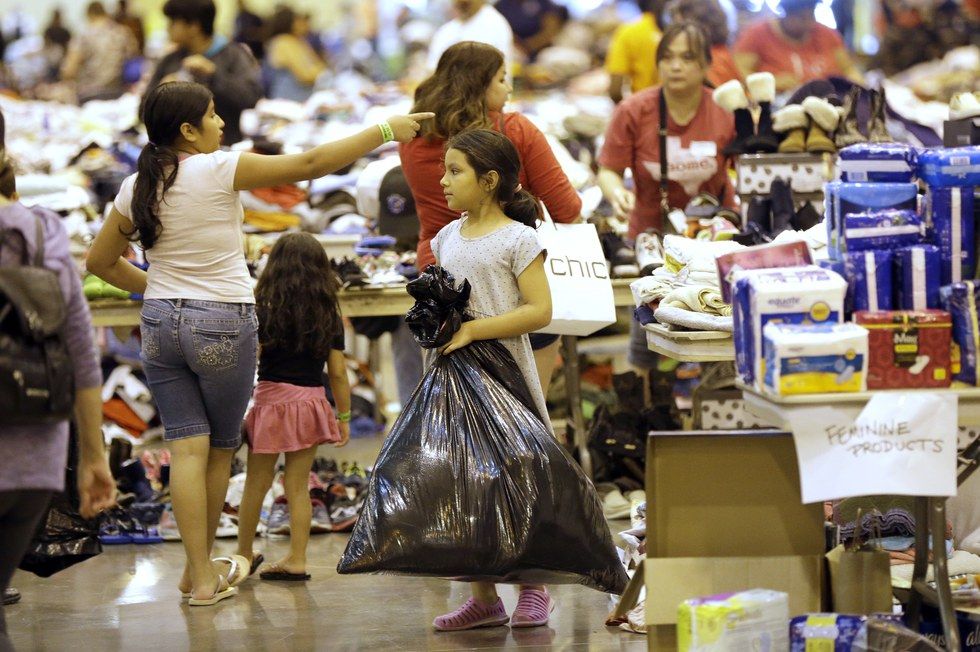 Day 7
Harvey: There are reports of two explosions linked to flooding at the Arkema chemical plant in Crosby, Texas.
Katrina: Bush fields criticisms that the government has been slow to respond to Katrina because many of the victims are black. His Secretary of State Condoleezza Rice, the highest-ranking black official in his administration, says, "Nobody, especially the president, would have left people unattended on the basis of race."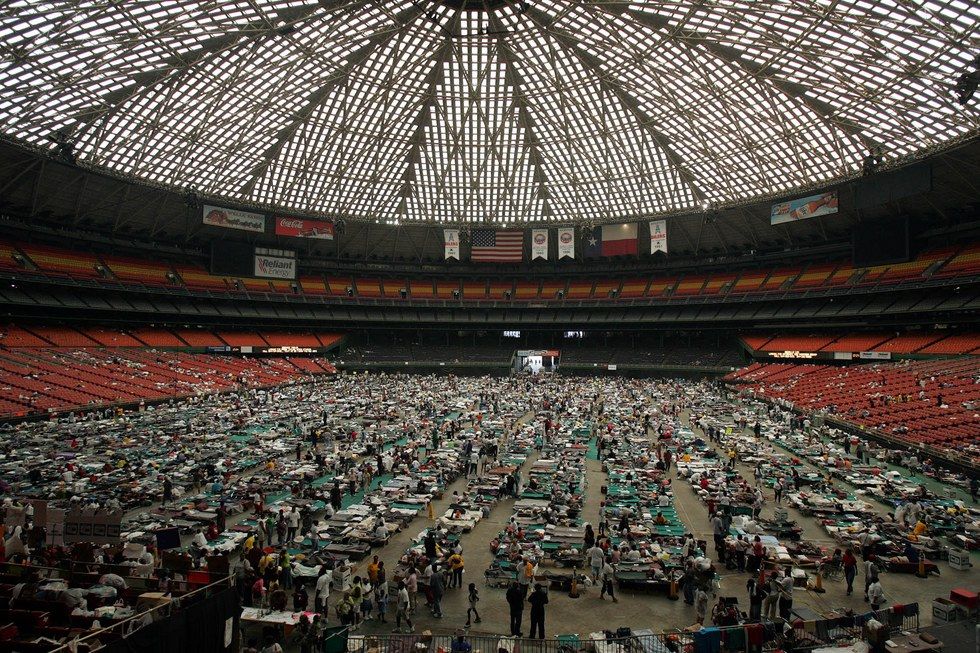 Day 8
Harvey: Trump asks Congress for $7.9 billion to aid the Harvey recovery effort. Of the total, $7.4 billion is to supplement FEMA's budget and $450 million is be distributed as loans to impacted small businesses. A fire breaks out at the Arkema plant, which saw two explosions the day before.
Katrina: New Orleans' 17th Street Canal levee — sealed after it was the first to break and allow water into the city — is reopened to pump out water.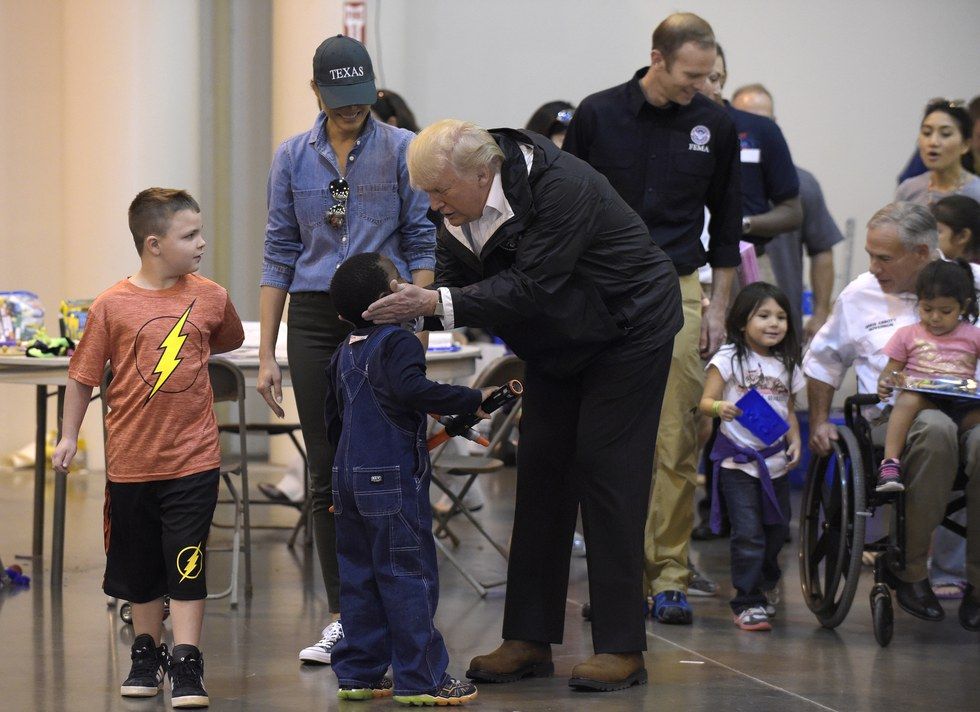 Day 9
Harvey: Trump and the First Lady return to Texas, this time visiting parts of Houston. They also travel to Louisiana.
The storm has thus far taken at least 47 lives, and experts estimate the damages will total $160 billion — more than Hurricanes Katrina and Sandy combined. Some parts of Texas received 52 inches of rain from the storm, a record for the continental U.S. The entire Texas National Guard — 12,000 guardsmen — are serving Harris County and surrounding areas. There are about 1,500 active duty troops divided between Texas and Louisiana, and the Pentagon says up to 30,000 more could join the effort.
Katrina: Under advisement of rescue workers, the city of New Orleans decides to force evacuations. Democrats continue to scrutinize Bush's handling of the crisis, with much of the criticism directed toward his appointment of Brown as FEMA director. Sen. Hillary Clinton says, "I would never have appointed such a person. I would imagine, I don't think that anybody would."
In total, Hurricane Katrina takes 1,833 lives and costs the government $100 billion dollars. At peak, there were 50,000 National Guardsmen and 20,000 active duty troops serving areas impacted by Katrina. New Orleans' population — 433,000 before the storm — does not recover from the mass evacuations. It is currently 400,000.
Go deeper