Thousands of Dreamers are missing today's DACA deadline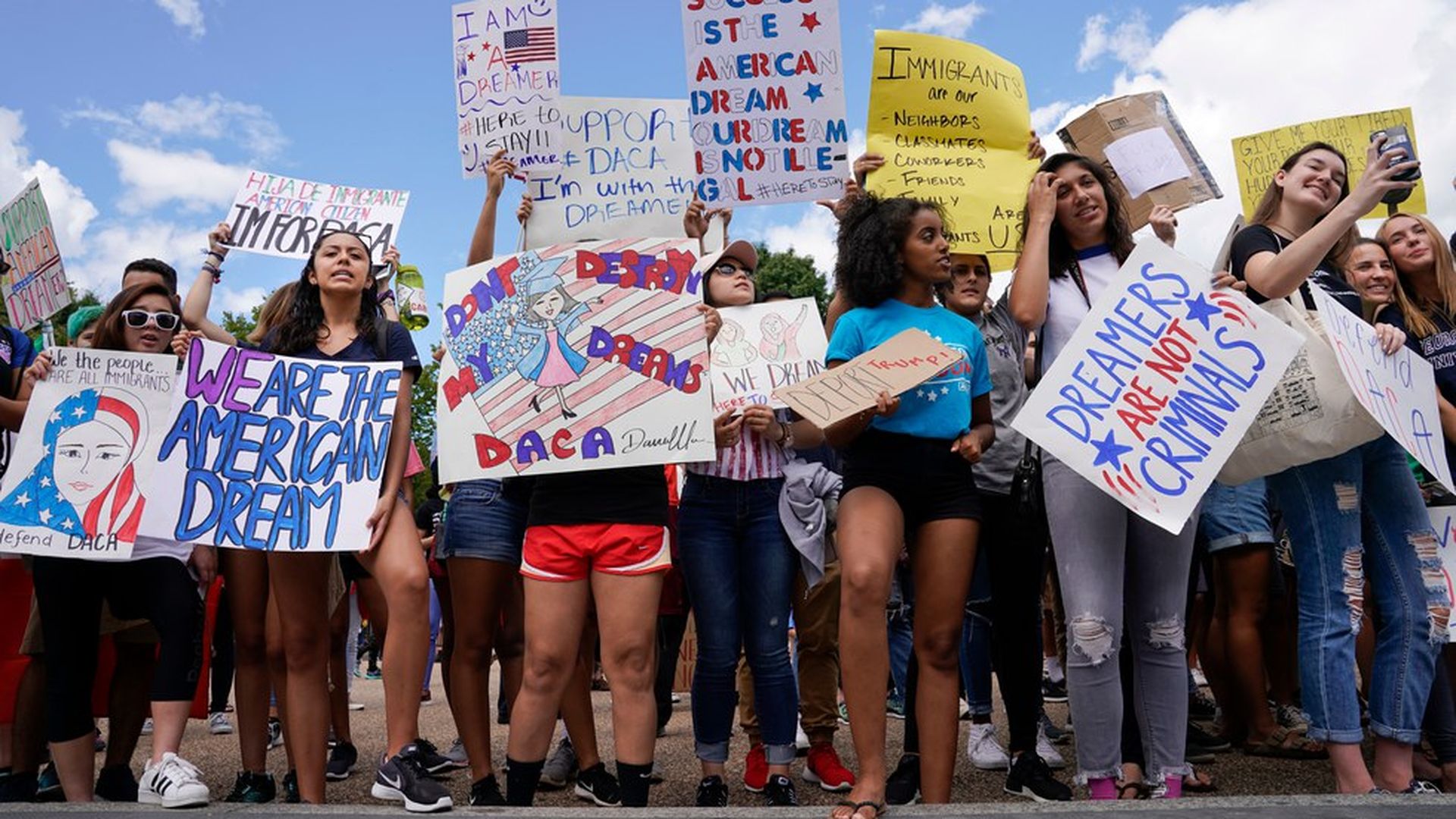 Today is the last day for eligible illegal immigrants who arrived in the U.S. as children to reapply for the DACA program.
Why it matters: Although Trump's decision to end DACA doesn't come into effect until March 5, 2018, no renewal applications will be accepted after today. Meanwhile, data from the United States Citizenship and Immigration Services (USCIS) showed more than 36,000 Dreamers eligible for renewal had yet to submit their paperwork as of Thursday morning.
The facts
The DACA program allowed some individuals who came to the U.S. illegally as minors to stay in the country for two years, and apply for a work permit. After those two years were up, Dreamers were able to renew their status.
In order to apply for DACA, young undocumented people had to formally submit immigration violations and identifying information to DHS. At the time of their application, the government vowed not to use the information to target applicants for deportation.
The rules changed on September 5 when the Trump administration announced that it was terminating the program, effective March 5, 2018. Since then no one has been able to apply for new protections under DACA.
However, the administration ruled that DACA recipients with authorization due to expire between Sept. 5, 2017 and March 5, 2018, had four weeks — until October 5, 2017 — to apply for renewal (note: this is a much shorter timeframe than Dreamers had initially). Those with expiration dates after March 5 were not permitted to apply for extension, and their status will expire on the date indicated on their DACA documents.
Approximately 690,000 people currently have DACA protections, with varying dates of expiration. Roughly 154,000 had until today to renew their documents.
What's next
Congress has six months to pass a legislative remedy to replace DACA, something that 83% of Americans support, per a Fox News poll.
Immigration enforcement officers, such as ICE and CBP, still won't use the information Dreamers provided in their applications against them or their families, Sens. Dick Durbin (D-IL) and Lindsey Graham (R-SC) said during a Judiciary Committee hearing Tuesday.
The Senate Judiciary Committee also said that the U.S. Citizenship and Immigration Services does not have "specific instructions" to go after DACA recipients for deportation.
Go deeper