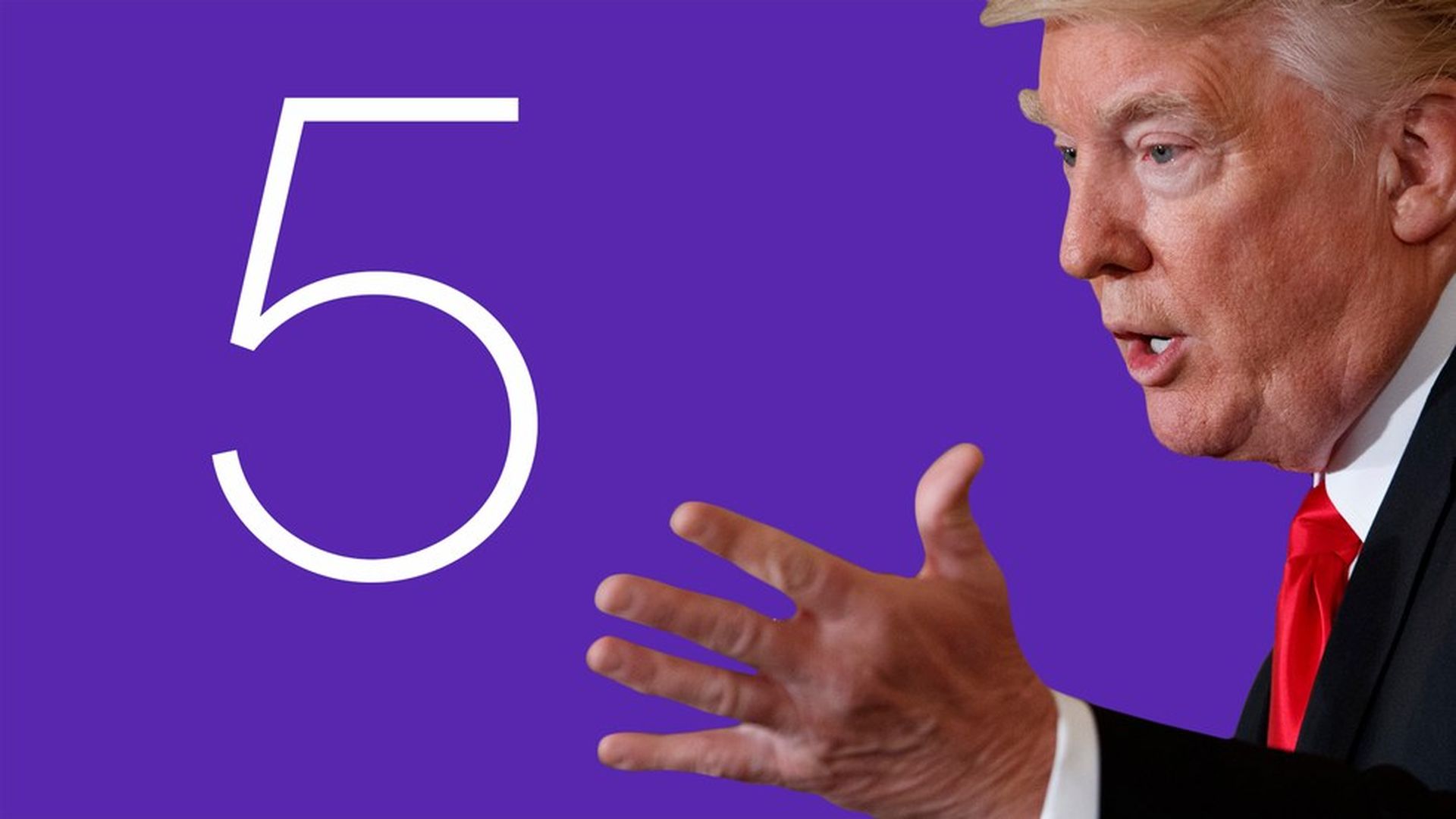 The 5th week in Trumpland was a shorter, quieter affair than we've gotten used to. With DC shut down on Monday for Presidents' Day and Congress out of town all week for a recess (where many lawmakers faced a storm of their own), President Trump used the annual gathering of mostly friendly faces at CPAC at the end of the week to take control of his message…
Erasing 44: The Trump administration rolled back two key directives from the Obama era; one on private prisons and another on transgender rights in schools.
Attorney General Jeff Sessions nixed guidance to phase out the use of private prisons by the Department of Justice. And the Trump administration has directed schools to ignore an Obama directive allowing students to use the bathroom that conformed to their gender identity, calling it an issue for states to decide.
Javanka rising: Jared and Ivanka made their presence known on a variety of issues in the White House this week. Ivanka — via Twitter — was one of the first to speak out from the Trump inner circle on anti-Semitic attacks and vandalism around the country. Jared organized meetings between CEOs and cabinet secretaries while Ivanka took the lead on a human trafficking summit. And, in perhaps their biggest win, Javanka got Trump to scrub out language attacking the Paris climate deal from a forthcoming executive order on environmental regulations.
Comey's back: The one big stumble this week came from a bombshell CNN report that the White House had reached out to the FBI to knock down reports about an investigation into Trump campaign communications with Russia. The report alleged direct discussions between Reince Priebus, FBI Deputy Director Andrew McCabe, and FBI Director James Comey. The WH said none of the conversations were "wrong" or "nefarious."
MSM to the kid's table: That report probably put CNN in the administration's crosshairs, as the network — along with the New York Times, Politico, BBC, Buzzfeed, and other outlets — was barred from Sean Spicer's press gaggle at the White House on Friday afternoon. Conservative outlets like Breitbart, The Washington Times, and One America News Network were allowed to participate. The AP and Time boycotted the gaggle in protest over the White House's decision.
CPAC: And while all of this was going down, conservative activists threw a huge party a few miles south of the White House at CPAC. Kellyanne Conway gave her thoughts on feminism. Steve Bannon outlined his nationalistic worldview. Nigel Farage crowned himself Mr. Brexit. Oh, and Trump was there! He played the hits — "fake news media," mentioned his love for Bernie Sanders, there was even a "lock her up" chant!
Go deeper