This Freedom Caucus member isn't getting punished for killing Trumpcare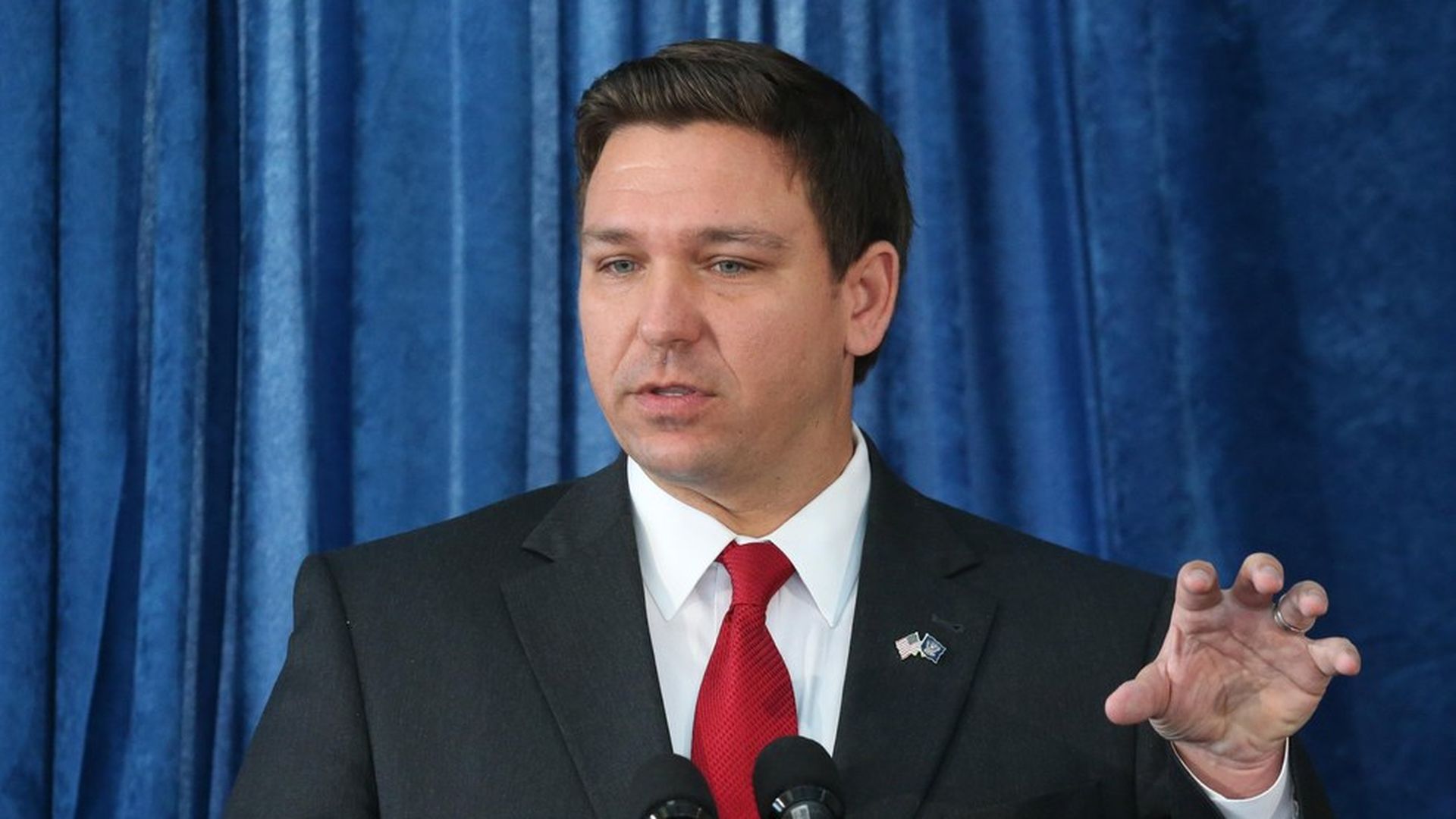 DAYTONA BEACH, Fla. — Rep. Ron DeSantis didn't face any backlash from his GOP supporters tonight for opposing Trumpcare. Instead, some audience members at a constituent event said the Freedom Caucus member helped avoid making Obamacare's problems worse. And he barely heard anything from Obamacare's supporters.
It was a lot tamer than the town hall events where other Republicans have gotten hammered over health care. The event was structured differently than a typical town hall — a moderator interviewed DeSantis, then the congressman took questions — and the setup minimized conflict. No signs were allowed, and many people showed up wearing DeSantis or Trump gear.
So DeSantis hardly had to engage on tough health care questions, except with one audience member with a disability who asked about pre-existing conditions. But from interviews outside the event, it was clear that this Freedom Caucus member was in a safe space. Many of the audience members were supporters, and although there were more liberal audience members who worried about Obamacare repeal, they barely made themselves heard.
DeSantis said the bill fell short of Obamacare repeal, was rushed through the House and would have likely raised costs. "I think it was a false start legislatively and I think if you're going to do it, slow down, do it right, and make sure the American people see the benefits of what you're doing," he told the audience.
His constituents on Trumpcare:
The Freedom Caucus got blamed for the failure of the bill, but "I think it's probably a better thing we don't turn out some bad sausage from the legislative machine," Vic Baker, communications chair for Volusia County Republicans, told me. "I think the ultimate product that will come out will be better because of [Freedom Caucus] opposition."
John Franks told me he didn't like the House health care bill. "It just transferred the expense, made things more expensive" for older people especially, and "it didn't really get rid of the defects in Obamacare." He's not upset with DeSantis or President Trump, but is underwhelmed by House leadership: "Paul Ryan's not my favorite guy. He's just Boehner-lite."
The other side: Many liberal or independent constituents expressed concern with repealing Obamacare. Several said family members or people they know depend on it for health coverage.
One audience member asked DeSantis about coverage for pre-existing conditions, saying "pre-Affordable Care Act, I could be denied for health insurance." DeSantis said he supports creating high risk pools where "the cost is dealt with in a separate fund rather than imposed through higher premiums" on the rest of the market.
Ellen Juliano, who has voted for both parties in the past, told me the House bill was a "big embarrassment" for Republicans after years of opposition to Obamacare. "They now have it all and they could not get it done...it shows they can't govern."
Go deeper