The White House expects Trump to get even more outrageous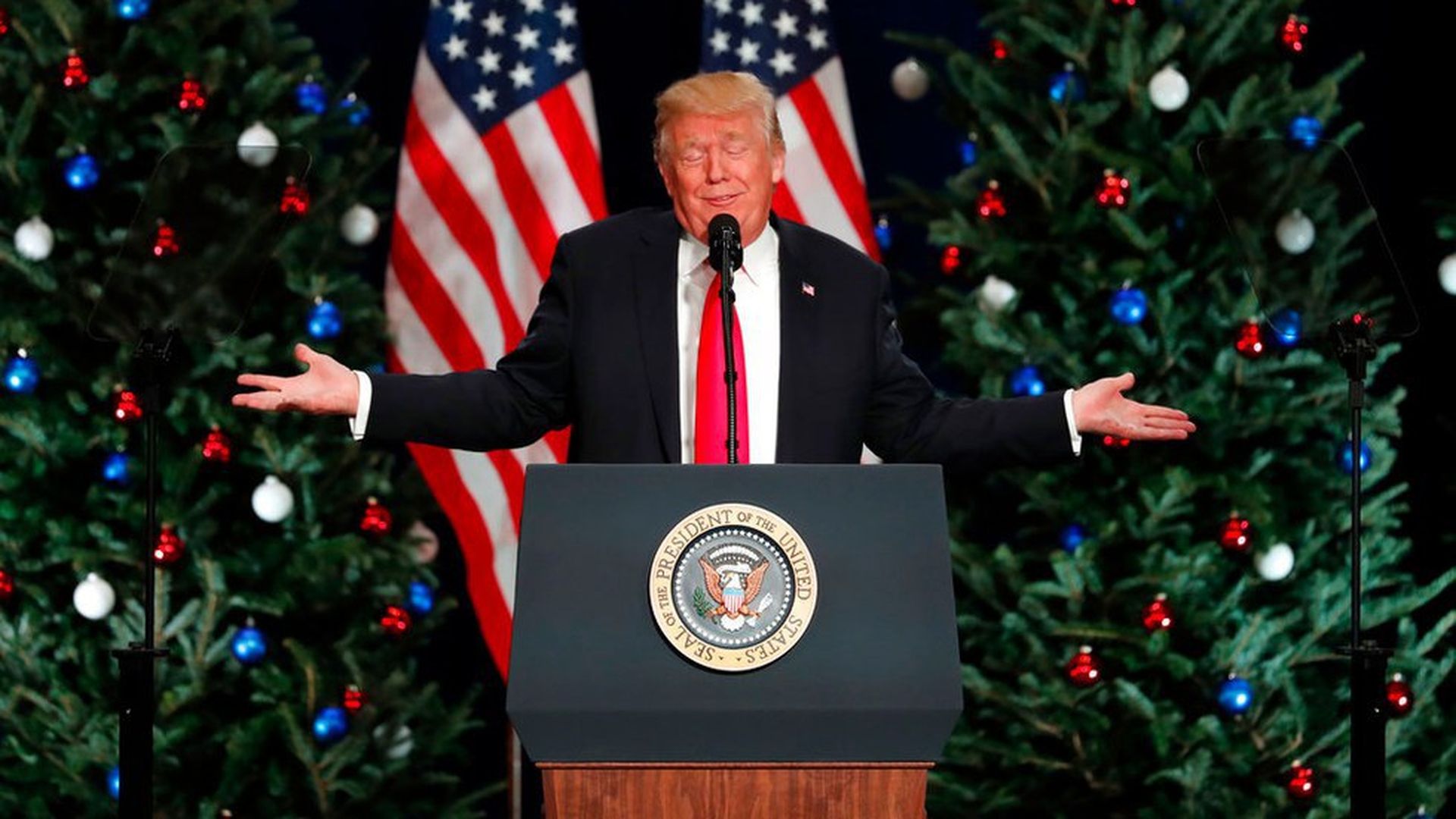 Exhausted by the Trump presidency? Brace yourself: White House officials expect Trump to be even more outrageous and cocksure in coming months.
What we're hearing: Officials tell us Trump seems more self-assured, more prone to confidently indulging wild conspiracies and fantasies, more quick-triggered to fight than he was during the Wild West of the first 100 days in office.
Imagine Trump if he signs a huge tax cut into law, which seems likely, amid soaring stocks and rising economic growth.
Imagine if Roy Moore wins in Alabama, which seems likely, too. It surely won't humble Trump — or hem him in.
He's like the Incredible Hulk, after the media and Mueller made him mad.
We just witnessed
the most unthinkable 96 hours of Trump's reign:
He called for a probe of the chairman of NBC News, a boycott of CNN, global skepticism of CNN International, and a public contest to crown the king of Fake News.
He told friends that the "Access Hollywood" tape may have been doctored, and that former President Obama may have been born abroad.
He re-tweeted conspiracy theorists.
He unapologetically circulated videos aimed at demeaning an entire religion, Islam. He sent his press secretary out to argue it doesn't matter if the tapes are fake, because the threat is real.
Be smart:
Elected Republicans, at least in public, seem fine with it all. They chuckle and say it's simply Trump being Trump. White House Chief of Staff John Kelly and his staff seem fine with, or at least resigned to, this reality. No one who matters is doing anything but egging him on.
Case in point: Amid all of this, Sen. Orrin Hatch (R-Utah) calls Trump "one of the best presidents I've served under."
Sen. Lindsey Graham (R-S.C.) gushed that he's never seen Trump in finer form than digging into the tax bill this week.
Go deeper: Jonathan Swan's in-the-moment tour de force, "The darkest day of Trump's presidency."
Get more stories like this by signing up for our daily morning newsletter, Axios AM.
Go deeper