The Twitter hashtag is 10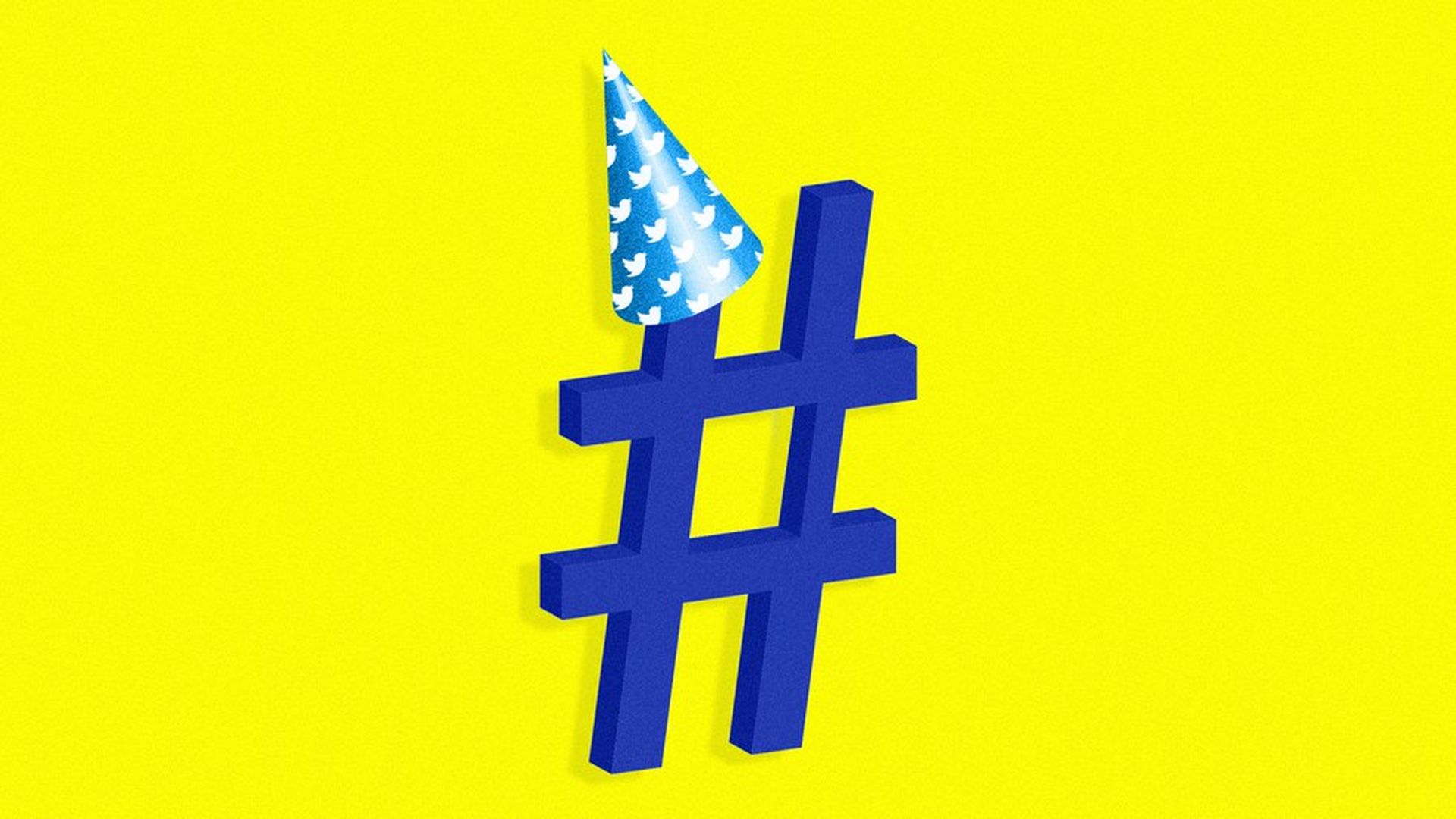 Today is the 10th anniversary of the first Twitter hashtag. It was #barcamp, sent by former Google designer Chris Messina, in reference to a user-generated conferencing group he had helped create called BarCamp.
Why it matters: Hashtags have become a huge part of Internet culture and language. Jimmy Fallon and Justin Timberlake have famously spoofed Internet conversations via hashtag-only banter skits, and viral hashtags like #tbt (throwback Thursday) and #blessed have become integrated into everyday conversations in real life. Studies have suggested that nearly 3/4 of all internet users use hashtags to communicate. And hashtags have also spread to other Internet platforms, like Facebook, which adopted the feature in 2013.
Messina tweeted the hashtag as a recommendation for Twitter to create groups by automatically adding hyperlink metadata to any word that followed the "#" symbol. Twitter initially rejected the idea, saying hashtags were for "nerds," but eventually adopted the hashtag into its code in 2009.
New data from Twitter:
125 million hashtags are Tweeted per day on average.#ThrowbackThursday and #tbt have been Tweeted 120 million times and #ootd has been Tweeted over 2 million times.Five of the most-used hashtags over the past decade originate from fans tweeting during award shows. #MTVHottest, #MTVStars, #KCA, #iHeartAwards and #BestFanArmy have all been used over 3 billion times.The most Tweeted television show hashtag of all time is #TheWalkingDead and the most Tweeted about movie hashtag of all time is #StarWars. The most Tweeted global sporting event hashtag is the #WorldCup and The most Tweeted US sporting event is the #SuperBowl. The most Tweeted about league hashtag is #NFL and the most Tweeted team hashtag is #MUFC.
Go deeper