The Trump staffers charged by the Russia probe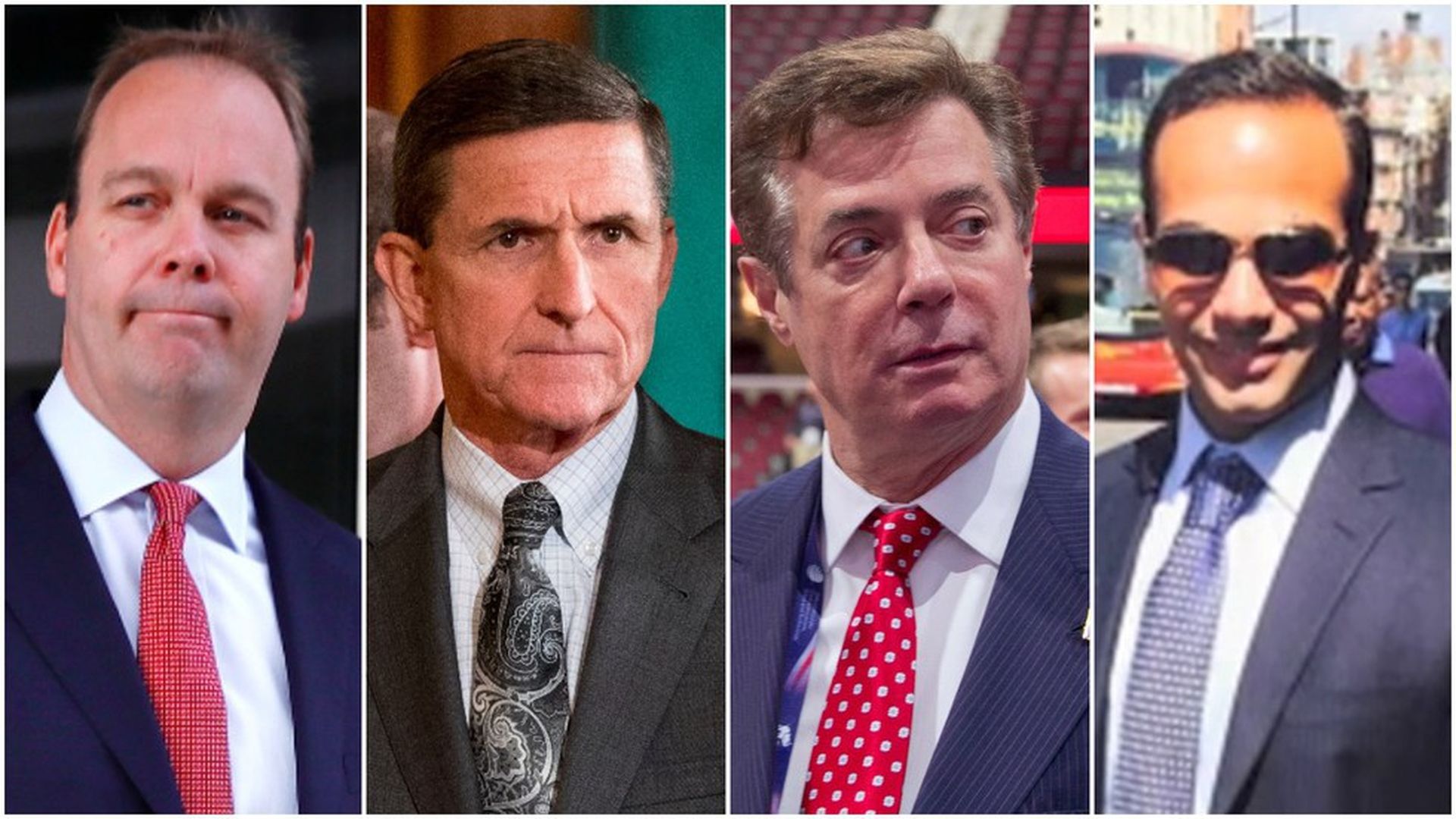 Michael Flynn pleaded guilty today to "willfully and knowingly" lying to the FBI about his conversations with former Russian Ambassador Sergey Kislyak, making him the fourth former Trump staffer to be charged in Special Counsel Robert Mueller's probe.
Why it matters: President Trump has repeatedly claimed that the Russia probe is a "political witch hunt" and that there was no collusion among his staffers and the Russians.
The others charged in Mueller's investigation:
Paul Manafort and Rick Gates
Manafort, Trump's former campaign advisor, and Gates, his business partner/protégé, were indicted in late October by a federal grand jury on 12 separate charges:
Conspiracy against the United States, conspiracy to launder money, unregistered agent of a foreign principal, false and misleading Foreign Agent Registration Act statements, false statements, and seven counts of failure to file reports of foreign bank and financial accounts.
Both have pleaded not guilty to the charges. Manafort faces up to about 15 years in prison, while Gates faces up to about 10 years.
State of play: The men have largely remained under court-ordered house arrest since the charges were filed. Their expected to begin trial in the spring of 2018.
George Papadopoulos
The former Trump campaign advisor was named in the same indictments against Manafort and Gates. But Papadopoulos' charges were explicitly linked to attempts at collusion with Russia.
He was arrested in July and cut a deal with Mueller in October. He allegedly attempted to contact Russian officials in order to facilitate a meeting between Trump and high-level Russians.
On Oct. 30, Papadopoulos pleaded guilty to lying to the FBI about his conversations with the Russians.
State of play: Papadopoulos' sentence hearing will be set for a later date, per the Special Counsel's Office. He will face up to six months in prison (though the max for this charge could be 5 years) and $500 to $9,500 in fines, according to the DOJ plea agreement.
Go deeper