The tour company Otto Warmbier used isn't taking Americans anymore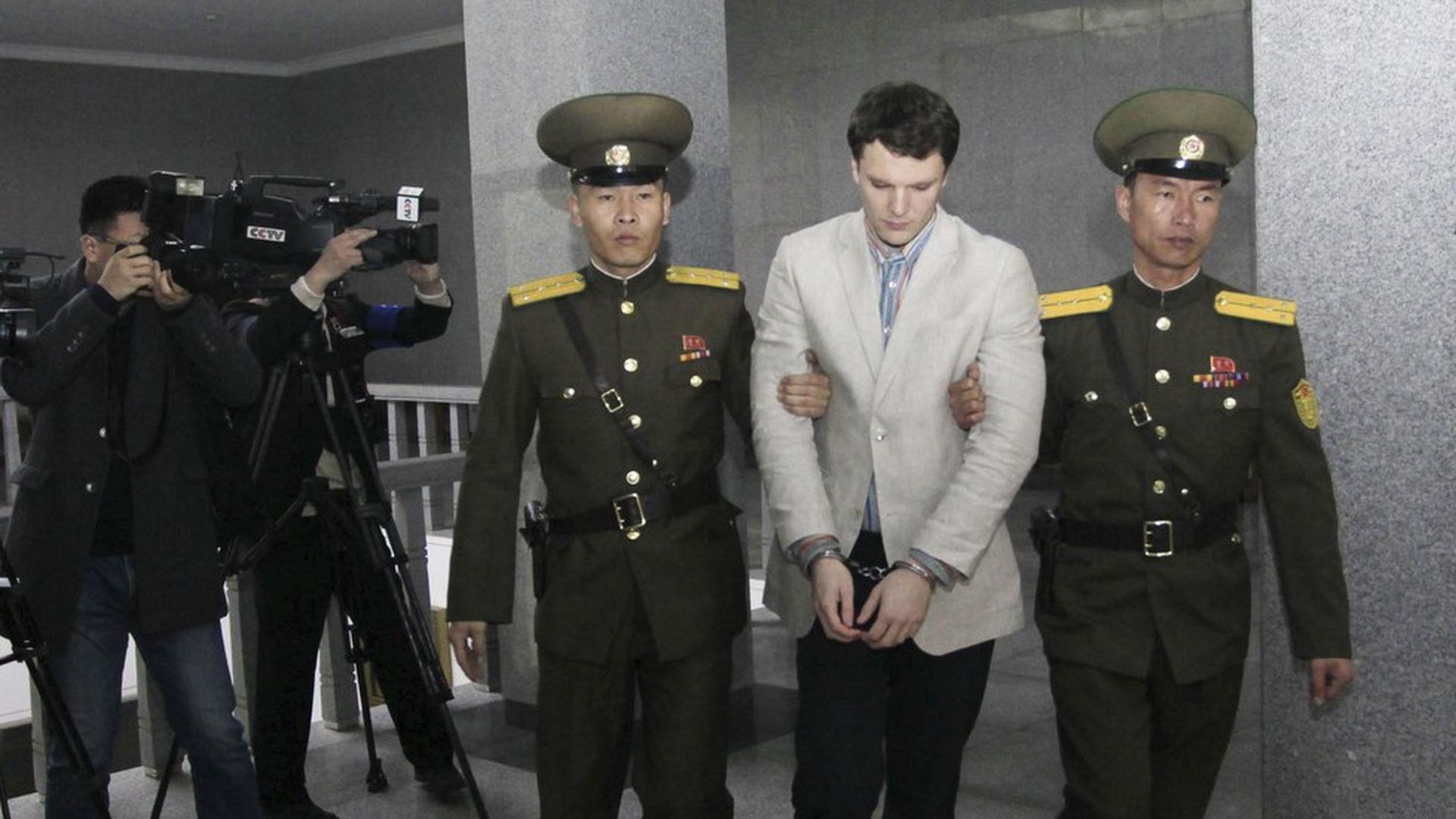 Young Pioneers Tours (YPT), the tour company that hosted Otto Warmbier on his trip through North Korea may have not been as responsible in keeping its tourists as safe as they should have been, according to fellow trip-goers, Politico Magazine reports
"It seems partying was a bigger part of the job description than taking care of us," one person who used YPT told Politico, adding that "all of the tour guides were young people who get very drunk. It was sort of like there were few or no adults around."
Why it matters: Following Warmbier's death, YPT announced it isn't taking American tourists on its trips anymore because "the assessment of risk for Americans visiting North Korea has become too high," which puts the blame onto Americans and leaves little room for a company role in the security of its tour group. But two incidents in the buildup to Warmbier's detainment raise questions about the security of tourists in YPT's care.
Incident 1: One British trip goer, Danny Gratton, found himself alone in the streets after wandering off with another trip-goer and a few North Koreans on New Years Eve, during what was reportedly a jovial celebration.
Unguided tourism is not allowed in North Korea and the country tightly monitors Western tourists, usually by placing North Korean guides with Western guides on tours. Plus, the "disappearance roughly coincides with the time Warmbier allegedly tried to steal the propaganda poster from the hotel, raising questions about whether those two events are related," as Politico writes.
Warmbier and Gratton roomed together during the trip. The morning after the alleged disappearance and Warmbier's alleged crime, the hotel "mysteriously and uncharacteristically missed their wake-up call," Gratton told The Washington Post (although he did not disclose his disappearance). Then, when Warmbier was detained by North Korean security services at the airport that day, Gratton said he was the only tour go-er to see it. Gratton said the tour company and the U.S. government never contacted him about the detainment.
Incident 2: When a friend of one of the Western tour guides hid one of the tourists' passport and North Korean soldiers took him to another area and interrogated him, the tour guide allegedly teased the man's wife instead of helping.
One other note: The Daily Mail reports that a British lawyer who went on a separate tour with YPT in North Korea said one of her tour guides brought her to an off-limits floor in their hotel building, which is similar to the location of Warmbier's alleged crime.
Go deeper