The toplines from Trump's Axios interview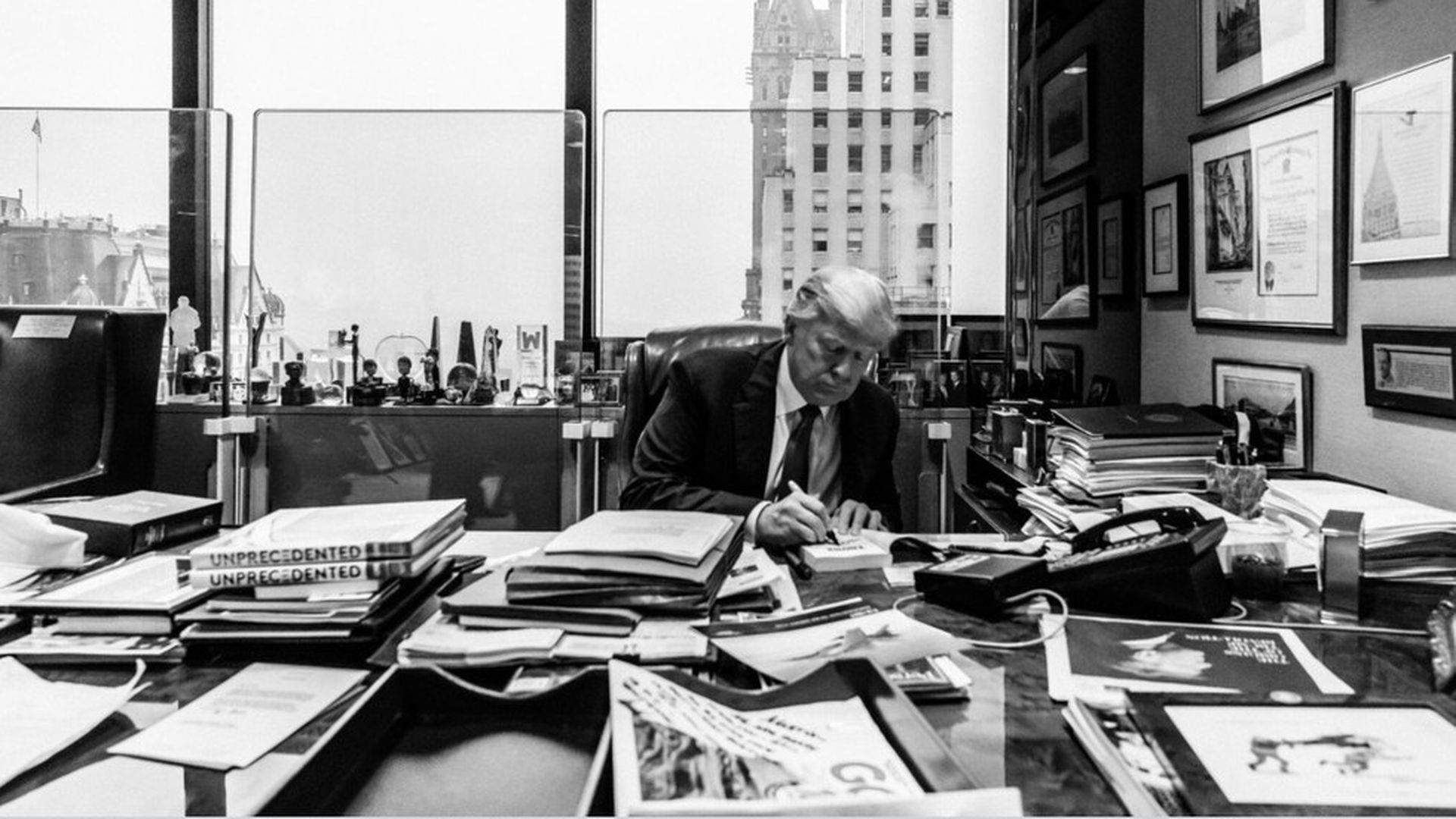 Axios interviewed President-elect Donald Trump on Tuesday.
The big picture: He's clarifying three controversial interviews he gave this week.
On telling the Times of London that he'll "start off trusting both" Putin and Merkel: "All I said was that I give everybody an even start; that's all I said... So, I give everybody an even start; that right now, as far as I'm concerned, everybody's got an even start...I think people start off on a somewhat equal footing."
On telling the Washington Post that he wants "insurance for everybody": "[T]here are many people talking about many forms of health care where people with no money aren't covered. We can't have that. Now, whether it's Medicaid block grants or whatever it may be, we have to make sure that people are taken care of and it's going to be a very important part to me."
On telling the WSJ that border adjustment, the central part of Paul Ryan's tax plan, is "too complicated": Border adjustments are "still on the plate," but lower priority than health care.
Rest of the details from the interview below:
Trump weighed in on his experience with intelligence briefings: He says they're too long and feature reports that should be a single page instead of 200. "I like bullets or I like as little as possible."
But he singled out his incoming CIA chief for praise: "[Mike] Pompeo is going to be fantastic."
He named his closest allies: Named only the UK, China and Russia when listing the "close to a hundred different groups" who've called to congratulate him on his win. "I give everybody an even start; that right now, as far as I'm concerned, everybody's got an even start."
He named the top reason he's a nationalist: Trade, specifically NAFTA.
On automation: Trump's on record for preferring goods be made in the U.S., but conceded it's not for everything. Notable: He singled out pharmaceutical companies on the automation and outsourcing.
His take on Apple and making the iPhone in the U.S., a campaign trail staple: Trump claimed Tim Cook has his "eyes open to it" and that Cook "really believe he loves this country and I think he'd like to do something major here.
On deportations, Trump referenced Obama's own record: Trump first deployed this line in the 3rd general election debate.
And yes, on that wall: He's going to use the 2006 law, as previously detailed, to get a start.
Trump responded to whether he's concerned that calling the media "fake news" will cause him problems over time: "I hadn't thought of it that way, no."
He weighed in on the WH briefing: "I'm all for keeping [the existing space]. It's easy, but you're going to have a lot of people that, perhaps, won't fit in the room."
Contrast that with social media: Which Trump said was his "only way of getting the word out." He boasted of his social media following, which is approaching 50 million between Facebook, Twitter and Instagram.
Trump said he spoke to Obama on Tuesday: The president told Trump the standard challenge about supporting an Obamacare replacement, given a better option.
He's been in touch with most living presidents: Trump named calls from presidents Clinton and Bushes 1 and 2. He didn't mention Carter.
Oh, and he showed us a letter from George HW Bush: On why the 41st president won't be at the inauguration. Stay tuned.
And talked about unnamed Democratic advisors: Trump said he's had lots of Dems reaching across the aisle with advice. He didn't name anyone
BONUS: Is lying ever necessary? Trump: "I don't want to answer the question because it's -- it gets to, you know, a different level than we're talking about for this interview."
Go deeper