The Senators who will decide health care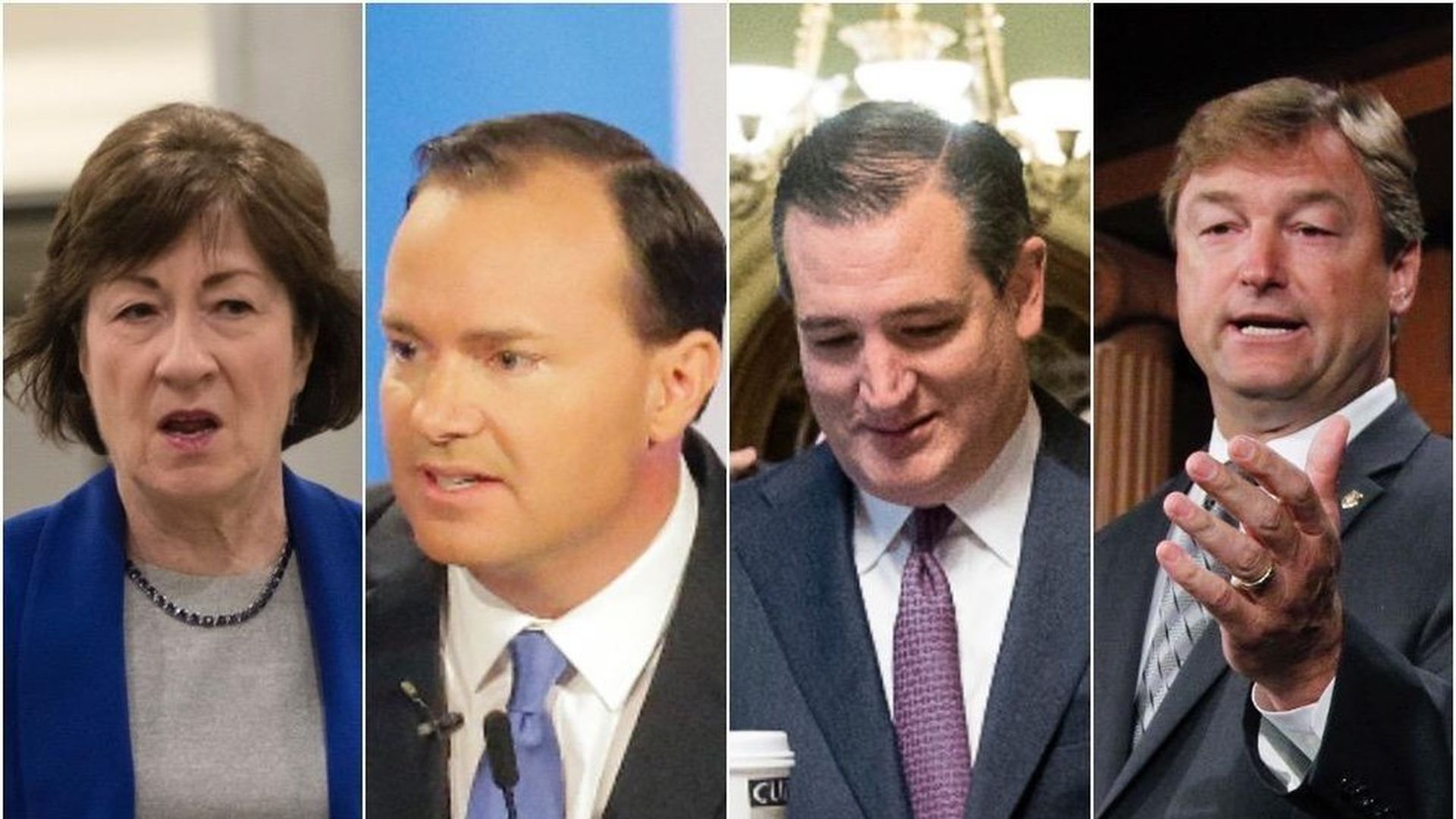 Yesterday's public waffling by Sen. Dean Heller (R-Nev.) put the healthcare bill in sudden danger that almost certainly will mean notable changes.
Assuming Vice President Pence as tie-breaker, the White House and Senate Majority Leader Mitch McConnell can only lose two Republicans,and at least eight have expressed misgivings about the bill as currently written.
We asked a high-level source close to Senate leadership for a danger gradient of who is most at risk of defecting. From the source's texts:
1. Sen. Susan Collins of Maine: "She wants to remain engaged in negotiations so makes sense not to foreclose the option to vote 'yes.' But there is no way she'll vote for this bill, just on pro-life protections alone."
2. Sen. Rand Paul of Kentucky: "He's talking about getting a 60-vote threshold revamp of [Obamacare]. ... He wants this bill to fail. In that vacuum, he feels his bill will get more steam. ... The principle instead of outcomes. Which is admirable. But can't really legislate that way."
3. Sen. Mike Lee of Utah: "I do think he wants to get to 'yes.' I think he realizes that if this fails, it kills the reconciliation vehicle and possibly the chance to repeal major elements of Obamacare. But his vote will come [with] major improvements that may or cannot be accommodated by the budget rules constraining recon."
4. Sen. Dean Heller of Nevada: "If I were Heller and the possible 50th vote, I'd make damn sure to negotiate a big win for Nevada. He has other priorities beyond healthcare. Yucca [Mountain nuclear dump, which he opposes] is one that could possibly be on the line here if he goes up against the President and fellow Rs."
5. Sen. Lisa Murkowski of Alaska: "The bill could be improved by amendment to improve Alaska's standing."
6. Sen. Cory Gardner of Colorado (NRSC chair): "I think Gardner will be OK."
7. Ditto for Sen. Ron Johnson of Wisconsin, one of the four conservatives — along with Paul, Lee and Ted Cruz — who rained on the bill's introduction with a joint letter saying they were "not ready to vote for this bill."
8. And Sen. Ted Cruz of Texas, looking to his party future.
Paragraph of the day WashPost A1, "In health-care bill, two prized Republican goals converge," by Damian Paletta: "[L]ong-term conservative goals of cutting taxes and entitlement spending have overtaken Trump's agenda ... The legislation would sharply break with pledges Trump made during the 2016 campaign to block reductions in Medicaid spending and to deliver tax cuts primarily to the middle class."
Go deeper