The Senate tax bill's "seesaw" trap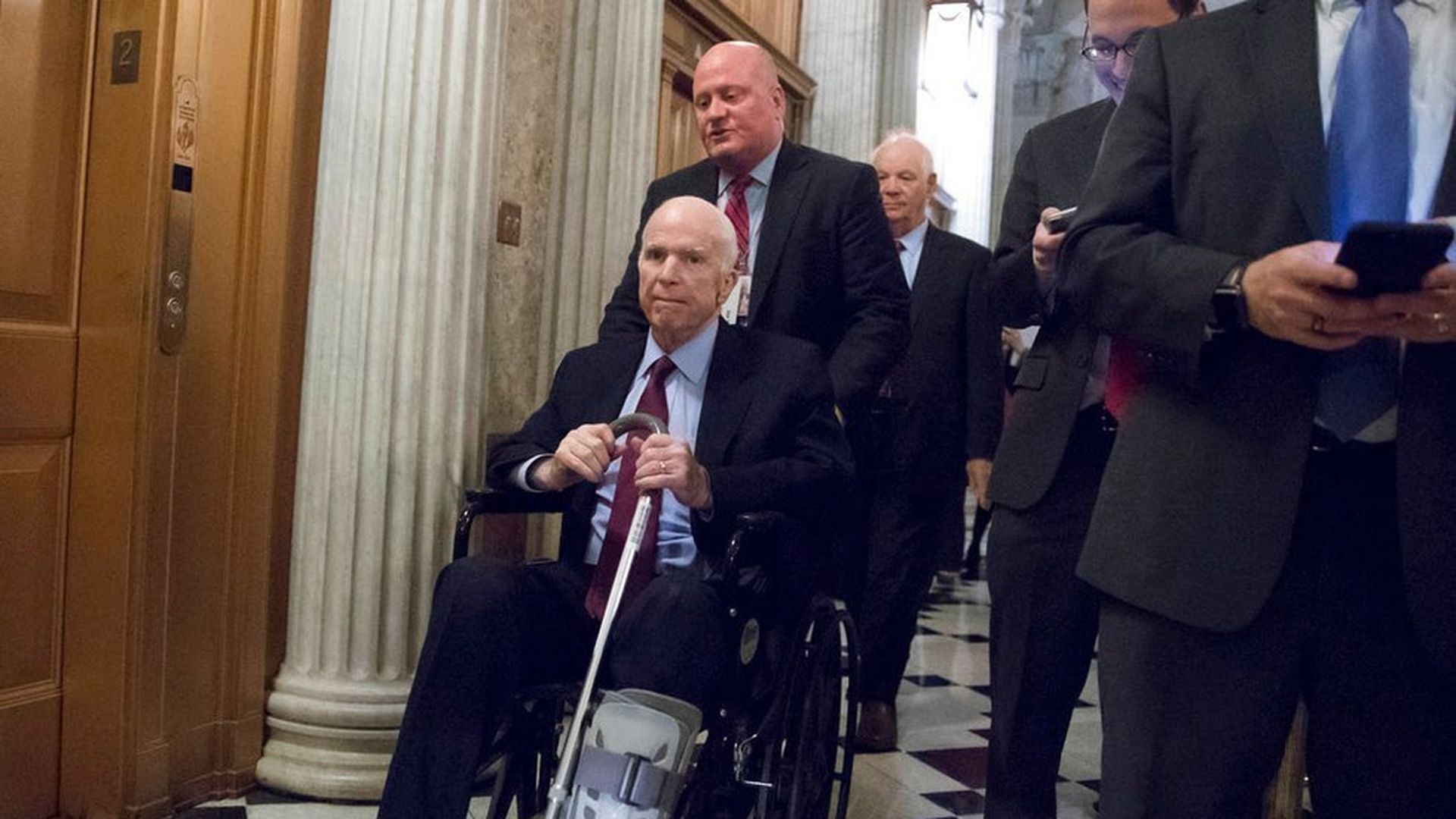 With administration and leadership aides frantically negotiating with holdout senators, the Senate's tax vote scheduled for late this week could lapse into next week.
That would raise everyone's blood pressure: Everything is fragile.
A senior administration official told me: "We're still getting it done in a matter of a couple months, instead of a couple of years. It's OK if it takes a few extra days."
The bill is in the ugly sausage-making phase, with senators taking advantage of their leverage to make demands. At least six GOP senators are holding out (John McCain and Jeff Flake of Arizona, Bob Corker of Tennessee, Susan Collins of Maine, Ron Johnson of Wisconsin and Steve Daines of Montana).
Lose three of those, and the bill is dead.
McCain says he's undecided. His concerns? "A lot of things."
Will be drama to the end: The well-wired Chris Krueger of Cowen has "~8 Republican Senators on fence/lean-no ... Any slippage, and momentum goes other direction with Alabama Senate election [Dec. 12], and shutdown negotiations next week."
The state o' play, from more than half a dozen senior Republicans interviewed by Swan:
"High concern" about Corker of Tennessee and Johnson of Wisconsin: They're simply not on board yet, and they both have a vote in the Budget Committee — a vital procedural step scheduled for 2:30 p.m. today.
If Johnson votes against this, there's no hiding! Everyone will pile up on him. And there's no telling what Trump will do.
A problem for McConnell & Co: Johnson and Corker sit on opposite ends of a Catch 22 seesaw: Johnson wants lots more money for "pass-through" businesses. But every extra dollar you give him is another dollar that will blow out the deficit and worry deficit hawks like Corker, Flake and McCain.
A senior GOP aide: "It's unclear what exactly that Senator Johnson wants. ... It's potentially hundreds of billions of dollars."
Be smart: House leaders are insisting on a conference committee to work out the vast differences between the two chambers' tax bills: They say they don't have the votes for the Senate bill, and won't swallow it whole.That's a whole new minefield.
How It's Playing ... N.Y. Times lead story: "TAX WRANGLING AIMS TO SWEETEN GAINS OF WEALTHY."
Go deeper