The Murdochs' global ambitions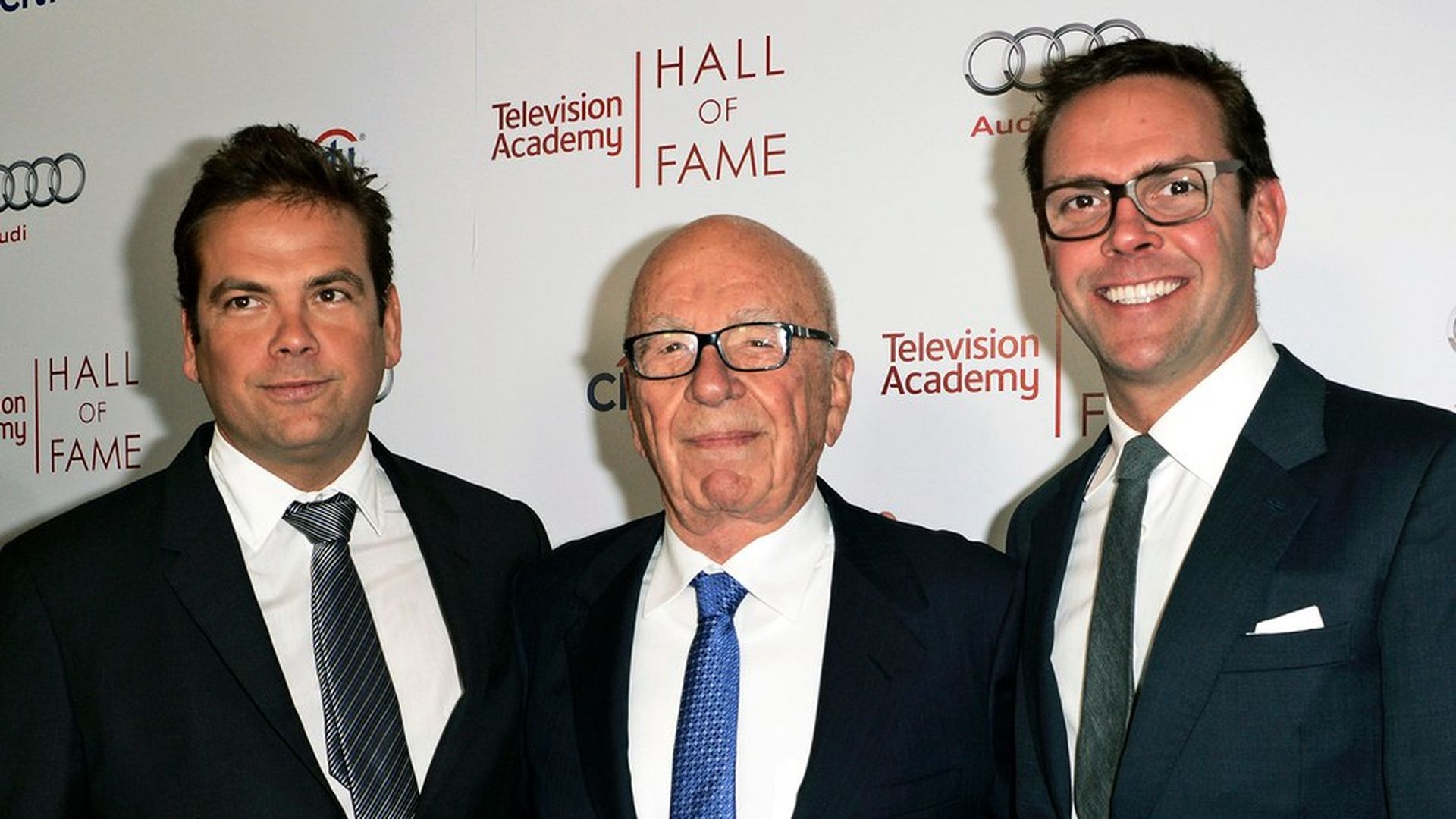 While controversy around Fox News continues to make headlines in the U.S., the Murdochs have their sights on much larger, international television goals, specifically in India where it reaches 720 million viewers, backs one of the country's most-downloaded Android apps and recently spent $2.6 billion to secure rights to cricket matches.
Why it matters: Across the globe, the Murdoch TV empire is looking to expand on almost every continent, which makes it different from its biggest U.S. entertainment and telecom competitors.
India: Star India, 21st Century Fox's TV unit, which reaches 720 million viewers in eight different Indian languages across 40+ broadcast and cable channels, continues to grow in record numbers largely thanks to its digital streaming app, HotStar.Hotstar continues to be one of the most-downloaded Android apps in the country, beating out Facebook Lite for the second year in a row, with more than 100 million active users – more than double the watch time of all its competitors combined. Engagement with the app has also more than doubled over the past two years, according to SimilarWeb. The priority there is to create as many hours of local programming as possible to drive engagement. 21st Century Fox CFO John Nallen says the company produces 17,000 hours per year of its local Indian product.Cricket: The network scored a major win over Facebook two weeks ago by securing the global digital and broadcast rights to stream Indian Premier League (IPL) cricket for the next five years for a whopping $2.6 billion. Their mega-investment beat out a reported $600 million digital-only India subcontinent bid from Facebook, likely the largest sports distribution bid Facebook has made to date.
Europe: 21st Century Fox is awaiting final approval from regulators to buy full stake in Sky, Europe's leading entertainment company serving 22 million network and satellite TV customers across the UK, Ireland, Germany, Austria and Italy. If the takeover is approved, which Fox executives tell Axios they anticipate it will, it would be an enormous market share win for the Murdochs, who dropped Fox News from the air in the UK last month. The acquisition would also include Sky News, Sky Deutschland and Sky Italia, as well as the entire Sky communications brand, which includes broadband and digital content.
Latin America: Fox Network Group, which controls Fox's TV and cable channels, has also been expanding its presence in Latin America and Asia. Fox Sports was granted broadcast rights to air Argentinian soccer this year. Fox Sports Latin America renewed its exclusive distribution deal with Concacaf, the group that controls soccer in North America, Central America and the Caribbean.
Australia: The main video programming distributor in Australia, Foxtel, is controlled by Mudoch-owned NewsCorp, the only entertainment asset NewsCorp owns.
Why it matters: The future growth potential in entertainment and media is huge outside of the US market, which is why new entrants like Netflix and Facebook are so focused on international content and distribution deals. According Chip Smith, Executive VP of Public Affairs at 21st Century Fox, "Building global brands through deep localized investment is a cornerstone of our growth strategy, and we think the experience we've gained operating over decades in international markets will prove to be a unique differentiator for our business." Of note, James and Lachlan Murdoch, who now run the media empire, have lived and led media businesses on four different continents – something its tech competitors, like Mark Zuckerberg of Facebook, and Reid Hastings of Netflix, can't claim.
The localized attention to markets is what the Murdochs are most-focused on when building their International brand:
In India specifically, the push into free ad-supported streaming as opposed to a subscription-supported skinny bundle (something they are considering in the U.S. and Canada) stemmed from James Murdoch's personal experience running the company's Asia arm earlier in his career.
In the U.K., the family's familiarity with the media market through years of cross-channel ownerships has reinforced their confidence in its Sky acquisition, despite regulatory delays.
Media as a family businessFamily-owned media businesses operate much differently than standard businesses and need to make different generational considerations for major decisions, generally pushing them to think more long-term about investments. Other media executives are paid out with quarterly or yearly bonus incentives, so they tend to think more short-term."If you look at the Fox Broadcast Network and Fox News, these were investments that shareholders at the time thought were crazy, and they ended up both leading to phenomenal value creation," says Rich Greenfield, media analyst at BTIG. "That was certainly enabled by family ownership, which allowed them to feel confident in sacrificing short-term revenues to make investments that would build long-term value. regardless of shareholders' opinions."Some of the biggest family-owned U.S. media businesses, per the Global Family Business index:21st Century Fox and News Corp. (The Murdoch family.)Cox Enterprises Inc. (The Cox family)Advance Publications Inc. (The Newhouse family)Other major outlets, like The Washington Post (Jeff Bezos), Bloomberg L.P. (Michael Bloomberg) and the Boston Globe (John Henry), are privately-owned, and thus too have different incentives for long-term and short-term strategy.
Go deeper