The Mooch's replacement could be Stephen Miller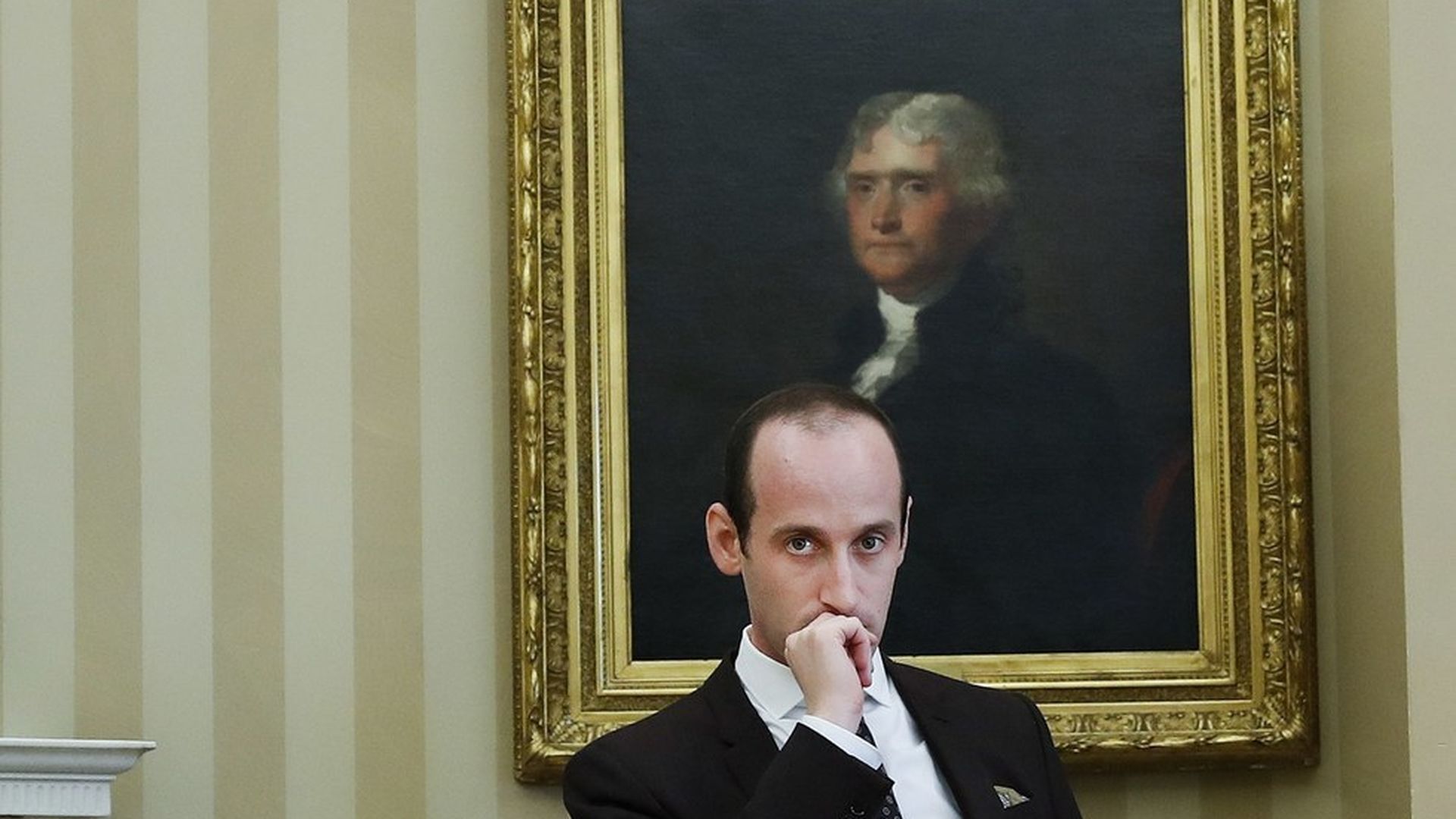 Stephen Miller, the Trump senior policy adviser who just tangled on-camera with CNN's Jim Acosta, is under consideration for White House communications director, top Trump sources tell me.
The effort to find a Mooch successor is still in the name-gathering process, and Miller is not the top contender, the sources said.
But Steve Bannon likes the idea of Miller for the job, and Miller was the hero of the West Wing after he attacked Acosta as a "cosmopolitan" for his views on immigration.
When Miller finished that press briefing, his colleagues high-fived him, according to Sebastian Gorka, a national-security aide who's a favorite of the president's for his over-the-top TV hits.
The super-key point: Trump cares primarily about how people perform on TV. He's totally uninterested in the behind-the-scenes, unglamorous planning work of a comms director.
Miller is proudly hardline nationalist, and a favorite of the Trump faithful:
As a top aide to then-Sen. Jeff Sessions, Miller was a central player in ginning up opposition to the "Gang of 8" bipartisan effort at immigration reform.
He has a "Rainman" ability to recall immigration statistics.
When Miller worked in Sessions' office, he was effectively an adjunct of the Breitbart editorial team. He'd work closely with Julia Hahn — then Breitbart's immigration reporter, and now a White House colleague — on stories favoring nationalist immigration positions. A former colleague of Hahn's said Miller "mentored" Hahn.
Miller was famous for bugging reporters at all hours with his story pitches, and seemingly had a direct line to Matt Drudge. The running joke was that the Sessions office had a permanent lease on at least one of the prized top-left Drudge links.
Many in the GOP establishment think Miller has been unpersuasive in his few trips to the TV cameras and the briefing room.
But Trump has dug the performances, and West Wing insiders thought Acosta looked like a jackass — boosting Miller's stock at a crucial moment.
Trump loves nothing more than watching his people berate the "fake news" media on live TV. Gorka was effectively a non-entity, sitting in the Eisenhower Executive Office Building and working for Bannon (who had to argue hard to save Gorka's job) until he began tearing shreds of CNN anchors.
Now Gorka is a Trump favorite — effectively protected while national security adviser H.R. McMaster purges others.
Go deeper