The incredible shrinking president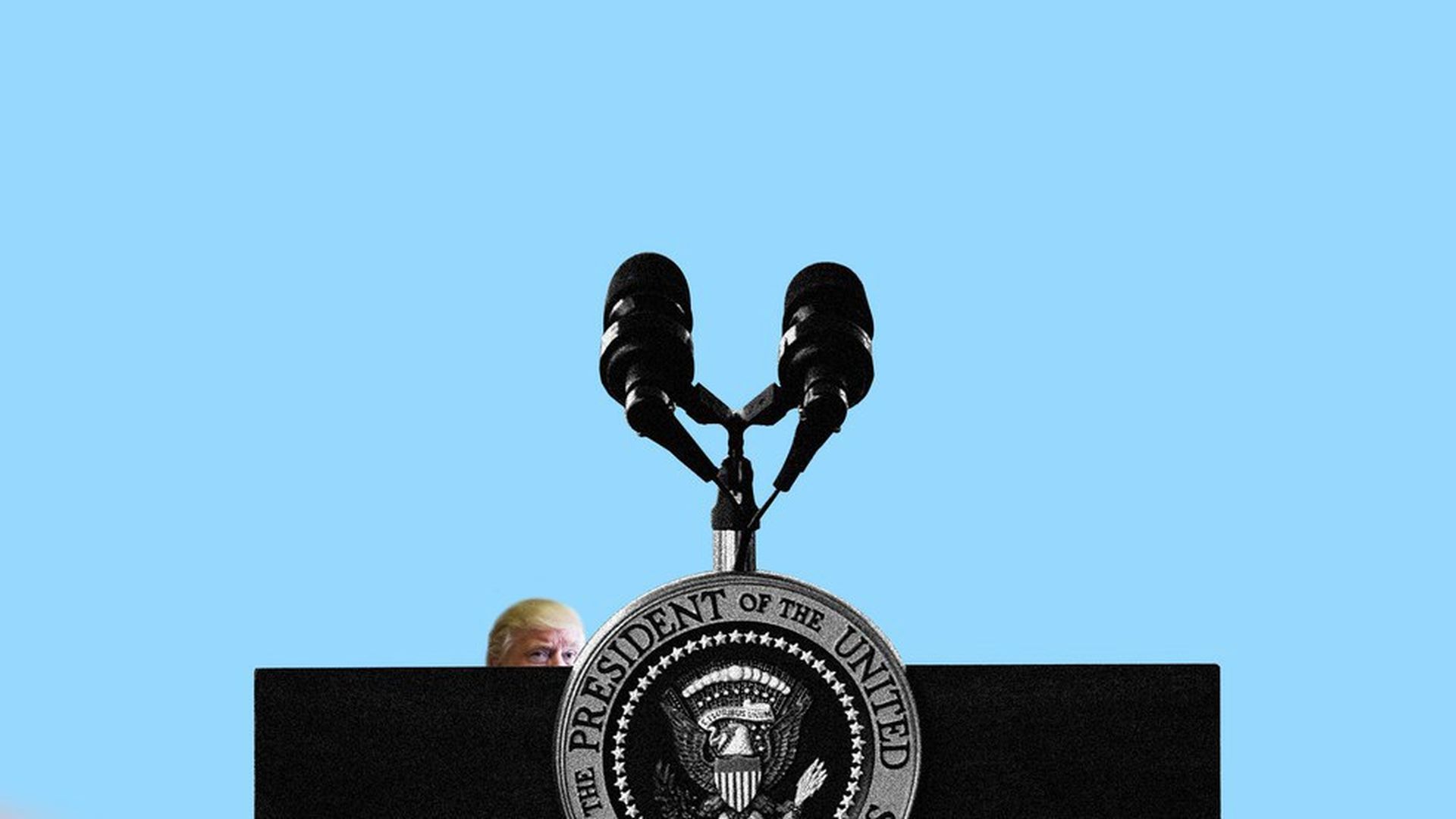 As President Trump formally launches his tax-reform drive this afternoon with a no-details, "vision-casting" speech in Springfield, Missouri, the self-inflicted wounds of the past 222 days are adding up. (Speech preview here, off embargo at 6 a.m.)
The "most powerful man in the world" is suddenly looking mighty powerless:
Speaker Ryan and Senate Majority Leader Mitch McConnell are going their own way on tax reform. Hill sources believe his original targets, including a 15% corporate rate, are dead.
SecDef Mattis didn't immediately embrace his full ban on transgender troops.
His Justice Department won't drop the Russia probe.
Courts won't allow his full Muslim ban.
Mexico won't pay for his wall.
Congress won't pay for his wall.
The Senate won't pass his promised health-care reform.
Gary Cohn and Sec State Tillerson won't tolerate his Charlottesville response.
North Korea won't heed his warnings.
China doesn't fear his trade threats.
CEOs won't sit on his councils.
Mexico and Canada won't bend to his will on NAFTA.
19 days in August: Trump's road not taken ... Now imagine where Trump would be today if he had instantly (and only) condemned the racist violence in Charlottesville, blown off the Arizona meltdown rally, and held off on the Arpaio pardon till the usual protocol could be followed.
The press would be writing about a new, late-summer Trump who had managed two crises like a normal president, and cleaned house of the most toxic "America First" true believers. His Texas trip would have gotten a high grade, with his trademark brio and well-received remarks.
Now snap back to reality: Instead, Trump has escalated his war with the judiciary, media and Republican establishment. At the same time, he has created a monster on the outside in the form of Steve Bannon and his merry band of Breitbart brawlers.
And he chose that path with crises sprouting all around:
An epic flood that will cost taxpayers billions in damages and consume Congress when it returns.
North Korea crossing new lines, rattling markets.
Racial tensions boiling.
Rising fear of a government shutdown, at the end of September or December.
Increasing pessimism in a once-buoyant business community.
Daily clues emerging of an expansive, ominous Mueller investigation.
Go deeper