The incredible, disappearing home down payment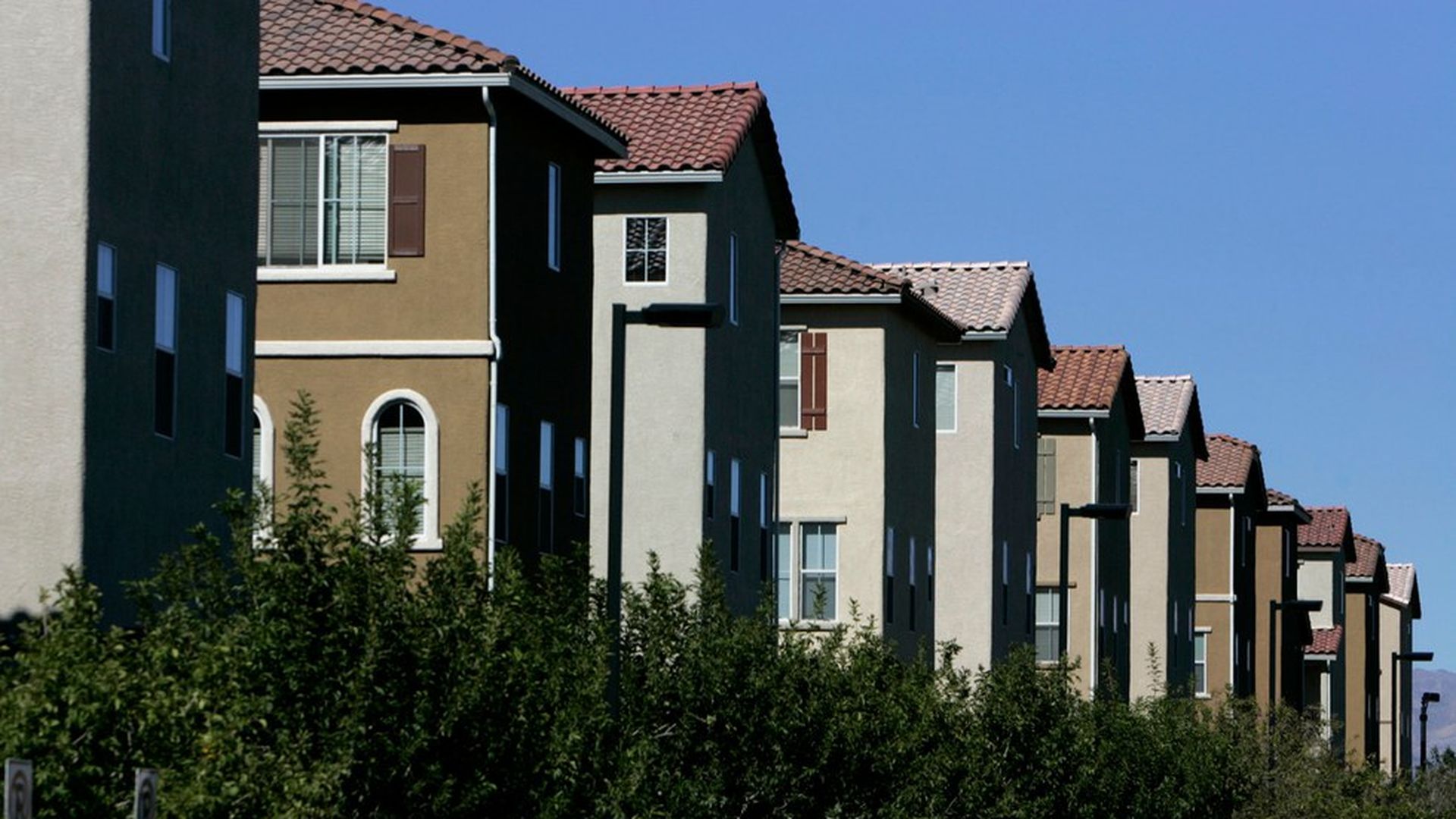 Many real estate markets across the U.S. are in the midst of an affordability crisis because of rising home prices, tight access to credit, and a homebuilding industry that has been slow to build new homes. That's made it hard for renting millennials — the oldest of whom are well into the prime homebuyers years of their mid-thirties – to afford down payments. 70% of them in a recent survey by real estate data company Zillow said that saving a down payment was the single biggest factor preventing them from buying,
Why this matters: Entrepreneurs across the country are recognizing the opportunity to profit from a broken real estate finance industry that is failing to serve many prospective homebuyers. Startups like Unison and Loftium are looking to profit by investing money upfront with real estate shoppers.
Homeownership has been becoming more expensive for decades — the median price of a new home in 1974 cost 1.7 times the median income, today that figure is at 2.6. This trend, however, was papered over by the explosion of easy mortgage lending that began nearly twenty years ago and culminated in the bursting of the real estate bubble in 2006.
Since that time, homeownership rates have been depressed, and those who do buy homes are increasingly relying on mortgages insured by the Federal Housing Administration (FHA), which allow homebuyers to put as little as 3.5% down. This arrangement can be more costly for homeowners, however, because it requires them to pay monthly mortgage insurance fees, and potentially puts the taxpayer at risk if the FHA miscalculates its risks — the agency required a $1.3 billion bailout in 2013 for this reason.
Two approaches
James Riccitelli, CEO of Unison Home Ownership Investors, says in an interview with Axios that he is consistently surprised that nobody in the decades-long history of U.S. housing finance had thought of the company's business model. Unison co-invests with prospective homebuyers — typically putting 10% down along with a bidder's own 10%, helping them qualify for a standard 20% down home loan. Depending on the lender Unison partners with, a homebuyer can end up putting as little as 5%:
Unison's investors — who Riccitelli says are typically large pension funds with long investment time horizons — realize a profit only when the home is sold. The product is attractive to such investors because they need assets that match their liabilities, i.e. pension payments sometimes 30 or 40 years away.
Other than a few private equity funds that bought up cheap single family homes at the housing market's bottom between 2010-2012, there are few ways for investors to own a diversified pool of residential real estate, a market that at $30 trillion is more valuable than the U.S. stock market
A homeowner can buy Unison out at any point after three years — as long it recoups its original investment. A homeowner can sell the home to another party at any point, however, even if it results in Unison taking a loss.
Loftium has an alternative strategy. It will will contribute $50,000 for a down payment, as long as the owner will continuously list an extra bedroom on Airbnb for one to three years and share most of the income with Loftium.
This strategy might be particularly appealing in booming markets like Seattle, where rent prices are rising even faster than home values themselves, and which are popular tourist destinations.
The bottom line: There is no replacement for good public policy, like expanding the affordable housing tax credit, or rationalizing zoning restrictions in a way that allows homebuilding to meet rising demand. But these business innovations are an important step too, as both startups will enable homeowners to take on less debt, all else equal.
Less debt makes government regulators happy, who are keen to expand homeownership without also encouraging reckless lending standards and ballooning debt that led to the last crisis.
In both cases, however, a prospective homeowner is selling some upside of home appreciation (or potential revenue from airbnb) in exchange for this reduced risk.
Go deeper