The implications of the opioid lawsuits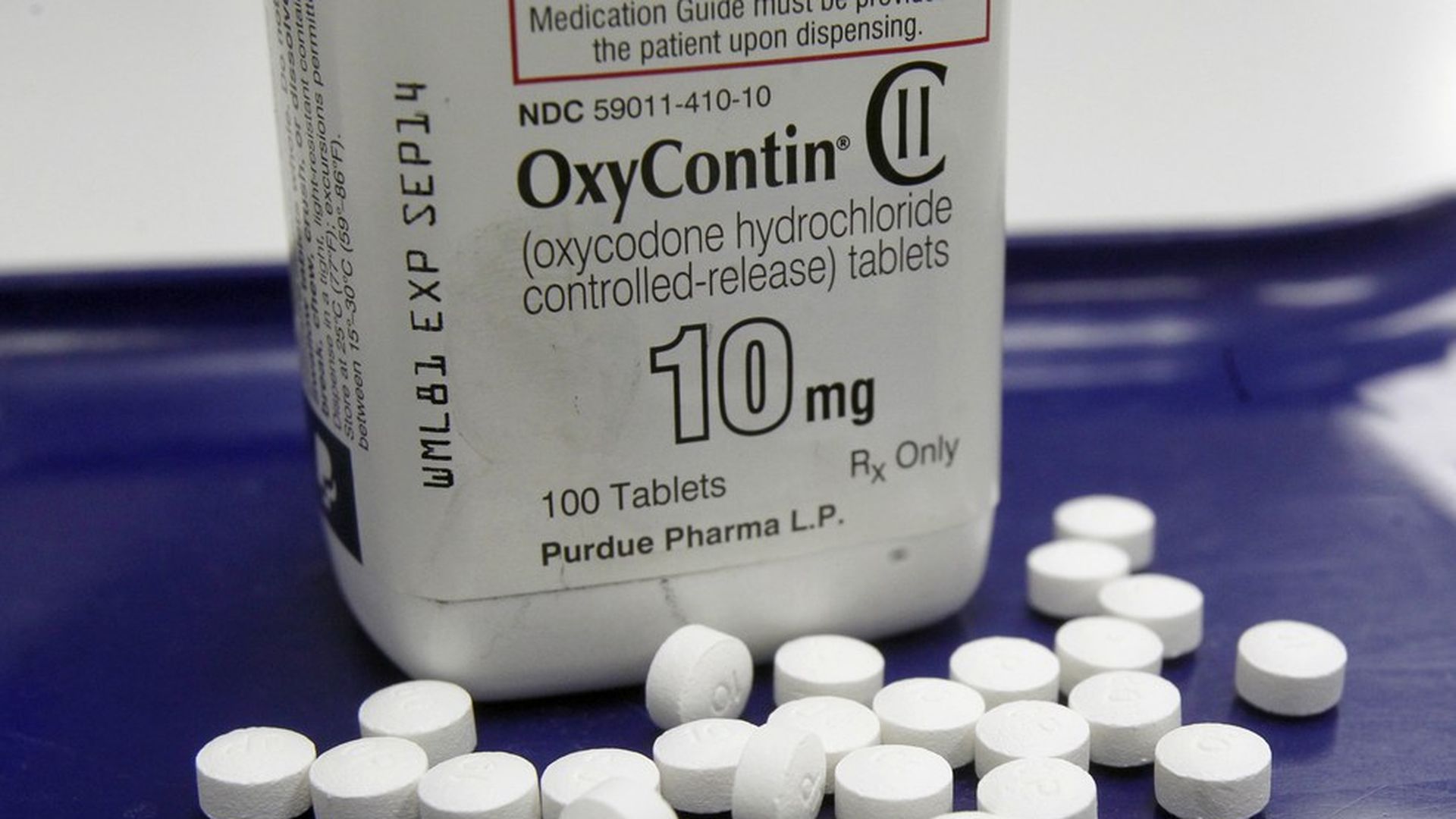 Cities, counties and states continue to sue opioid manufacturers, drug distributors and pharmacy chains, alleging those companies fueled the nation's opioid crisis through deceptive marketing and negligence. The metro area of Louisville, Kentucky was the latest to file a lawsuit this week, targeting the big three distributors: AmerisourceBergen, Cardinal Health and McKesson.
Why it matters: It's not at all clear municipalities will win, but the lawsuits represent something larger — policymakers want more scrutiny and oversight for companies that make and deliver painkillers instead of heaping blame on people who suffer from addiction.
Background: More Americans are struggling with, and dying from, opioids. The common prescription opioid pills are hydrocodone, oxycodone and fentanyl (with brand names like OxyContin, Vicodin, Percocet and Subsys). People often graduate to heroin.
Louisville's lawsuit lays out some startling statistics:
"In Kentucky, more people died from an opioid drug overdose from 2012 to 2016 than from motor vehicle accidents."
"From 2012 through the middle of 2017, more than 197 million doses of prescription opioids...were dispensed in Jefferson County, Kentucky, which has a population of approximately 760,000 people. That is more than 258 doses of prescription opioids for every man, woman and child."
Cities, counties and states started suing opioid manufacturers in 2014, but the lawsuits have multiplied and expanded this year following a Los Angeles Times investigation of OxyContin, which is made by Purdue Pharma. The plaintiffs are relying on a few legal theories:
Negligence: Companies were careless about the selling, marketing and distributing opioids.
Public nuisance: Companies endangered communities by oversupplying opioids, similar to charges of pollution.
Fraud or deceptive trade practices: Companies knew the risks and harms of opioids, but sold and delivered them anyway, and encouraged overprescription.
The defendants: Drug distributors and drug makers have said they intend to "vigorously" defend themselves against the "copycat" lawsuits which they claim don't address the opioid problem. But there's some acknowledgement they could lose. Insys Therapeutics, which makes Subsys, recently paid a small settlement in Illinois and has written in federal filings that it believes "a loss from an unfavorable outcome of these governmental proceedings is reasonably possible."
Looking ahead: Legal experts are unsure how the cases could pan out. Similar lawsuits with public health angles have been filed against the tobacco and gun manufacturing industries with varying results. Here are portions of what three law professors said:
Richard Ausness of Kentucky University: Ausness believes it's logistically difficult to settle with "hundreds of thousands of plaintiffs." But the case against distributors may be stronger because those companies are required to monitor the flow of potent drugs like opioids. "It's pretty hard for the distributors to say we didn't know that's what was happening."
Tim Lytton of Georgia State University: Lytton said it's a mistake to focus only on a trial outcome or settlement payout, because the process of filing a lawsuit is significant. Even if the cases hit a dead end — which is possible — cities, counties and states ravaged by opioid abuse have shifted attention away from doctors, street sales and people with addiction and toward the industry that sits atop the food chain. "Lawsuits, unlike many other forms of activism, get media attention. The lawsuit frames the issue of manufacturers' and distributors' responsibility."
John Jacobi of Seton Hall University: The case is complicated "as all good legal issues are," but we also shouldn't overlook the fact "that some people really need opioids for pain relief."
Go deeper