The health care bill's path forward in the Senate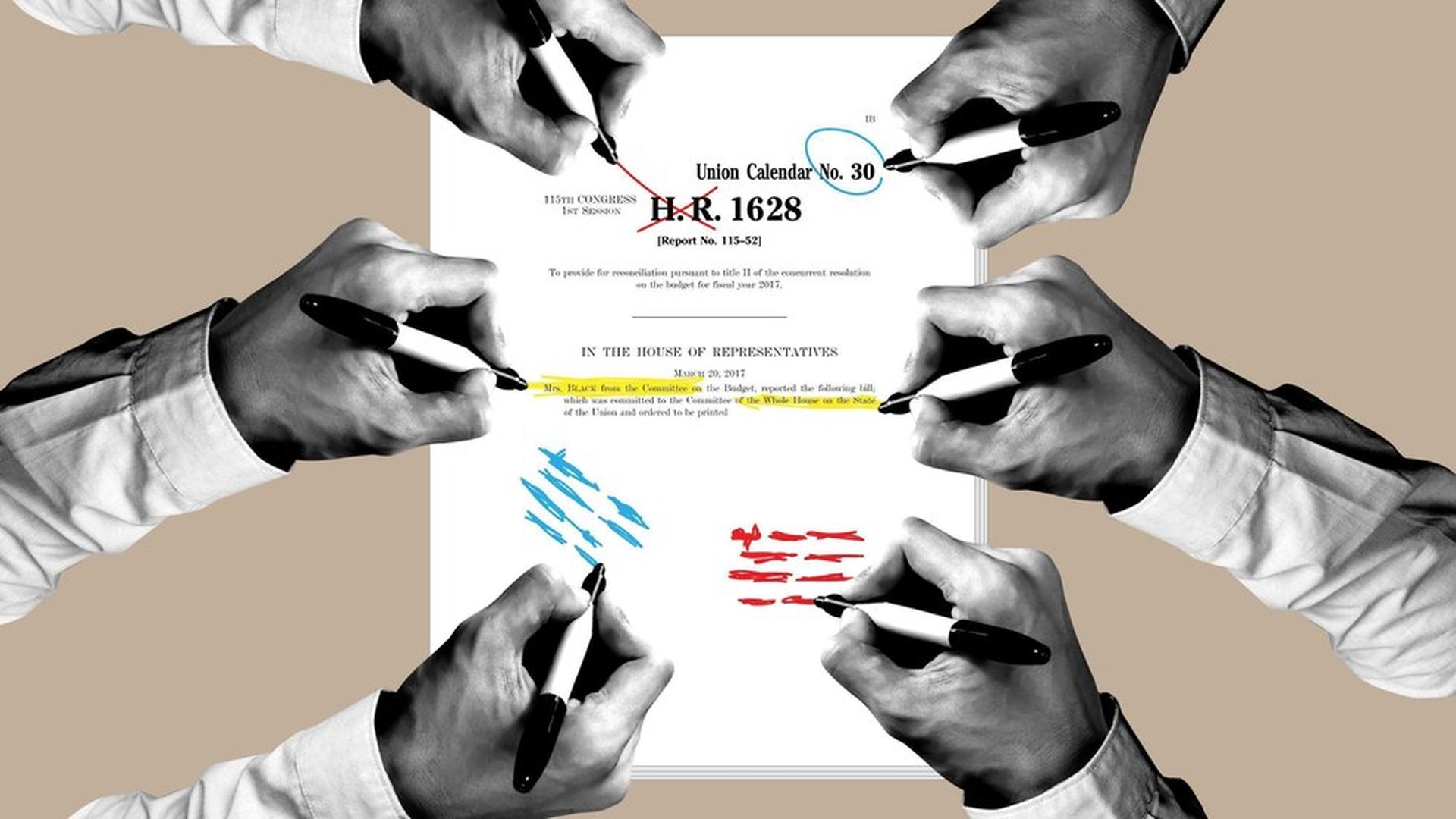 It's been widely assumed the current GOP health care bill working its way through the House would be vastly changed in the Senate — in fact, that's part of leadership's pitch to moderate holdouts. But Senate Republicans are already thinking about what it will take to get the bill through the upper chamber, and the changes are not as vast as some might think.
The bottom line: The bill is far from dead on arrival. Here's the plan so far, according to top GOP senators and aides.
The vote they won't get: Susan Collins, who probably won't vote for eliminating Planned Parenthood funding. Of course, if enough conservatives (think Rand Paul, Mike Lee and Ted Cruz) oppose the Senate bill, this won't work. Collins told me she "would try to strike any provision that defunded Planned Parenthood," but added that "it would not be the only thing" she's considering.
The wild card: Rand Paul. But Republicans can afford to lose two votes, so even if Paul and Collins oppose the bill, it still passes.
Something for conservatives: A senior aide told me it might not be as hard as everyone thinks to win over Lee and Cruz. The plan is to offer them some kind of additional state flexibility. That's the approach the House took with its latest changes — in the amendment by Rep. Tom MacArthur — and they won the support of some of the most conservative House members.
MacArthur amendment: Stays in, if Senate rules allow it while still enabling the bill to pass with 51 votes (the parliamentarian ultimately decides that). The amendment allows states in limited circumstances to opt out of Affordable Care Act regulations like essential health benefits and the ban on charging sick people higher premiums.
Policy changes:
Tax credit changes: Sen. John Thune is currently working on an amendment to give additional assistance to low-income people and phase out the tax credit more quickly for higher earners. The House also included $90 billion to enhance the tax credit for older and low-income people, which the Senate will have to shape.
Medicaid expansion changes: Sen. Rob Portman is looking into creating a more rolling phaseout of Obamacare's Medicaid expansion, to avoid a sudden cutoff where states have to stop expanding their Medicaid programs with enhanced federal funds. Portman's goal is "to ensure that those in the Medicaid expansion population who are receiving health care, and especially treatment for opioids, continue to have good treatment options after any reform proposal would take effect," said Portman spokesman Kevin Smith.
More money:
Additional funding for the opioid epidemic: This is also spearheaded by Portman. "For weeks, he has been working on a potential amendment that would provide a new funding stream for opioid treatment that would help those who may lose coverage," Smith said.
Additional high risk pool money: It would be spent lowering costs and stabilizing the marketplace, and would help cover people with pre-existing conditions in states that waive the ban on charging sick people higher premiums. The House bill gives $130 billion total, but the Senate will probably have to beef this up with "as much as it takes," a senior aide told me.
The "Anchorage Accommodation": Alaska is a very weird state, in terms of health care. Sen. Lisa Murkowski has previously said she'd like tax credits to take into account geographical differences in costs. So something will have to be done to take care of Alaska's exceptional needs.
Go deeper