The global online terror crackdown
China announced Friday that it's investigating its own tech companies, like Tencent and Baidu, for giving users an avenue to spread violence and terror. The announcement follows government campaigns earlier this year in the UK, France and Germany that intend to place legal liability on tech companies for failing to control the presence of terrorist-related content on their platforms.
Why it matters in general: U.S. regulators have largely remained silent when it comes to policing the role of tech giants in distributing terrorist content, leaving the companies to police themselves in accordance to their own standards.
Why it matters now: In the past, tech companies have reacted to crises in a uniform fashion, but the attack in Charlottesville shows a a split. Some sites, like Google and GoDaddy, announced Monday that they would cut ties to a white nationalist website, while others have yet to comment. Neither Facebook nor Twitter updated their policies in response to the attack, although both groups do already have policies about violence.
The Facebook issue: Critics argue that Facebook didn't do enough to prevent the attack, as the marches had apparently been organized through Facebook (see the image below). In a statement, Facebook tells Axios it "does not allow hate speech or praise of terrorist acts or hate crimes, and [it's] actively removing any posts that glorify the horrendous act committed in Charlottesville."
Sound smart: Facebook's business model is built around scale. It's corporate vision is based on inclusivity of all voices and perspectives. These goals are directly challenged when the company filters out content or restricts user privileges.
Facebook says it uses both technology and people to determine whether users take advantage of that openness with posts that glorify violence, or otherwise violate their community standards. In this case, the tech company didn't find that the event that brought together the Charlottesville rally violated community standards until the weekend of the event. Posts related to the "Daily Stormer" website Google and GoDaddy have disassociated with have mostly been removed by Facebook.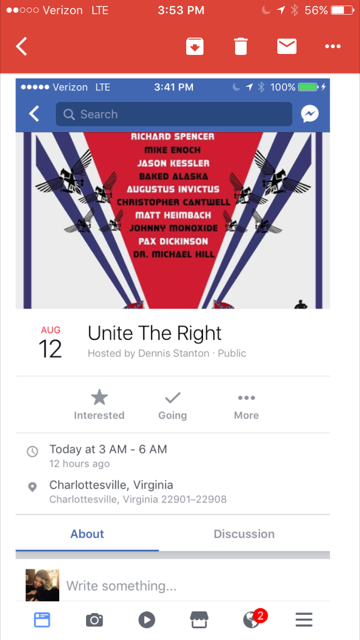 Go deeper