The diminishing State Department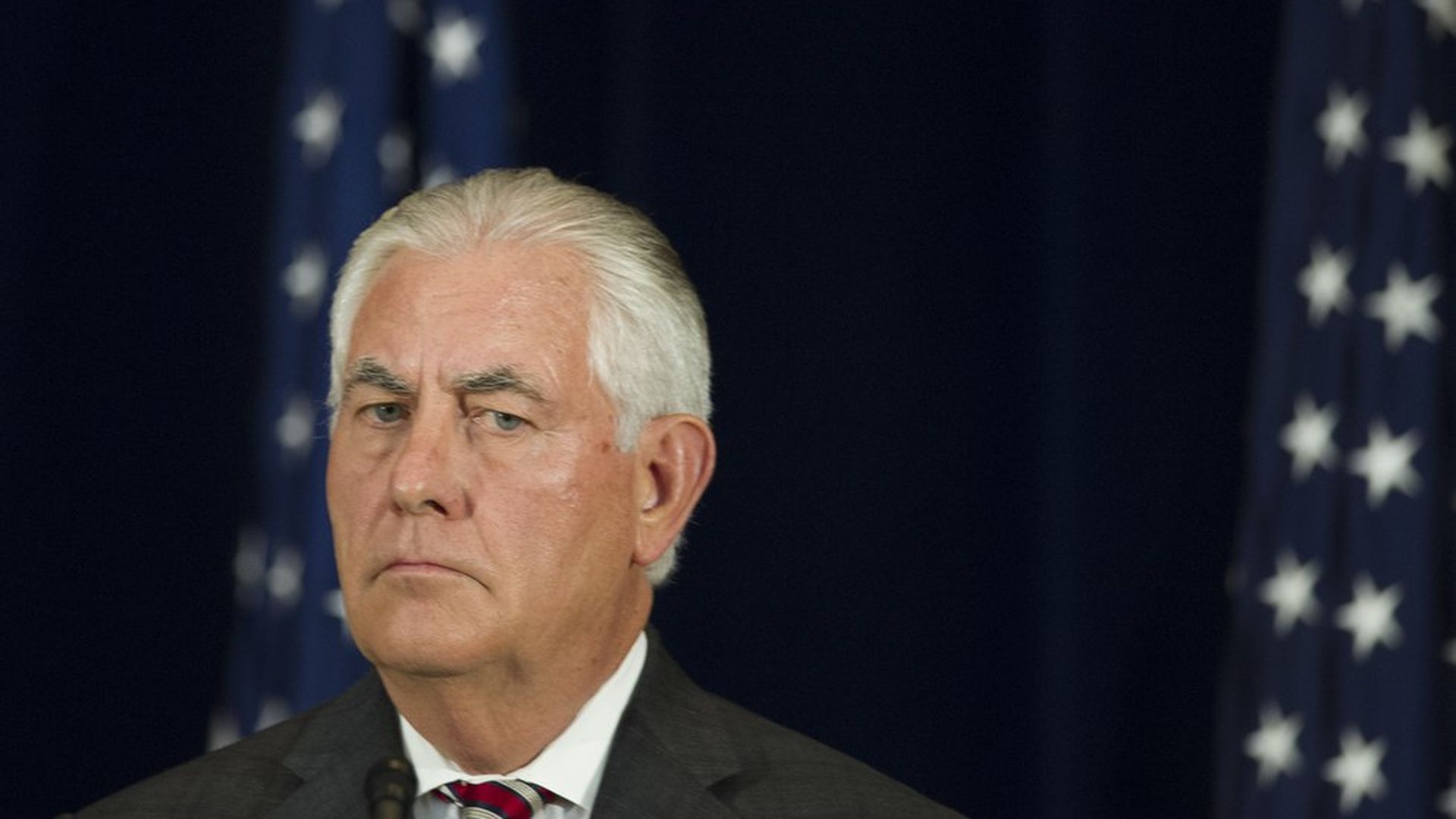 Rex Tillerson has been tasked with steering the State Department into an "America First" era, with looming budget cuts and a shrinking mission.
Why it matters: Nancy McEldowney, who resigned in June from her role as Director of the Foreign Service Institute at the State Department, told Axios "it became a very difficult and discouraging environment" and warned that the core identity of the department was in jeopardy.
It started with budget cuts.
In May, Trump proposed slashing funding for the department and U.S. Agency for International Development by almost 32% in favor of expanding the military.
Spokesperson Heather Nauert said this was an "America First" budget that "prioritizes the well-being of Americans, bolsters U.S. national security, secures our borders, and advances U.S. economic interests."
Top-level positions remain empty and without nominations.
"I have a lot of open slots. I don't have but one under secretary position filled," Secretary Tillerson said on Wednesday. Top-level positions remain vacant. Current and former employees expressed concerns of Tillerson shutting himself off from veteran officials and relying on a small network of close advisors, per Foreign Policy. In addition, a majority of ambassadorships that opened during the presidential transition remain unfilled.
Press briefings are at the lowest frequency since 1979.
Press briefings used to occur almost every day; currently they happen about twice a week. Last Wednesday's briefing was the first time Tillerson appeared in the briefing room since Trump took office.
Two prestigious recruitment programs have been temporarily suspended.
The Diplomacy Fellows Program (DFP) and the Presidential Management Fellows program have been suspended. Both of the programs have helped fill diplomatic roles from a top-talent pool, and as McEldowney noted, aided in the overall readiness of the State Department.
Tillerson is turning away money to counter terrorism.
$80 million was earmarked by Congress to combat propaganda and Russian disinformation, $60 million of which will expire if not accepted, Politico reported. From the State Dept: "There is a process underway to ensure any future funding or programs account for the most appropriate tactics and strategy – especially in countering propaganda from countries such as Russia that have minimal protections for free speech or the media."
Core values of the Department may be in jeopardy.
Last week, The Washington Post obtained a State Department email containing drafts for possible new mission statements. In addition to being shorter in length, the proposed statements eliminated any mention of promoting justice or democracy.
"If our foreign policy is only about getting a 'good deal,' if it's only about serving our self interest, if we lose our sense of compassion and shared humanity, than we lose our moral compass, and once that's gone than we're truly lost," McEldowney warned.
A State Dept. official said a review of the department's mission is "an ongoing, employee-led process with no preconceived outcomes."
The bottom line: As Foreign Policy reports, "by failing to fill numerous senior positions across the State Department, promulgating often incoherent policies, and systematically shutting out career foreign service officers from decision-making, the Trump administration is undercutting U.S. diplomacy and jeopardizing America's leadership role in the world."
Editor's note: This story has been updated to clarify that a majority of ambassadorships opened during the transition remain unfilled.
Go deeper