The Democrats' old-people problem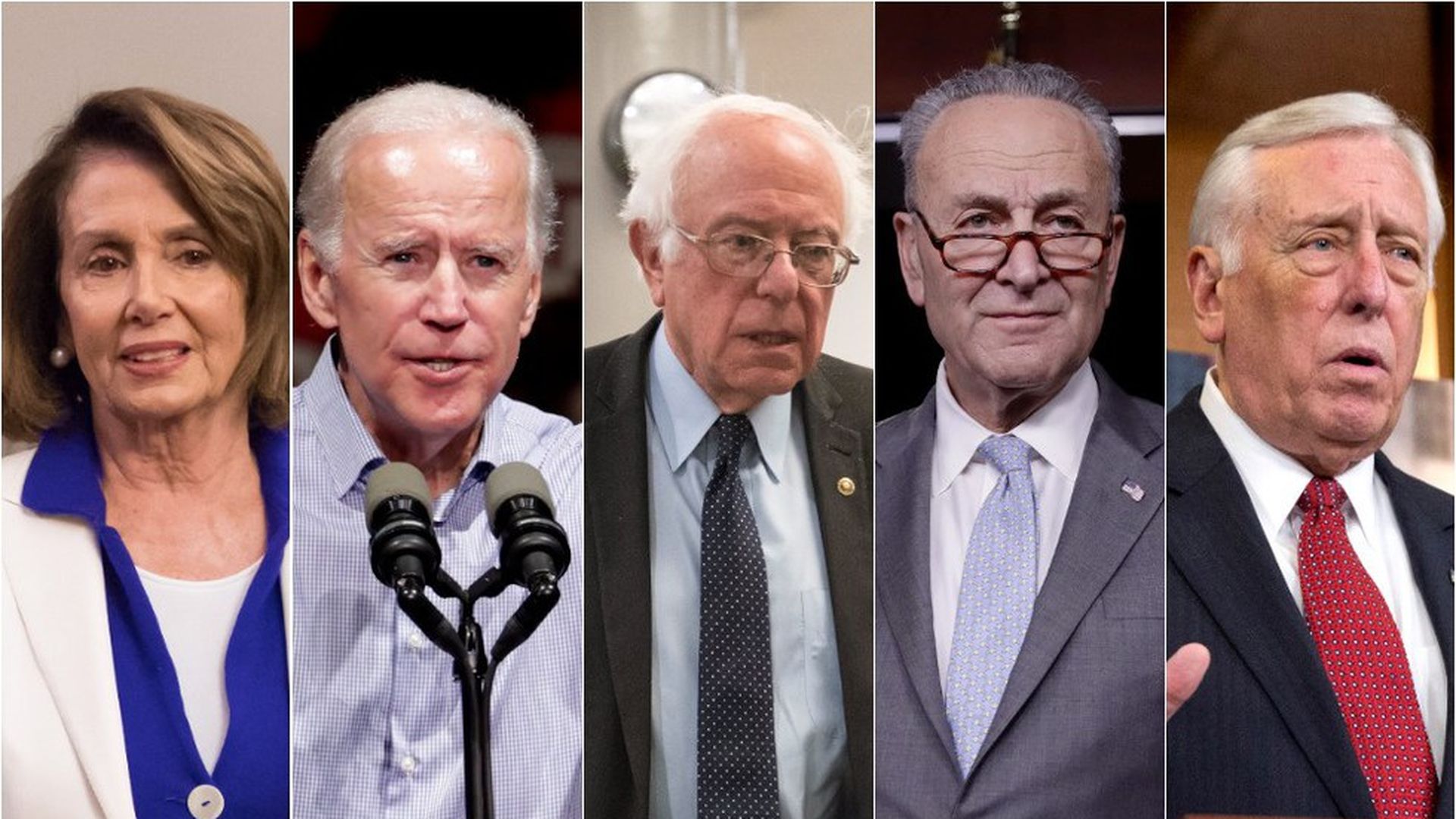 Democrats are rethinking their future — but doing it with the leadership of old men and women deeply rooted in the past. The top three House Democrats in leadership are all nearly 80 years old.
By the numbers: The average age of Democrats serving under them is 61. Three of the most talked-about 2020 contenders are Sen. Bernie Sanders, 76; Sen. Elizabeth Warren, 68; and former Vice President Joe Biden, 74.
Why it matters: Older Democratic leaders are unwilling to give up their seats, even as younger Democrats call for "a new generation of leaders," as top House Democrat Linda Sanchez said when she asked for Nancy Pelosi to step down. And former DNC Chair Howard Dean told MSNBC: "Our leadership is old and creaky, including me."
The elderly trend among Democrats:
A recent CNN poll found that five of the six people voters view as the leaders of the Dem Party average 71 years old (Sanders, Clinton, Schumer, Warren, Biden).
Four Democratic Reps. are more than twice the average age of their constituents: Rep. John Conyers (Mich.), 88; Rep. Eddie Bernice Johnson (Texas), 81; Rep. Lucille Roybal-Allard (Calif.), 76; Rep. Jose Serrano (N.Y.), 74.
A few senators running for re-election will be in their 80s after another six years in office: Feinstein, Sanders, and Sen. Bill Nelson, 75.
A handful of younger Dems have considered running for president in 2020, like Mayors Eric Garcetti, 46, and Mitch Landrieu, 57. Rep. Tim Ryan, 44, hasn't ruled out running and he challenged Pelosi for her leadership post last year. And Californians like Sen. Kamala Harris, 53, and billionaire Tom Steyer, 60, are speculated to run against Trump in 2020.
What they're saying, per Tara McGowan, co-founder of the digital-first political organization ACRONYM, which helps elect progressive Democrats: "When we combine running candidates who look more like our voters with organizations run by people who understand the value in reaching voters where they spend their time online, we can drive record turnout — especially among young people."
Go deeper: Meet the new generation of Democrats that swept the 2017 special elections, and go inside the progressive push starting in California.
Go deeper